Features
Sunrise simulation
USB charge port (automatically identifying required charge protocol using TPS251x)

It should be discouraged to take a smartphone or tablet to your bedroom.  Give your mind some rest.

Large LED display

readable without glasses
Independently configurable display brightness settings for day & night
User configurable level to switch between day & night mode.

Light from LED-array and buttons can be fully turned off at night.  Waving at the clock will turn them on again.
Rubber feet (so it doesn't slide from your closet)
Wake-up sound from MP3 (2.5W in a 4ohm speaker)
One-handed configuration
Backup supply in case of power outage, powerful enough to sound the alarm.
Powered by USB adapter.  These are easy to get.
USB-B connector for power.  Even your grandma will be able to plug this in.  The same can not be said from a USB micro connector, used on the Blaupunkt BT16CLOCK (that's not the only reason to avoid this clock.  Try to turn on the FM radio without using the manual.  Good luck...  The UI is not very intuitive.) 
Update (Feb 12 2019) : Micro USB of BT16CLOCK has bad connection.  It's no longer possible to charge the clock.

Apparently Craig Bonsignore had about the same annoyances with standard clocks, that's why he built his own version.  I'll start off from that design: adding features I miss and scraping off costs where needed.
Future extensions (unplanned)
Wake up module, to be placed under the pillow.  Its vibrations will wake you, even if you're deaf.  It's a nice alternative to a very loud alarm which you're bed partner is not likely to appreciate.
Wireless functionality to sync slave clocks around the house.  Bluetooth GATT CTS (Current Time Service) may be of some use here.
Block diagram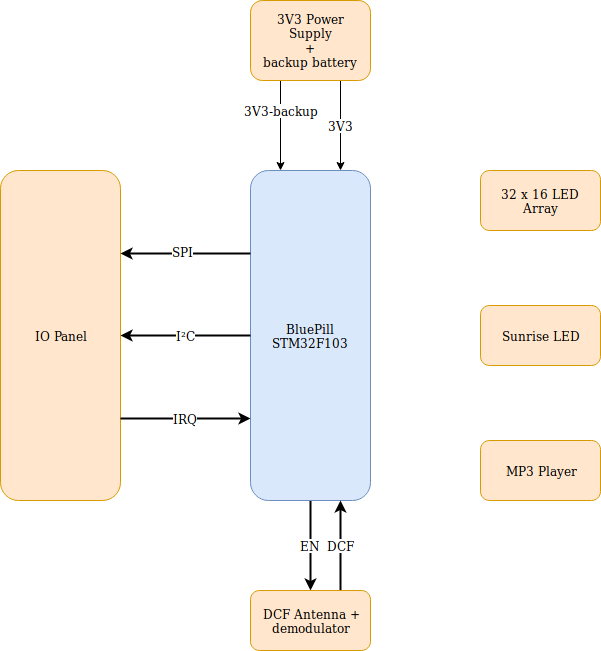 Hardware modules
Rev.0: IO Panel : LCDs, switches, IO expansion, LED array, light sensor all integrated on one PCB
Rev.1: Modular approach :  IO panel divided into separate, reusable modules
Time sync
Five options for setting time have been considered:
Long wave time signal

DCF (EU), MSF (UK), WWVB (US)
cheap modules only have a few 100km range.
more future proof than RDS.
signal easily disturbed by electronics in the vicinity (laptop, SMPS, ...) .

RDS

no user interaction required
indoor use possible
EOL in Western Europe

Timestamp only sent once a minute.  When the reception quality is bad, you might have to wait some minutes to get the correct time.

NTP : requires input of SSID & WPA-key to the alarm clock.  The most elegant way seems to add a QR-code on your device, showing its SSID & WPA-key.  Scan this QR-code to connect your smart phone to the device's AP.  Opening a browser windows on your smart phone, opens a webpage allowing you to select SSID and set WPA of your home network.  Save the settings, reboot the device and you're done.  The browser on your smart phone doesn't run as a root user, so it has no access to your wifi credentials. 
Instead of putting your device in AP mode, you could transfer wifi credentials through NFC, audio, sound or through light.  These methods have the disadvantage of requiring more hardware and requiring custom apps on your phone.  The AP-mode technique would also allow you to easily add set up of other parameters.

GPS : needs a visible sky
GSM : needs a registered SIMCard
Manual : annoying
Preprogramming time at the production facility : Emerson's patented SmartSet "technology".  The user still has to set the time zone offset.