Features
Sunrise simulation
USB charge port (automatically identifying required charge protocol using TPS251x)

It should be discouraged to take a smartphone or tablet to your bedroom.  Give your mind some rest.

Large LED display

readable without glasses
Independently configurable display brightness settings for day & night
User configurable level to switch between day & night mode.

Light from LED-array and buttons can be fully turned off at night.  Waving at the clock will turn them on again.
Rubber feet (so it doesn't slide from your closet)
Wake-up sound from MP3 (2.5W in a 4ohm speaker)
One-handed configuration
Backup supply in case of power outage, powerful enough to sound the alarm.
Powered by USB adapter.  These are easy to get.
USB-B connector for power.  Even your grandma will be able to plug this in.  The same can not be said from a USB micro connector, used on the Blaupunkt BT16CLOCK (that's not the only reason to avoid this clock.  Try to turn on the FM radio without using the manual.  Good luck...  The UI is not very intuitive.) 
Update (Feb 12 2019) : Micro USB of BT16CLOCK has bad connection.  It's no longer possible to charge the clock. The micro usb connector has been replaced by a standard USB B connector.
modular design
Apparently Craig Bonsignore had about the same annoyances with standard clocks, that's why he built his own version.  I'll start off from that design: adding features I miss and scraping off costs where needed.
Block diagram
There has been chosen for a modular approach.  The individual modules are small, cheap (<€1/pce) and can be reused in other projects.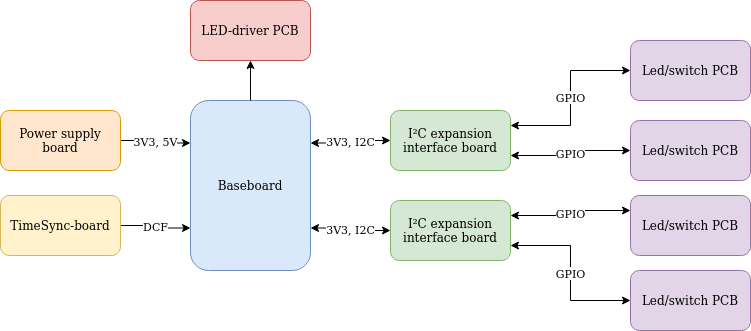 Let's dig a little deeper into the different modules:

Electronics ready for mounting
Future extensions (unplanned)
Wake up module, to be placed under the pillow.  Its vibrations will wake you, even if you're deaf.  It's a nice alternative to a very loud alarm which you're bed partner is not likely to appreciate.
Wireless functionality to sync slave clocks around the house.  Bluetooth GATT CTS (Current Time Service) may be of some use here.