There are five options for setting time:
Long wave time signal

DCF (EU), MSF (UK), WWVB (US)
cheap modules only have a few 100km range.
more future proof than RDS.
signal easily disturbed by electronics in the vicinity (laptop, SMPS, ...) .

RDS 

no user interaction required
indoor use possible
EOL in Western Europe

Timestamp
only sent once a minute.  When the reception quality is bad, you might have to wait some minutes to get the correct time.

NTP : requires user to type WPA-key in the alarm clock
GPS : needs a visible sky
GSM : needs a registered SIMCard
Manual : annoying
Preprogramming time at the production facility : Emerson's patented SmartSet "technology".  The user still has to set the time zone offset.
Long wave time signal
Commercially available DCF77 modules
An evaluation of these DCF77 modules has been done by [Udo Klein] and can be found here.
Signal quality tests with HKW antenna & receiver
I hooked up the antenna to the receiver.  The receiver was powered by a Protrinket3V, which in turn was powered by a TTL-232R-3V3-WE.  The DCF output was monitored using a Smartscope.
At first, there was no useful signal.  I pulled out all the mains plugs to find the culprit.  I found three of them:
USBwire lead of the TTL-232R-3V3-WE
Asus charger for Asus X550L laptop (only when DC-jack is plugged into the laptop)
Power adapter for Fantasia Xaro Desk light (EAN 5414358095390).
Moving the antenna closer to the window, away from these noise sources solves the problem.
I also discovered that signal quality can vary strongly during the day.  During programming the signal went very bad.  After a few minutes it turned all of a sudden to a good signal again.  Nothing in my house was switched on or off during that instant.

The DCF77 Analyzer/Clock v2.also uses an external antenna and receiver.  I also get the best results when the antenna and receiver are on one breadboard and the rest of the electronics are on another breadboard.  There needs to be at least 30cm space between them.  The antenna should also be kept at least 30cm away from the laptop.

Decoding time
Visual indicaton
The problem I quickly encountered is bad signal quality from the module.  Rotating the antenna helps, but you can't ask from users to do this for you.  A solution could be to add a monostable multivibrator to the DCF output that triggers on falling edges.  It could have a 500ms timeout.  If you connect an LED to it, there would be a visual indication of signal quality.  The user should see the LED flashing at a 1Hz rate.  If the LED stays on or off then signal quality is bad.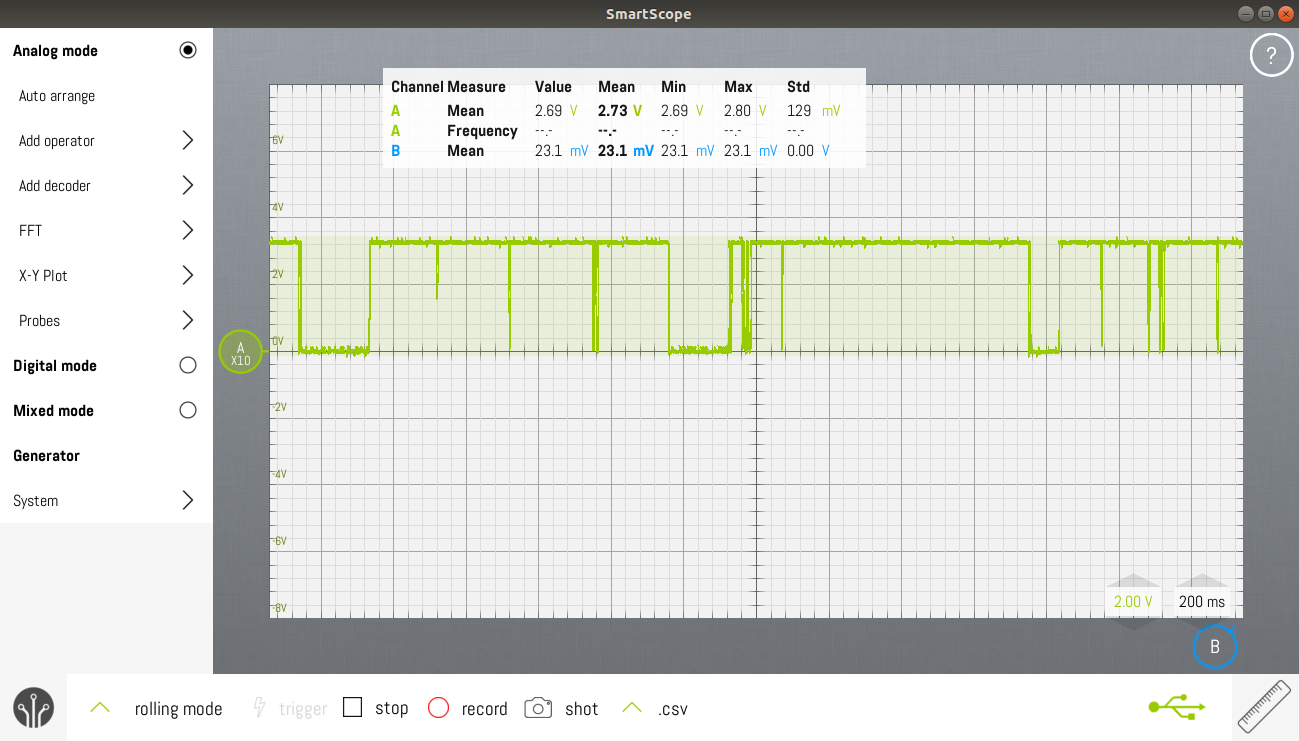 [Udo Klein] put quite a lot of effort in providing an alternative in his Blinkenlight project.  Unfortunately this project only works for AVR architectures.  I forked the library and added support for the Bluepill.  The other big drawback is that it takes at least 5 minutes to sink.  With a bad signal, this can increase up to 30mins.  The library of [Udo Klein] also requires you to synchronize your clock to the DCF77.  If you don't do this, you won't be able to recover the signal from the noise when the signal goes bad.
Scientific papers about DCF77 decoding can be found here:
Daniel Engeler Performance Analysis and Receiver Architectures of DCF77 Radio-Controlled Clocks (DRAFT) (pdf)
Filip ZÁPLATA, Miroslav KASAL, Software Defined DCF77 Receiver, RADIOENGINEERING, VOL. 22, NO. 4, DECEMBER 2013 (pdf)
Martin Wierich "Ein digitaler DCF77-Empfänger mit hoher Empfindlichkeit", Diplomarbeit (pdf)
Capturing data from serial port

minicom -D /dev/ttyACM0 -b 115200 -C minicom.cap
Displaying data
It's quite easy to use Calc/Excel to convert the capture file from minicom to two csv files, each containing one column.
These CSV-files can then be used as PWL input data for voltage sources.
[jafingerhut] has done quite some investigation about finding the right package to show your data.
Online decoded DCF data can be seen here.
---

RDS
After evaluating the RDA5807M and the SI4703, I found out that it's hard to get good quality RDS-reception.  I only tested on a breadboard.  The airwire connections aren't helping to get good reception quality.
The used development platform has an influence as well.  The ProTrinket 3V, powered by the FTDI has a average 5dB better RSSI than the Nucleo STM32F103.  On the Nucleo, it wasn't possible to receive four consecutive blocks without error.  The SI4703 had to be set to RDS-debug mode to get at least some RDS-info.
RDA5807M
This chip is based on the SI4703.  The RDA5807M datasheet even contains statements that have been literally copied from the SI4703 datasheet.
There's no error checking on the last two of the four RDS blocks.  Block 3 and block 4 contain the useful data.  The only way to "guarantee" data integrity is only passing on data that has been received twice identically.
Reception quality is acceptable for audio, but not for RDS.  There's only one station that gives me acceptable RDS reception.
The RDA5807M has more or less the same settings as the SI4703, but these are located at other registers.  So they're not firmware compatible.
Very little info about the RDA5807 : 2 datasheets (in english) and two programming manuals (in chinese)
Available on module by AliExpress
Si4703
Extensive info available on SiLabs website
Available on module by AliExpress
If you need RDS, better to choose this IC instead of RDA5807M.  The RDS reception quality isn't better, but at least you'll be told what RDS-blocks are valid and which ones contain too many errors.
Si4749
RDS only, no audio
hard to solder QFN package
Acceptable price : €2.30/pce at Digikey
Si4731-D60
Used in the more recent versions of the taiwanese Sangean WR-2.
Expensive : €13.85/pce at Digikey