As I found in Testing the Flip-Flop, my smaller generalised Flip-Flop is not performing fast enough. It seems to be limited around a few KHz, which is ok for the Johnson counters but not for the 32KHz divider. A few hypothesises are being considered :
Use a couple of P-FET to fast-purge the N's gate (if all the following ideas fail)
Alternatively, a Schottky diode could work and reduce the parts count (no need of a complementary clock input)
A couple of 100p/1nF capacitors across the feedback resistors could do wonders too.
Maybe the feedback resistors are too weak. A lower resistance is not a problem since the current passes only to charge the gate, during the time it takes to go the whole feedback loop. It could be that going from 1M or 100K to 10K or 1K Ohm would work better. This would save capacitors.
Maybe the clock enable network has an influence too, if it's connected to ground, or between the FF and the charge pumps.
Here are some possibilities: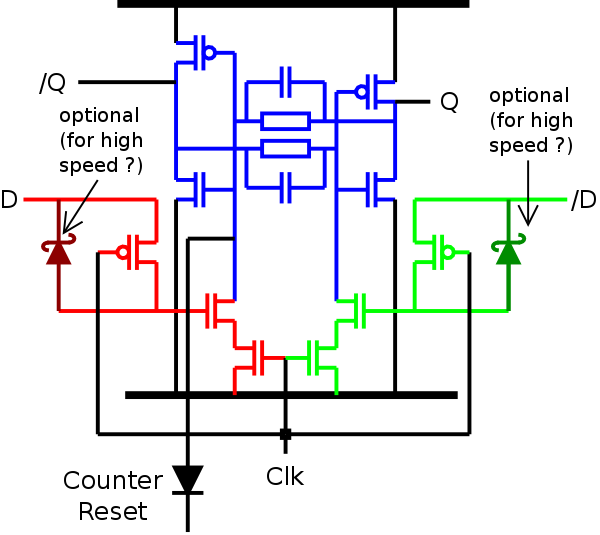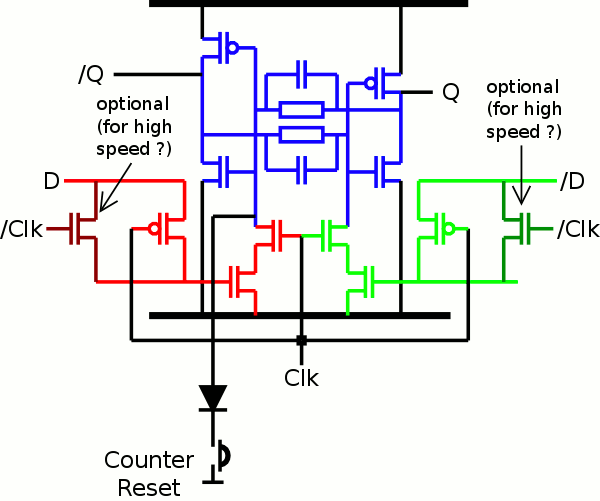 Now that I have the 32KHz source, I can make better measurements :-)
After I compare the position of the clock enable, the easiest would be to see the influence of the resistor value, then add the cap, then try the Schottky, and finally the P-FET. So let's go...
---
Result:
I used the 32KHz generator for all the tests.
Capacitor: FAIL. This gives really weird waveforms, no frequency division. I tried 820p but maybe the resistor was not the right value.
Diode : Yeah ! I tried a 1N60 and it worked great. The resistor value is still an issue though.
Resistance : I initially tried 100K but... hmmm...
I then tried 200K, 33K and 10K:
200K:
33K:
10K:

(Legend:
top trace : voltage at Q
bottom trace : voltage at the gate of the N-FET charge pump
)

Conclusion :
I'll stick to 10K everywhere. It's a compromise because many 10TFF will have a set/reset input and all those shorted wires will draw a significant current, this would drain the battery and the supply voltage could be affected by a spike/drop too.
The Germanium diode is cool and will be selectively added in the fastest circuits (down to maybe 4KHz). It can be replaced by a Schottky diode as well but that's what I had in sight :-)
So I'm settling with this circuit:
I didn't try a different topology with the CLK in the middile instead of low-side...