ICE40 + STM32 development board
Popsicle STick
Introduction

Popsicle stick is a simple FPGA development board. The schematics and PCBs are open hardware (CERN OHL V1.2) are free to use in any other project. The board is meant to be easily soldered using a hot air gun. The components are cheap and have lots of stock. ICE40HX1K-TQ144 (FPGA) is the heart of the project and has a small amount of logic gates. This makes the FPGA perfect for beginners. STM32F070CBT6 (MCU) is used to configure and aid the FPGA. The MCU has 128 KB of flash and can store bit streams. The MCU has many interfaces and ADC. ADC can be used to read analog signals and relay it to the FPGA. The motivation behind the project is to learn how to do PCB design.

Main components:

STM32F070CBT6
ICE40HX1K-TQ144
5V Micro USB connector
Crystal oscillators
Linear voltage regulators

Specification:
Power/Data from 5V Micro USB
SWD
Configure ICE40 from STM32 using SPI
36 IO pins for FPGA
17 IO pins for STM32
I2C
SPI
UART/USART
ADC
Support IceStorm
Cost $40 USD <
System Design
The STM32 is programmed using SWD (header pin) or micro USB. Then the MCU configures ICE40 using SPI. Once configuration is complete, the ICE40 will able to communicate with STM32 using IO. ICE40 is directly connected to 36 header pins. The STM32 has I2C, SPI, UART/USART, and ADC. With the power of ICE40 and STM32 you can drive motors, LEDs and sample analog signals.



Pinouts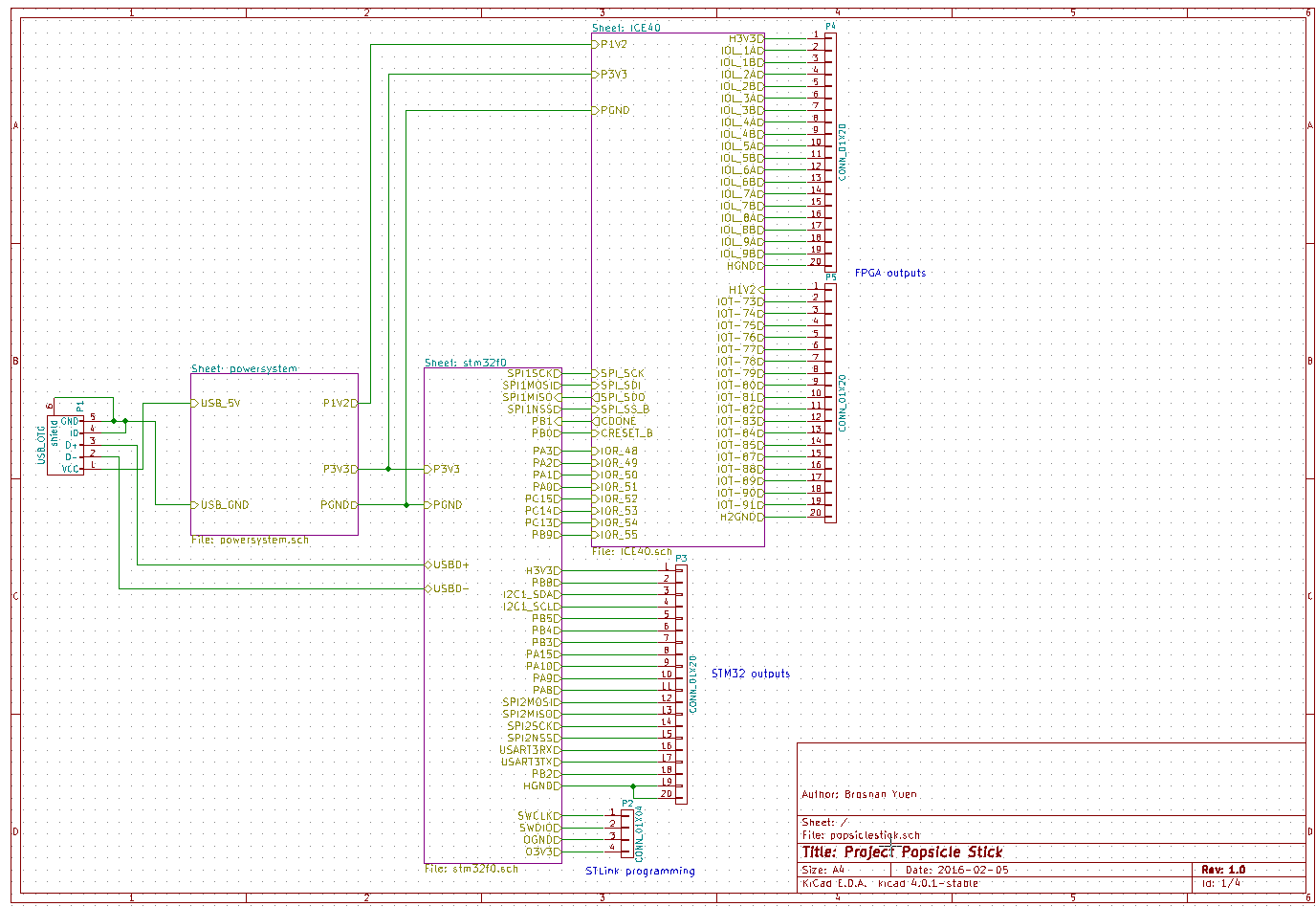 Uses:
Learn how to use FPGAs and MCUs
Create simple processors
Telemetry
Real time data processing