Overview
Goliath is a prototype vehicle for developing large scale quadcopters. The design is based on a single central gas engine with a belt drive providing power to the four propellers. Control is done using control vanes placed under the propellers. Each propeller is enclosed within a duct that protects the rotors and contributes to the lift. Goliath itself will be open source with the creative commons license, and whenever possible open source components were used. It's currently a work in progress, and even when completed it's intended as a starting point for future vehicles.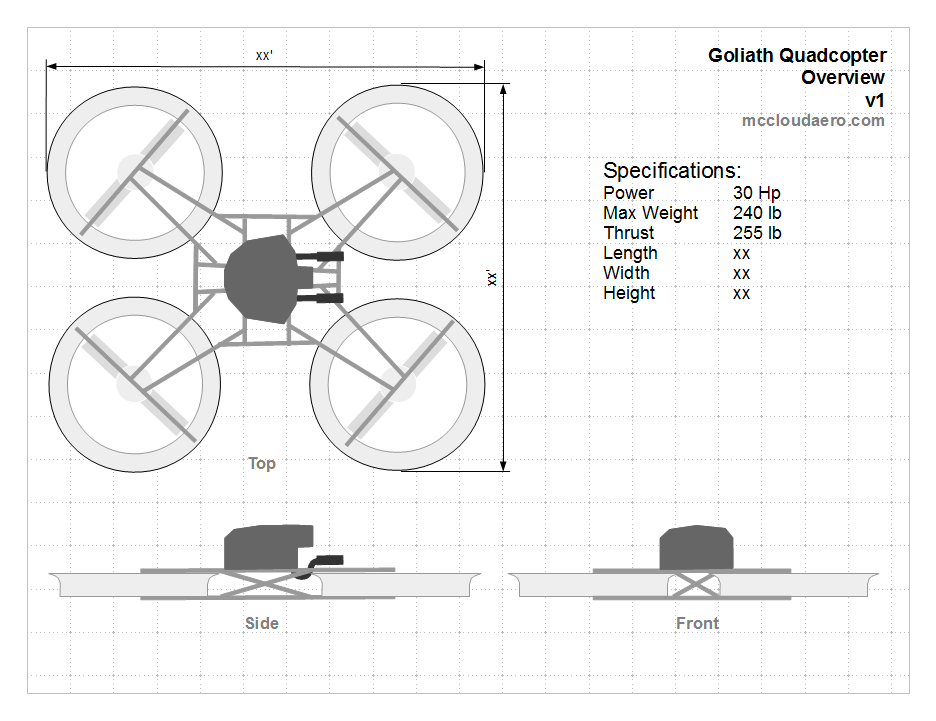 Power
An electric powered design would have been the most straightforward approach. Electric motors are more efficient than gas, but the power density of gasoline is much greater than today's batteries. So until battery technology improves, gas power seemed the way to go. Goliath uses a single 30 Hp engine and a belt system to transfer power to the four propellers. The setup was chosen because at this scale, four smaller engines have a smaller power to weight ratio than a single larger engine.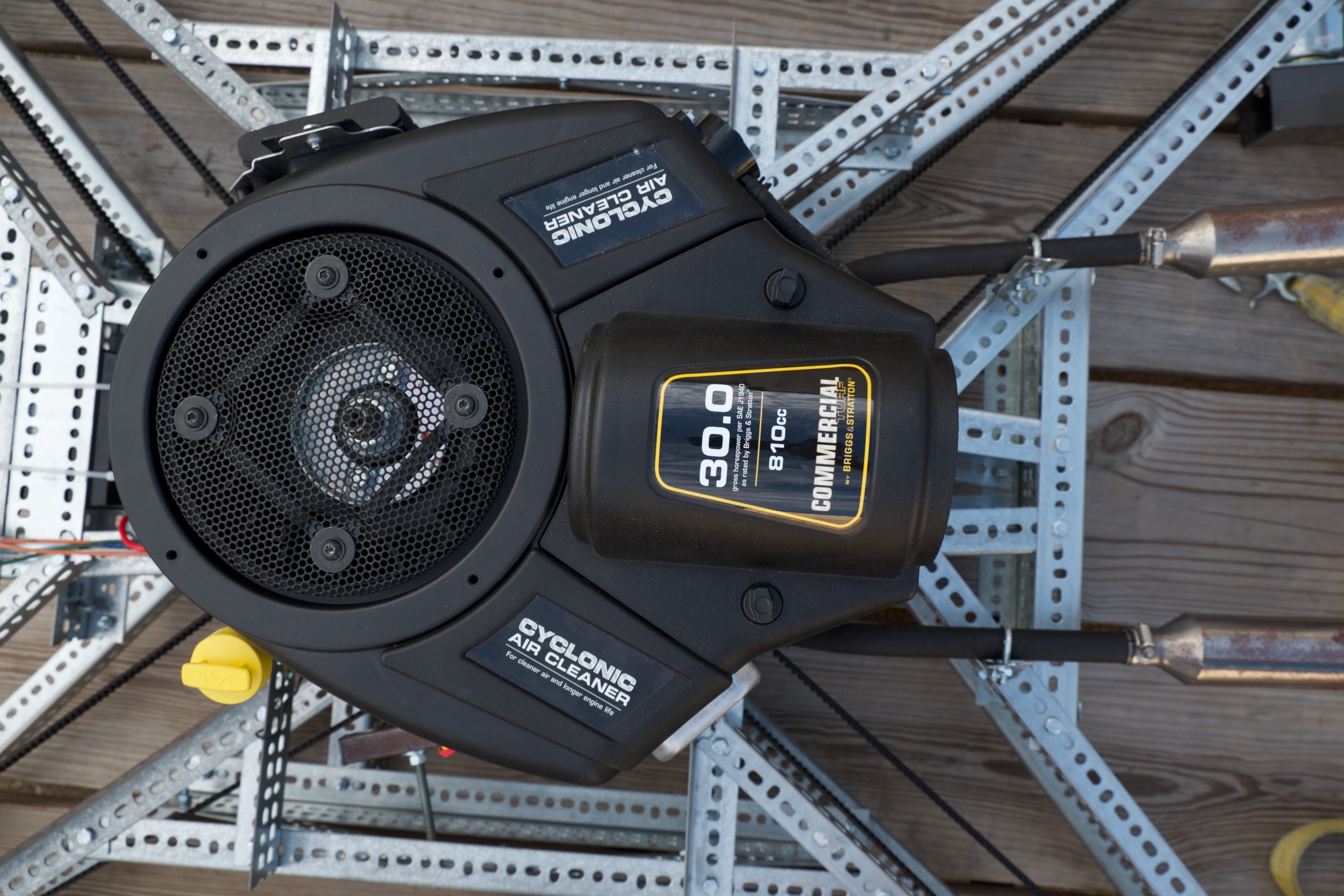 Drive System
The drive system uses High Torque Drive (HTD) belts. These belts are made of neoprene rubber with fiberglass cords and are able to transfer more power per weight than roller chain and can also run at higher RPMs. To eliminate aerodynamic torque, the drive system rotates two propellers clockwise (CW) and two counter-clockwise (CCW). This is done by using two belts, one sided sided and the second double sided. The direction of rotation is changed by placing the outside of the double sided belt against the driving pulley.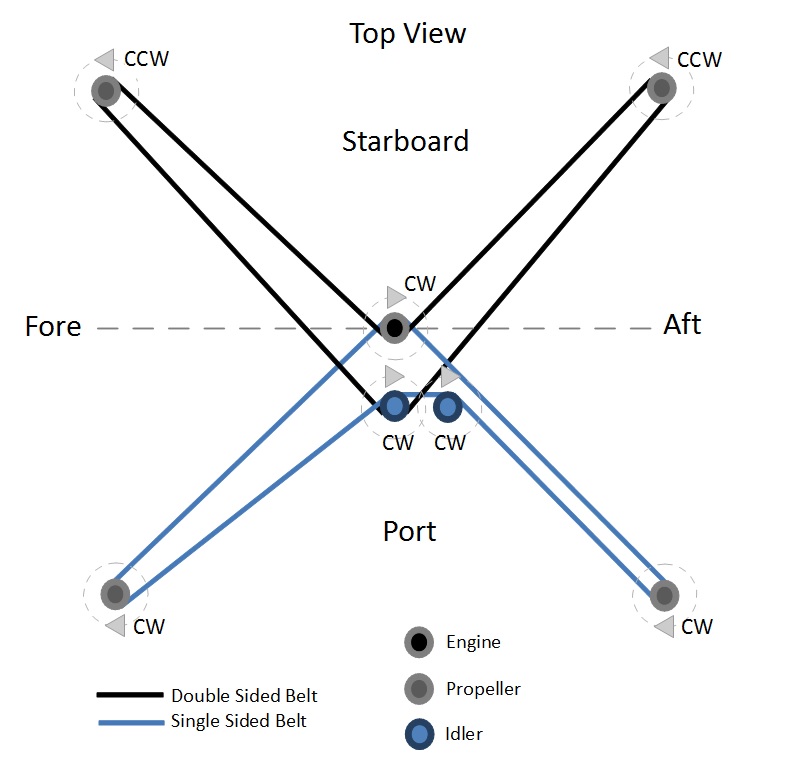 Control
An electric quadcopter would traditionally maneuver by varying the speed of each propeller to control thrust. Since Goliath uses fixed pitch propellers and all the propellers turn at the same speed due to the belt drive, maneuvering will be done by control vanes similar to those used to steer hovercraft.
Flight control will be performed using the Pixhawk controller running a modified version of the Ardupilot flight software. Modifications to the Ardupilot software are needed to work with Goliath's unique control system. Both the Pixhawk and Ardupilot are open source. The modifications made will be open source as well. A USB radio receiver will be attached to the flight controller and setup to receive ADS-B signals. These signals will allow the operator to be aware of other aircraft operating in the area.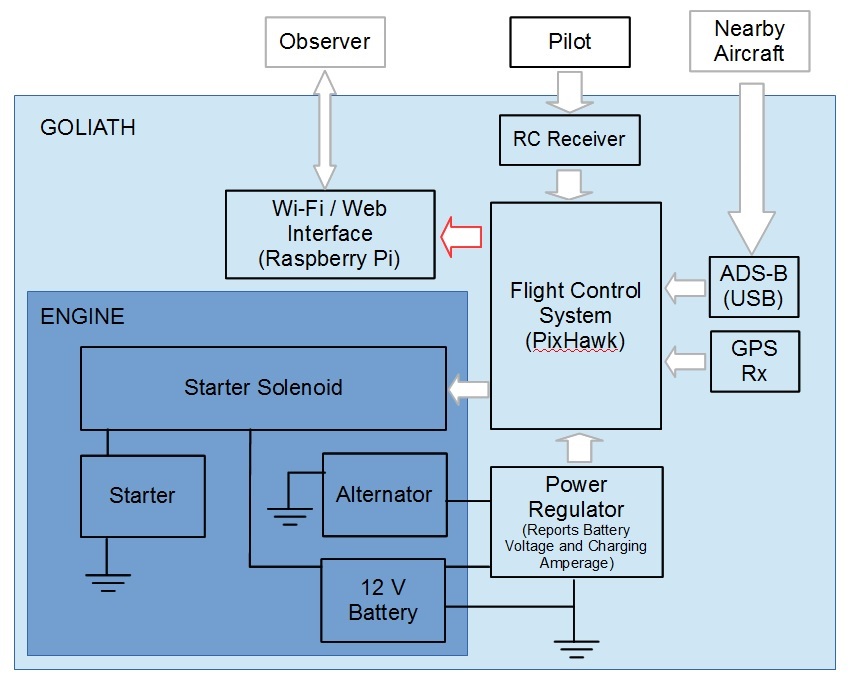 Additionally Goliath will have a WiFi interface allowing the public to interact and connect with Goliath. Data and Video Feeds will be available and observers can notify the operator of potential issues.
Electrical System