Hi everyone, it's that time again. We'll be discussing Fusion 360 and 3D-Printing today. Let's welcome Vladimir Mariano to the Hack Chat!
Vladimir, can you start us off with a little about yourself and how you got into desktop manufacturing?

Vladimir12:00 PM
Thanks Dan!

skitchin12:00 PM
Hello Vladamir!

Vladimir12:00 PM
Hi Everyone

shankz12:01 PM
Hello
bsheff2 joined  the room.12:01 PM


Vladimir12:01 PM
Yes, I'll start with a little background on me. I run two makerspaces in Norwalk CT, USA. A community one that I co-founded and one at the Norwalk Community College.

Vladimir12:02 PM
I also teach online courses on designing for 3D printing with fusion 360 at desktopmakes.com

https://www.youtube.com/channel/UCxgunnLdsV72eAezHW6u0KA
A place for tutorials, tips, and project ideas on 3D printing, desktop milling, laser cutters, and electronic projects. I now have a weekly Autodesk Fusion 3...

Vladimir12:04 PM
I got into the world of 3D printing back in 2012. After attending the World Maker Faire in NY I was determined to build my own reprap machine. I successfully built my own Reprap Mendelmax and ever since I have been obsessed with 3D printing and design.

Vladimir12:05 PM
This was back when you had to source all the parts yourself. There weren't many 3D printer kits around. Radioshack was still around.
josh.hulbert joined  the room.12:05 PM


Vladimir12:06 PM
I used them for a lot of my parts including McMaster-carr, Home Depot, and the skateboard shop for bearings.

Vladimir12:06 PM
After successfully completing a few prints from Thingiverse I was excited to try designing my own models.

What would we do without skateboard bearings, right?

Vladimir12:07 PM
I actually started with Sketchup

Maave12:07 PM
oof same, Sketchup did weird stuff with lines at very small scale

Vladimir12:07 PM
@Dan Maloney You can never have enough

Vladimir12:08 PM
I got pretty good with Sketchup but then stumbled on Fusion 360

@Maave - like not actually connecting two lines but looking like they are connected? Yeah, that's fun

josh.hulbert12:08 PM
Haha, Sketchup's problems are manifold

Vladimir12:09 PM
I quickly realized that Fusion 360 was going to be a lot more powerful for my applications. Especially the parametric capabilities.

Vladimir12:09 PM
Being able to take advantage of the timeline to " go back in time" and update my model was a huge advantage

Vladimir12:10 PM
With Sketchup I found that whenever I wanted to back and fix something I might as well start over.

Vladimir12:12 PM
Right away I began my mission to learn Fusion 360. In the beginning there were designs that I knew would take me 2 minutes to complete in Sketchup I forced myself to use Fusion in order to learn.

Vladimir12:13 PM
There weren't much tutorials then. It wasn't as popular as it is now.

Vladimir12:13 PM
My projects range from the artistic to the very practical.

Vladimir12:14 PM
Here's the project I showed at this year's World Maker Faire. It was a display of different 3D printed sculptures magnetically levitated and spinning.

Vladimir12:14 PM


https://www.instagram.com/p/Bn6vigXgJhP/
175 Likes, 4 Comments - Vladimir Mariano (@desktop_makes) on Instagram: "What is going on here? Checkout the Desktop Makes booth at the world #makerfaire in NY this..."

There was one you did that was a vase, I think. Just blew me away how few steps it took to get a complex design done.

Vladimir12:15 PM
Here's a better video

Vladimir12:15 PM


https://www.instagram.com/p/Bog3dsRgLJb/
269 Likes, 7 Comments - Vladimir Mariano (@desktop_makes) on Instagram: "Check out my trippy vase design made in Fusion 360. This was part of my display at the World Maker..."

No - it was the Christmas ornament

https://www.youtube.com/watch?v=EASXkbr230I

Vladimir12:16 PM
Yes, I love using Fusion for those types of designs. They look complex but quite simple to do.

Vladimir12:17 PM
Here's the 3D Print

Vladimir12:17 PM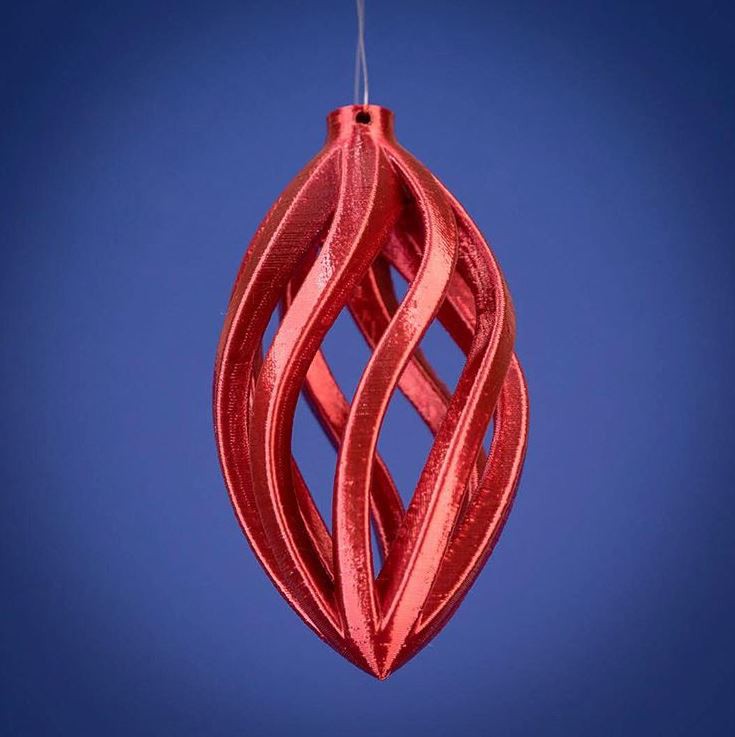 anfractuosity12:19 PM
that's really neat! also is that painted, looks shiny

Vladimir12:19 PM
Here's a timelapse and short vid on the design

Vladimir12:19 PM


https://www.instagram.com/p/BrOGjVFnBOQ/
161 Likes, 7 Comments - Vladimir Mariano (@desktop_makes) on Instagram: "My 3D printed ornament. I printed one on a Prusa mk2 and one on a Makerbot Rep2. Designed in..."

Vladimir12:19 PM
@anfractuosity No that's red pla

anfractuosity12:20 PM
oh, cool

What kinds of clients do you get for your classes? Is it mostly individuals? Or are corporations starting to take an interest in desktop manufacturing training?

Vladimir12:21 PM
I used polyalchemy elixir pla. The merlot color. Great stuff.

Vladimir12:21 PM
Mostly individuals but also a few corporations

Vladimir12:21 PM
I also get libraries that purchase licenses

Vladimir12:22 PM
Home schoolers also will buy the courses

Seems like corporations are a little slow on the uptake with these things.

josh.hulbert12:24 PM
Have you tried doing any surface texturing? I like the option in Cura, but it does it for every surface which isn't cool for mating areas. My fumbling in Meshmixer made my models look like they were in a car crash.

Vladimir12:24 PM
Yes, but I think they will soon begin to see the potential of online training. Hopefully.
Rob Sullivan joined  the room.12:25 PM


Vladimir12:26 PM
@josh.hulbert I did youtube video on Adding texture to a curved model

Vladimir12:26 PM



Nick Sayer12:26 PM
How about etching text? That's my next challenge for my designs.

Maave12:27 PM
Like embossed or subtler than that?

Vladimir12:27 PM
It takes advantage of the pattern on a path tool

Nick Sayer12:27 PM
Well, reverse-embossed.

Vladimir12:30 PM
@Nick Sayer You can create text and either emboss or engrave it with Fusion 360

How do you see the makerspace "business" these days? Seems like a lot of spaces are struggling.

Nick Sayer12:31 PM
What I kind of have struggled with so far is parametrically aligning the text and stuff like that. I want to be able to find the center point of the text and coincident that with something.

Nick Sayer12:31 PM
so if I alter the wording or the font or what not it will stay centered.

Vladimir12:32 PM
@Nick Sayer Check out this video. The last tip is on how to center align text.

Vladimir12:32 PM



Nick Sayer12:32 PM
Thanks!

Vladimir12:34 PM
@Dan Maloney It's tough. We're a non-profit makerspace and basically survive on a lot of volunteer work.

Yeah, the membership model seems tough. The price has to be high enough to pay the bills but low enough not to scare people off. Narrow line to walk.

Vladimir12:36 PM
Exactly. We set our price at $50 a month but it just barely covers the rent.

Vladimir12:37 PM
The nice thing about Fusion is that you also have access to the sculpting environment. Here's a snowman I designed with sculpting.

Vladimir12:37 PM


I think it's probably more likely to have a successful makerspace in an urban area. Something where apartment dwellers outnumber detached homes with space for a shop. Once you get a little more rural, the value proposition starts to lean more toward having your own shop.

Vladimir12:40 PM
Yeah, I think you're right. However, one drawback is that real estate prices are a lot higher in urban areas.

Vladimir12:41 PM
Fusion 360 also comes with a CAM environment. Here's a project I did that combined 3D printing with desktop CNC.

Vladimir12:41 PM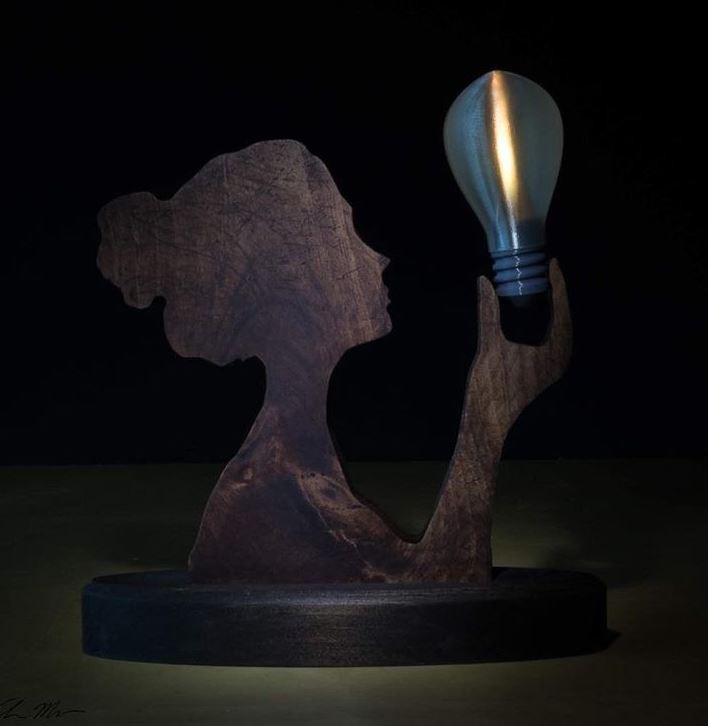 Yeah, I was going to ask about that. What other CNC-based machines are you into?

Vladimir12:42 PM
Here's the video with it.

Vladimir12:42 PM


https://www.instagram.com/p/BlTHPWFls4q/
60 Likes, 4 Comments - Vladimir Mariano (@desktop_makes) on Instagram: "Full project video is uploaded along with Fusion 360 file of design on Desktop Makes YouTube..."

Vladimir12:42 PM
The CNC was done with the Nomad Pro desktop CNC

Vladimir12:43 PM
I've also used Fusion 360 for laser cutting

Vladimir12:43 PM
Here's the last project I did

Vladimir12:43 PM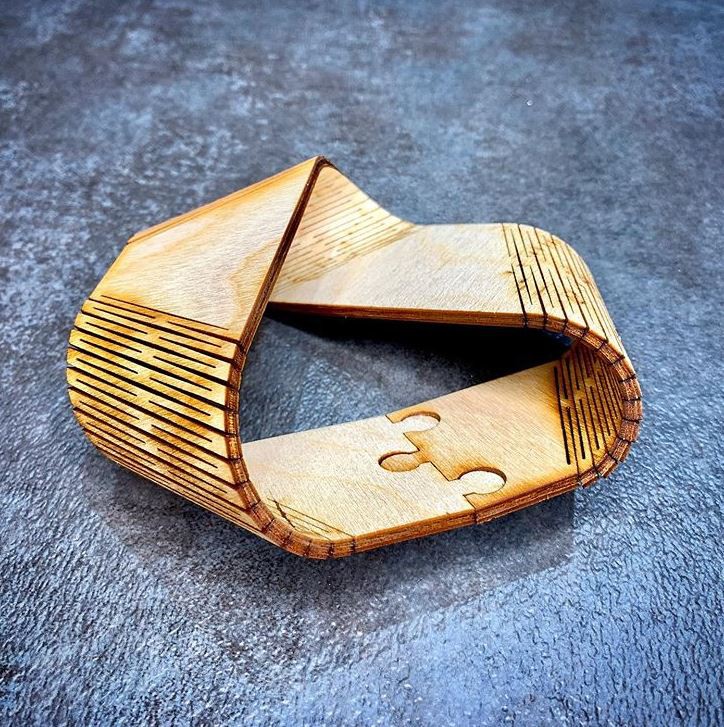 Vladimir12:44 PM
It's a technique where I show how to design and laser cut living hinges. The image above is created out of plywood.

Vladimir12:45 PM
Here's a 30 sec video on the process

Vladimir12:45 PM


https://www.instagram.com/p/ByQECi2nCwS/
56 Likes, 3 Comments - Vladimir Mariano (@desktop_makes) on Instagram: "Never knew plywood could bend like this! Check out my latest tutorial on using Fusion 360 to..."

Maave12:46 PM
wow! gunna have to try that with plastic

Maave12:46 PM
are there any tools in Fusion 360 that would improve specifically a 3d printing workflow? I'm thinking like print time estimation (that updates as I change features), or overhang/support warnings, or stress analysis that can account for lower strength along the print orientation

Do you have any special design process you follow? IOW, when you start a project, do you know roughly where it's going or do you just wing it?

anfractuosity12:52 PM
that plywood idea is awesome!

Vladimir12:52 PM
@Maave I've actually started experimenting with doing the same thing with plastic

Vladimir12:52 PM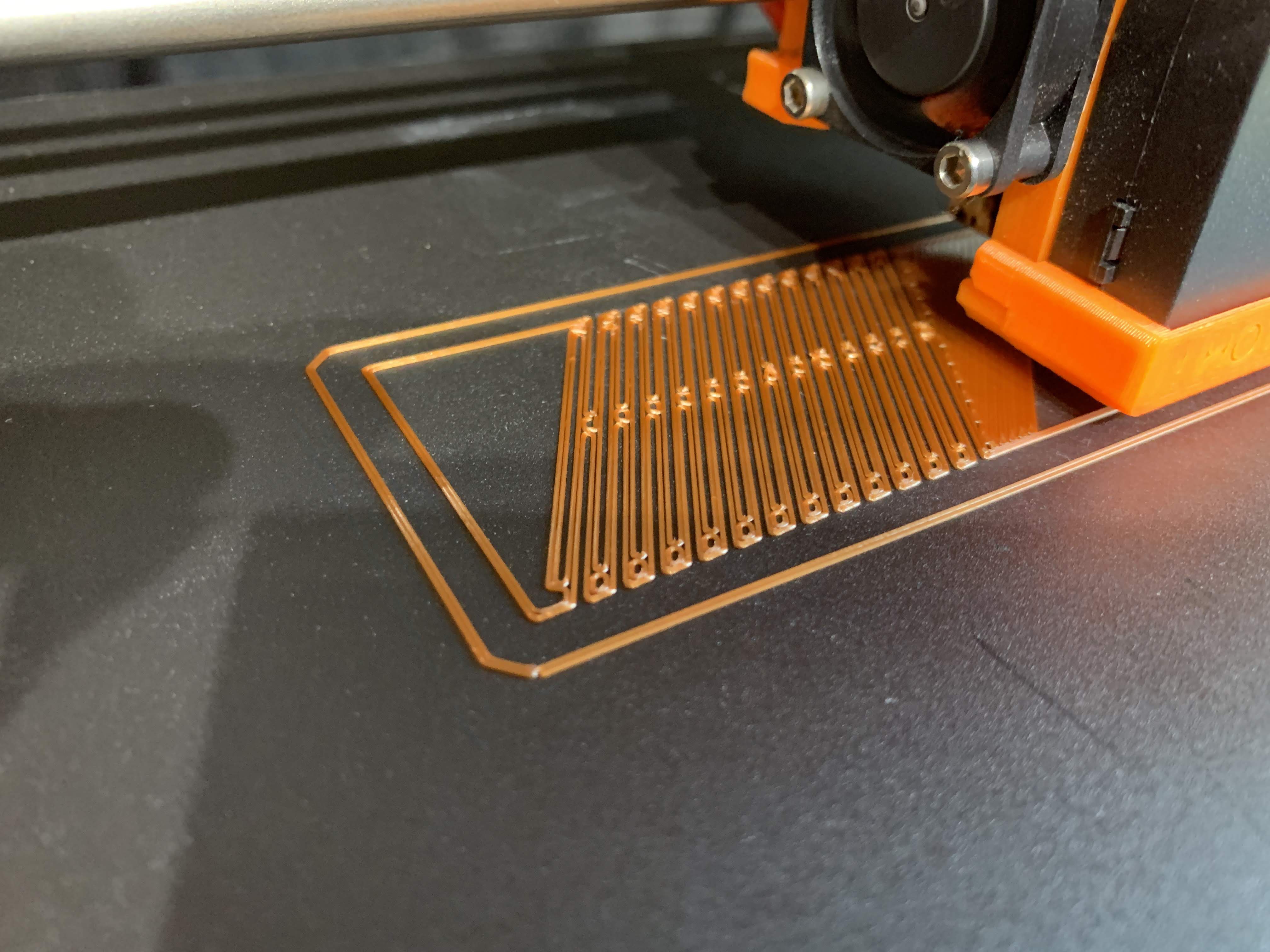 Vladimir12:52 PM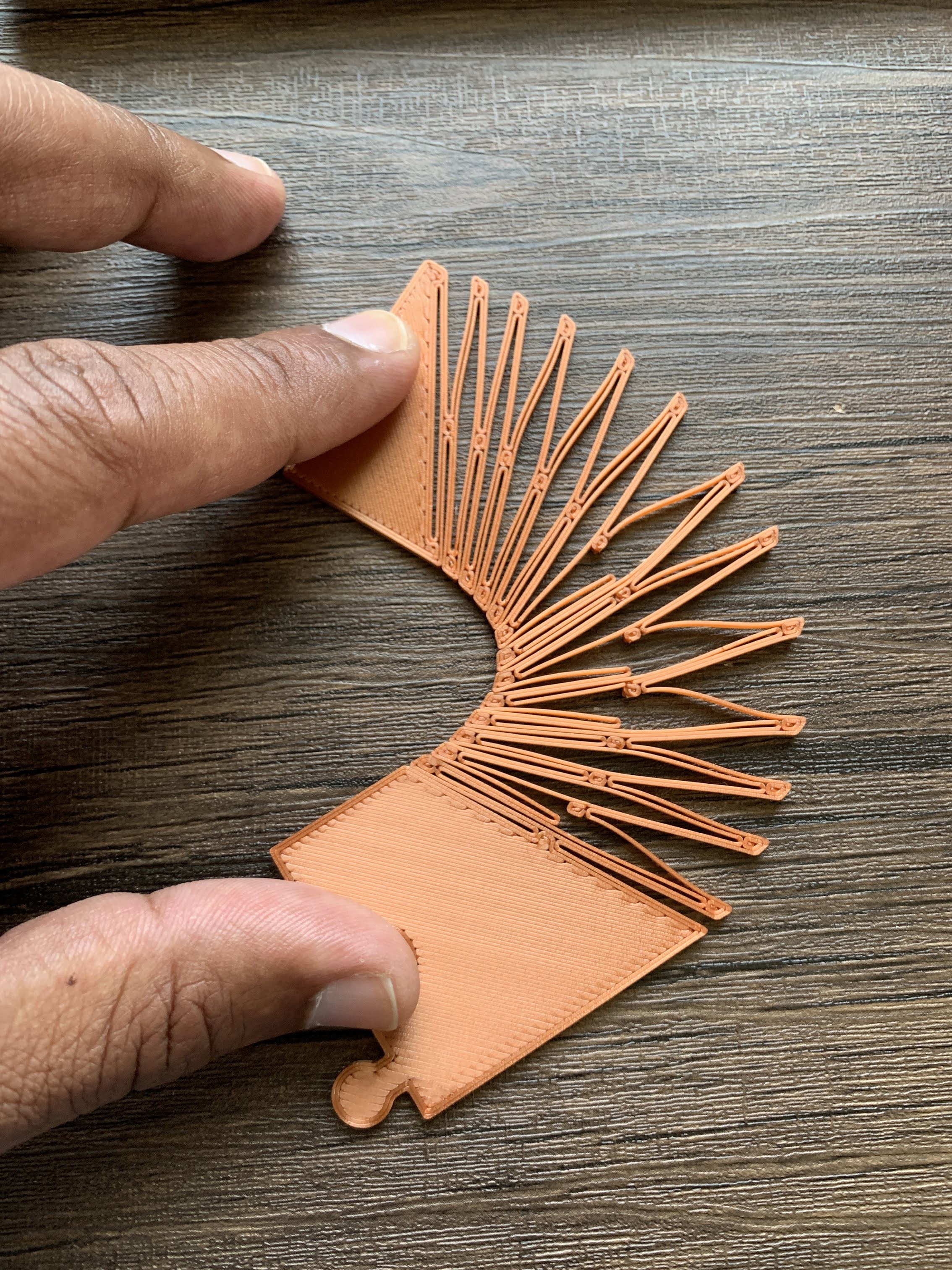 Vladimir12:53 PM
I'll be showing it on my next youtube video

anfractuosity12:53 PM
you could make a wooden watch strap

Vladimir12:54 PM
@anfractuosity Yes, I was thinking along the same lines. Some kind of bracelet. I've been trying to think of other applications

anfractuosity12:54 PM
could you make a slinky i wonder

anfractuosity12:54 PM
dunno if that'd be possible though

Maave12:55 PM
I'm making a smartphone gamepad, I'll try a living hinge on the shoulder buttons. Maybe the print could accordion to fit different phones haha

Vladimir12:55 PM
@Dan Maloney I mainly start with a rough Idea of what I want and start playing with designs. So it's mainly winging it as I go. Many times I'm never sure where I'll end up.

Vladimir12:57 PM
@anfractuosity Yes you can. In fact I've done it.

Vladimir12:57 PM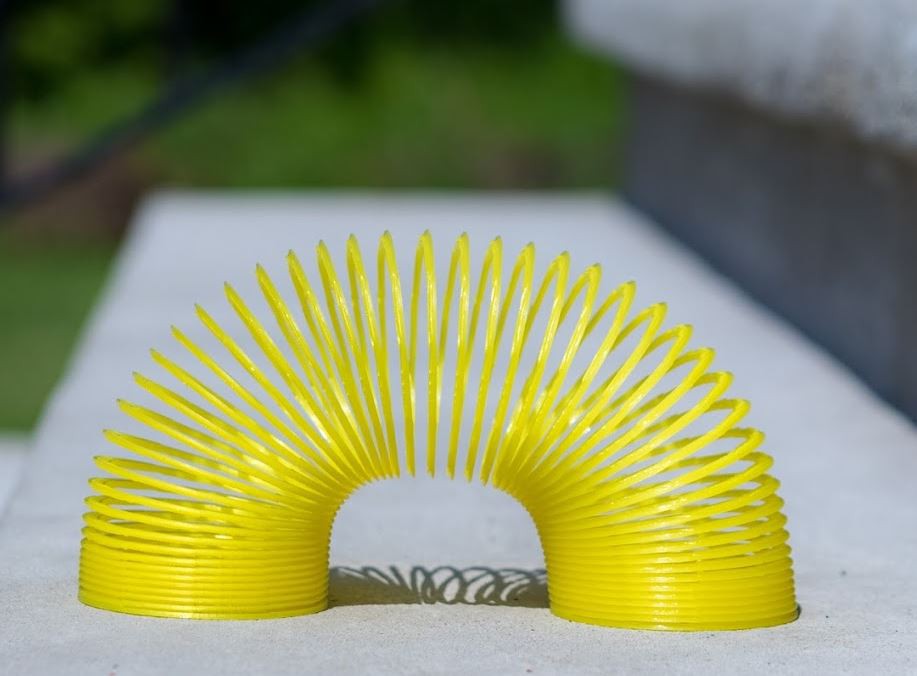 Vladimir12:58 PM
Here's the yt video

Vladimir12:58 PM