Quadcopter are unique in the world of R/C hobbyists. Usually, when it comes to controlling a model boat or plane. The distinction with Quadcopter, whether or not advantageous, is that no human is capable of controlling the rotational speeds of three or more motors simultaneously with enough precision to balance a craft in the air. This is where flight controllers come into play. Quadcopter today have found a great application in many fields like photography, surveillance, transport, remote sensing, rescue-and-relief and also in entertainment purposes like racing.
A flight controller (FC) is a small circuit board of varying complexity. Its function is to direct the RPM of each motor in response to input. A command from the pilot for the Quadcopter to move forward is fed into the flight controller, which determines how to manipulate the motors accordingly.
The performance and working of the Quadcopter depends on the flight controllers which is the central electronic processing units with a number of fixed purpose ports for power, instruments, power electronics respectively, they have a vast array of sensing instruments onboard like accelerometers (tilt, orientation & axial acceleration), gyroscopes (for rotation vectors and motion vectors), GPS or Global Positioning Systems (for geographic position coordinates), compass (for directional orientation) and so much more. Commercially available flight controllers have some or all of the above components depending on their complexity and use. The flight controller draws data from all of these instruments and couples it with the input from the pilot to facilitate the desired flight using its complex algorithms and programmed settings.
 It is therefore very crucial for an enthusiast or a hobbyist to understand which flight controller must be chosen for the Quadcopter based on its purpose, use cases, desired flight characteristics and the set of instruments that may be added. This is important because there are many different types of flight controllers that are available in the market with the same purpose to control the flight of the drone but differ in a lot of aspects like the number of I/O (Input/ Output) ports, software algorithms, and setup, weight, shape, and complexity.
So in order to make easy for you I am separating all the flight controller boards based on common characteristics and purpose with use cases for each. They are divided into 3 classes as following:

Class I: Beginners and Casual Flying
Class II: Acrobatics and Racing
Class III: Advanced Flying
Class I: Beginners and Casual Flying
Class I flight controllers are designed for people who are new to the Quadcopter platform designing and flying. They are generally pre-programmed for basic flight and simple functions that beginners get to use out-of-the-box without going through a complex set-up and tuning process but these boards do give a choice to do so if required. They are usually on the lower side on technical complexity with sensors and instruments on the bare minimum which is needed for a simple flight like just and an accelerometer and a gyroscope. With no additional ports to attach advanced sensor extensions and positioning tools, these boards are designed for casual flying and learning purposes. They are an excellent platform for new pilots to dip their hands-on drone flying and control with a sense of understanding of different characteristics of electronic device properties in the air. 
Some of their important characteristics:
Basic Input and Output ports.
Designed for beginners and casual flyers.
Low responsiveness.
Limited on-board instruments.
Low cost but decent performance.
Simple and easy user interface.
Limited scope for feature expansion.
Examples of flight controllers in this class are:
 1. KK Board Series: KK2.0, KK2.1, KK2.1.5 
 Best board for beginners that has an LCD screen built-in for users to set-up and tune the board and the drone anywhere without the need for a computer. With a high performance to cost ratio this board is widely used for learning drone control and flight principles. These boards are easily available with very few and minor differences in subsequent versions. They do not have a developer community supporting them actively but the in-built software suite has an excellent graphic user interface which is easy, powerful and effective. The KK board series have low voltage needs i.e. 3.3-5 Volts and supports battery eliminating circuits too. It is one of the few boards which also supports camera gimbals that keep photography cameras on the drone stable mid-air.
To buy this KK Board Series: KK2.0, KK2.1, KK2.1.5 Click Here
 2. Beta Flight: Open Pilot CC3D
CC3D flight controllers are all types of stabilization hardware that run the Open Pilot firmware. They can be configured to fly any airframe from fixed-wing to an octocopter using the Open Pilot Ground Control Station (GCS) software. The board was remodeled with an improved gyroscope sensor. This revision is called the CC3D. This board, however, requires a lot of pre-configuration and is not recommended as it's a counterpart, i.e. the KK boards offer much more advantage.
To buy this Beta Flight Open Pilot CC3D Click Here
Class II: Acrobatics and Racing
Class II flight controllers are designed from ground up for agile Quadcopters which are built for racing and very fast flying, because of this they are very compact and ultra-light. The flight controllers in this class have a very specific purpose of being very fast data processors and with their high responsivity, they make for an excellent choice for drones that need to be light, powerful, aerodynamic and ultra-maneuverable. These flight controllers have a very elaborate software suite complimenting them which allows experienced Quadcopter pilots to configure the board and fine-tune very intricate parameters to achieve desired flight characteristics. These boards also come with a very sensitive array of sensors (more than Class I) which includes, accelerometer, gyroscope, temperature and voltage sensor, rotation vector sensor and much more. GPS module can be attached to these boards too.
Some important characteristics of this class:
Compact and Lightweight
Faster in-built processor for agility.
On-board software algorithms are tuned for high responsiveness.
Have an external software suite for configuration with good developer community support.
Easy connection-making process.
Come with shock and crash-resistant circuit structures.
Examples of flight controllers in this class are:


1.    SP Racing F3 Flight Controller ACRO Version
The SP Racing F3 Flight Controller is designed to give a flight performance based on a very accurate set of sensors and also providing unparalleled I/O capabilities in a small and extremely lightweight form-factor using a next-generation CPU which supports a high bit rate and input signal processing. There are several great features in this board starting with a trusted STM32 F3 processing unit with integrated hardware-based floating-point units for precise flight calculations and faster ARM-Cortex M4 cores SOC. It black box flight log recorder that will help you optimize your tuning by comparing the current with previous values.  Some more great features are the additional built-in sensors with the barometer mounted on the bottom of the board for easy wind isolation and automated control. Dedicated output for programmable LEDs – great for orientation, racing and night flying. The vast number of  I/O supports several features at one go.
To buy this SP Racing F3 Flight Controller ACRO Version Click Here


2.   Naze32 6DOF Flight Control Board
Designed for serious and experience multi-copter racers and extreme freestyle flyers, the Afro Flight designed Naze32 flight controller is the most used and supported flight controller today. With a 32bit ST microprocessor and a host of equally impressive sensors, this Rev6 Acro version comes with 16mbit memory and the BMP280 barometer. This board also comes with angled header pins and is configurable with base flight / Cleanflight via the onboard USB connector.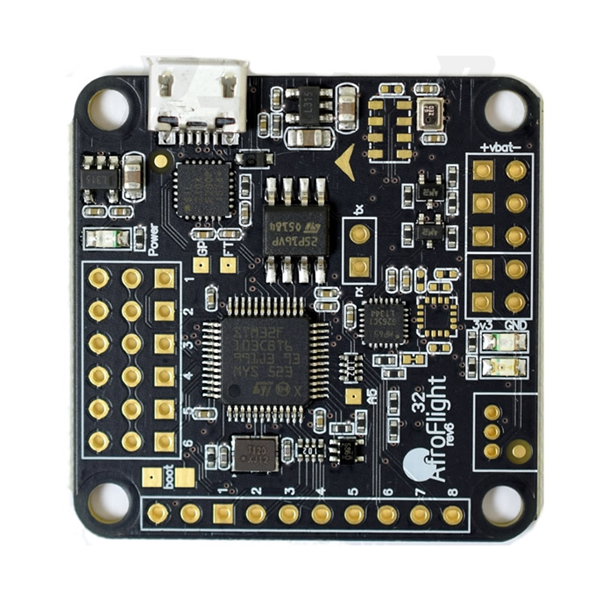 To buy this Naze32 6DOF Flight Control Board
Click Here
Class III: Advanced Flying
Advanced class flight controllers are designed to be the absolute best at being the all-rounder solution to any Quadcopter flight purpose with having highly advanced microprocessors, specialized I/O ports for massive expansion options with additional sensors, GPS, self-made electronics, additional control boards, custom electronics and so much more. These boards have the best in class software suites that enable them to be customized and configured to the highest degree with ease.
They have a great developer community support and thee boards are the best for unconventional flying purposes like automated flying and bring countless and highly advanced features that simply awestruck many pilots to this day. With an extremely high performance to cost ratio, these flight controller boards are the best choice to make for any purpose as they can be customized with already tried and tested configuration to be the absolute best at any use case. Due to this versatility of these boards, they are used widely for many purposes in research work, remote sensing purposes, in transport and delivery drones, photography and security purposes. Enthusiasts and hobbyists can even experiment with their self-made sensors and other electronics on them because of their advances general-purpose input and output ports.
Some important characteristics of this class:
Most advanced electronics onboard.
A vast array of precision built-in sensors.
Option for massive expansion via I/O ports.
Low price and high performance.
Excellent software suite and support.
Lightweight with great computational power.
Best for all pilots overall.
Examples of flight controllers in this class are:
1.    APM Flight Controller Series
APM 2.8 Multicopter Flight Controller is an overhauled rendition of 2.5; 2.6 with a Built-in Compass for FPV RC Drone Aircraft is the new APM (Ardupilot Mega) 2.8, flight controller. The sensors are actually equivalent to the APM 2.6 flight controller, be that as it may, this has the alternative to utilize the inherent compass or an outer compass by means of a jumper. This makes the APM 2.8 perfect for use with multi-copters and wanderers. The APM 2.8 Multicopter Flight Controller is a finished open-source autopilot framework and the top of the line innovation that won the esteemed Outback Challenge UAV rivalry.
It enables the client to turn any fixed, revolving wing or multirotor vehicle (even autos and vessels) into a completely self-ruling vehicle; equipped for performing customized GPS missions with waypoints. This correction of the board has a discretionary installed compass, which is intended for vehicles (particularly multi-copters and meanderers) where the compass ought to be set as a long way from power and engine sources as conceivable to stay away from the attractive obstruction. (On the fixed-wing flying machine it's regularly simpler to mount APM far enough away from the engines and ESCs to dodge attractive impedance, so this isn't as basic, yet APM 2.8 gives greater adaptability in that situating and is a decent decision for them, as well). This is intended to be utilized with the 3DR uBlox GPS with Compass so the GPS/Compass unit can be mounted further from commotion sources than APM itself.
To buy this APM Flight Controller Series  Click Here
To explore Pixhawk 2.4.8 Drone Flight Controller PX4 32 Bit Autopilot — Good Quality Click Here
Click Here To explore more original Flight controller accessories
This  is based on an article How to Choose a Flight Controller for Multi-Rotors - By Vedant Satarkar. Visit this article to know more about  it.