So in the spirit of the precedent log, I found tiny incandescent lamps that just fit the bill. Rated at 3V/50mA, I have a set of 50×red, 50×blue and 50×orange and I think they fit nicely with the theme of the project (power hungry). Imagine 16 or 32 of these, blinking as computations progress: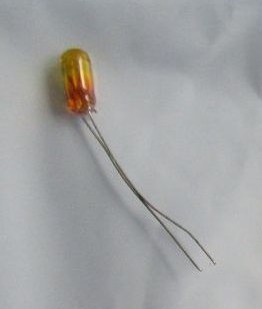 Of course I've thought about using LEDs. But these are fragile semiconductors that won't like the repeated spikes on the power supplies, even though I can add a resistor in series and a capacitor in parallel. That's quite a lot of parts. However a 60 Ohms load across the coil will help absorb the spikes.

Now I have one color for the 32 (48?) input bits, another for the (intermediary) results and another for the control signals.
To hell with saving power. I'm not building a Bomb/Colossus...
---
PS: Glühbirnchen is the german word for "tiny glowing bulbs". I hope you learned something today :-D