See http://www.instructables.com/id/Wifi-Webradio-With-ESP8266-and-VS1053 for the description of the minimal prototype.

See github source for the ESP32 version ( vs1053 or i2s or pcm or internal DAC)

See A project derived from KaRadio32 in progress.

See the lcd +IR software's on Github AddOn

See some realizations of users at KaraDio

A nextion touchscreen display for KaraDio from yo2ldk : Here
For more informations or questions, you can enter to the Karadio facebook group

---
KaRadio32 Release 1.6
Release 1.6 Rev 4 - Built on 2019/01/08
New:

1.6 R4:

Web page look changed (a bit),
A bug for the vs1053 removed,
If IR keys are defined in csv, the default keys are ignored.

1.6 R3:

Web update improved,
Corrected: I2C crash when SDA or SCL = 255,
Station name and genre on lcd was sometime not good,
Rotary change when pushed was not working,
A bug on error counter on stream reception was not resetted.
Happy new year 2019.

1.6 R2:

AAC decoding for wrover model (may be unstable),
Treble for vs1053 corrected,
Changed cpu speed to 240MHz for AAC,
Little correction for color lcd.

1.6 R1:

Optimized B/W code: more free heap,
mDNS hostname setting added on the web interface.

1.6:

This release is the first one of a new generation.
When an external sram is detected (like on a wrover esp32), the heap is now huge (4 GB),
The first step: the reception buffer is now of more than 10 seconds,
This release is compatible with the wroom and wrover esp32.
KaRadio: Release 1.7
R0 - Built on 2017/09/09
New:
1.7: mDNS added, web command next and prev added. sys.host command added.
1.6.3: Correction for stations with the char & in path.
1.6.2: R4 ntp server changed.
1.6.2: R3 removes a bug on telnet which block the web display
1.6.2 Add of the rssi (Received Signal Strength Indication -30:best, -99:worst) at top right of the web page.
1.6.1: Click on header to rewind to the top of a page.
Header stays on top of the web page
gzipped html tranfert. More stable and improved speed
The page content follows the header size.
History:
ESP8266 Simplest prototype: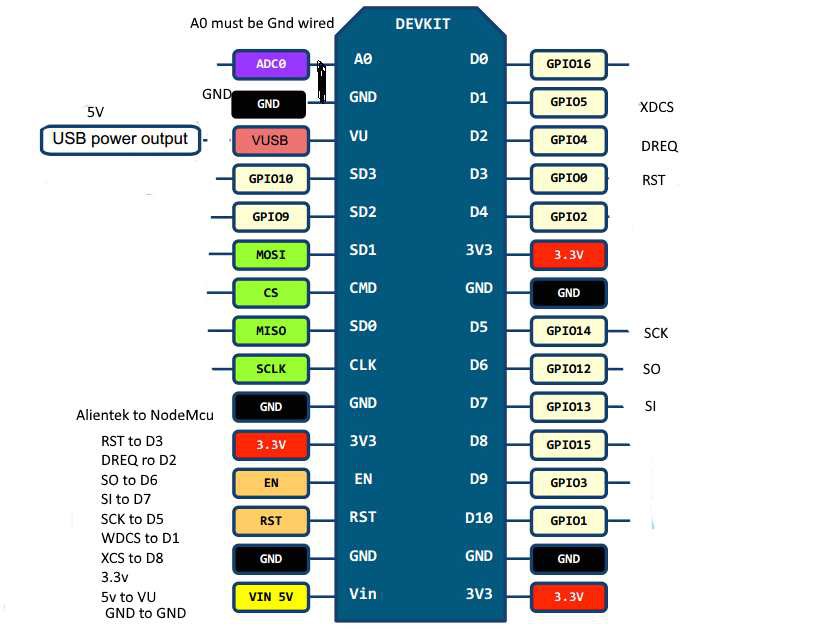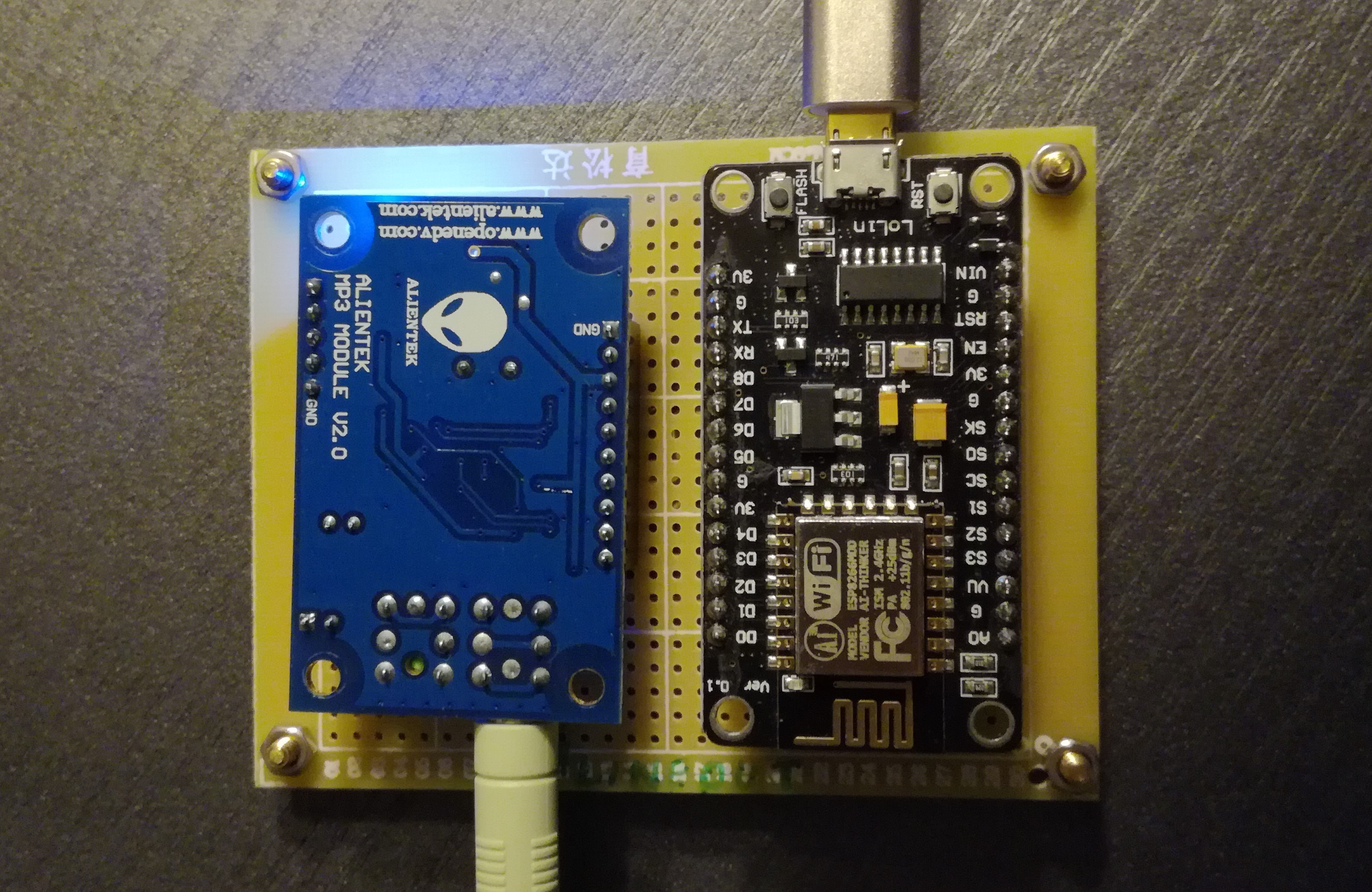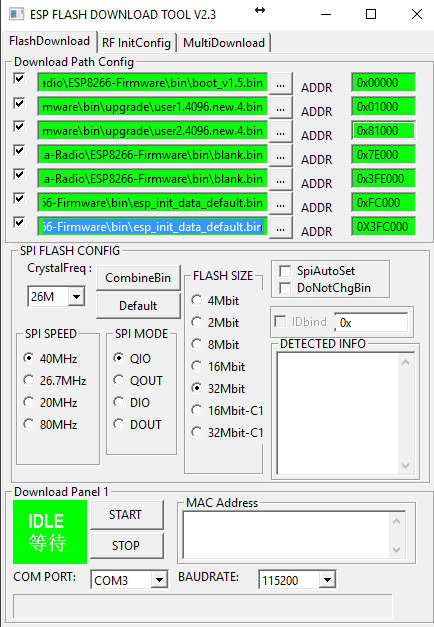 - Optional external ram (23LCV1024) support (1:CS/=GPIO16 2:MISO=GPIO12 3:NC 4:GND 5:MOSI=GPIO13 6:SCK=GPIO14 7:GND 8:3.3v)

Attention:
The optional led is now on GPIO2. The blue led on the ESP8266 is blinking at the same rate.
GPIO16 is now the Chip select for the external ram if any.
The external ram is detected at boot time if present.
To upgrade to this release, please flash user1.4096.new.4.bin at 0x1000 ,
user2.4096.new.4.bin at 0X81000 and blank.bin at 0x7e000 & 0x3fe000
After that, all next updates are done with the On The Air (OTA) feature.
New binaries are hosted at http://karadio.karawin.fr .

Loading the esp8266

First use

If the access point of your router is not known, the webradio initializes itself as an AP. Connect your wifi to the ssid "WifiWebRadio",
Browse to 192.164.4.1 to display the page, got to "setting" "Wifi" and configure your ssid ap, the password if any, the wanted IP or use dhcp if you know how to retrieve the dhcp given ip (terminal or scan of the network).
In the gateway field, enter the ip address of your router.
Validate. The equipment restart to the new configuration. Connect your wifi to your AP and browse to the ip given in configuration.
Congratulation, you can edit your own station list. Don't forget to save your stations list in case of problem or for new equipments.
if the AP is already know by the esp8266, the default ip at the first start is 192.168.1.254
a sample of stations list is on https://github.com/karawin/Ka-Radio/blob/master/ESP8266-Firmware/WebStations.txt . Can be uploaded via the web page.
Feedback

Please tell me if you succeeded or something more can be done, thanks.
The second step will add some hardware buttons (vol + -, station + -, play ...)
Wiring:

From ESP8266_ESP12( 3.3 v) or nodeMCU(5v) to VS1053 (5 v)

REST

ADC

CH_PD to 3.3v

GPIO16 (a 1Hz output)

D5:GPIO14 to VS1053 SCK

D6:GPIO12 to VS1053 MISO

D7:GPIO13 to VS1053 MOSI
TXD to CH340G UART rx

RXD from CH340G UART tx

D1:GPIO05 to VS1053 XDCS

D2:GPIO04 to VS1053 DREQ

D3:GPIO00 to VS1053 XRST

GPIO02

D8:GPIO15 to VS1053 XCS