I finally broke down and ripped out a 14.1 inch screen from an older craptop. I checked the model number against the list from this seller:
http://www.ebay.com/itm/M-NT68676-2A-HDMI-DVI-VGA-AUDIO-LCD-LED-Controller-Board-LVDS-DIY-Reuse-laptop-/271324589042?pt=US_Server_Boards&hash=item3f2c34abf2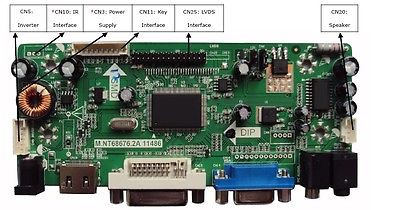 I'm not sure if it can be supplied at different voltages, the Engrish is very vague. But it has input for HDMI, VGA, and DVI, so it could be useful in a number of different projects. I searched for a dedicated HDMI solution for my specific LCD model, but to no avail.
A fourteen inch screen changes my original idea significantly. I originally envisioned a small box with batteries, screen, and a Pi with USB controllers connected. I soon decided on PS1/2 controllers since they are the limit of what the Pi can emulate, as well as being ergonomical and cheap to source. After the failure of the Chinese screen, I started thinking of the drawbacks to that design; mostly that the screen was too small to be utilized by two players, and that they were unreliable in general. I also thought a resolution change might be nice, so I did some research on small HDMI displays. There are options out there, top choices for me would be Adafruit's selection, or a recently funded Kickstarter, HDMIPi. 
These were all too expensive for my project budget, so after further research into the problem, I found the LVDS converter. I have many junked laptops, and most of them still have good displays. Now the problem to solve is how to get this all hacked up in a portable package. I think I can find a tackle box with a clear lid to mount the screen on the inside of, facing out. If so, then batteries and Pi can easily fit in the leftover space behind it. Now I just have to figure out if weight is going to be a major issue. I'm an ultralight backpacker, so I have some extra space/weight for electronics that I love. But if I can't get it under 2 or 3 pounds, then it won't be worth it. The space constraint is a little more loose, I now see it with carabiner clips to facilitate strapping to a tree, so it can be clipped outside my backpack.