SAM is coming along, much of the junction box is now mostly complete and I finally put the top cover on properly.
There is still work to do inside, mostly sealing the box and replacing the sma cable that I broke, which connects my external ant. You might see a laptop ant in the box right now, with it's long skinny white wire looped around inside.
I tried to keep the number of wires floating around inside to a minimum and am happier with less of a rats nest inside. Much of this was done by routing power and ground around on the backsides of the relay and power boards.

The power board  Contains 2x 20A current sensors and 2x voltage dividers.
I left headers to the solar panel and the battery connections there and also bring the 5v from the arduino to a set of headers on this board.

I have a bunch of cat6 and had the keystone jacks laying around from another project, seeing as I used cat6 for the sun tracker and temp sensor wiring, it seemed fitting to use them and terminate the "module" ends with rj45 jacks. Not being any kind of electrical engineer, I'm not sure this is the right way to wire it all up, but values don't differ much, if at all, from the values of the sensors I had directly plugged into the arduino. I  had it all on hand as well, so $ saved.

The temp sensors on the solar panels previously hot glued on, I thought it would work. I thought wrong. After the first day in 30C temps, the panels hit 55C and the hot glue fell right off on both panels.
I need to think about a better way to hold these on through summer and winter.  For now I've duct taped everything to the back, I might have the same problem with it's adhesive. Time will tell and I can research alternatives in that time.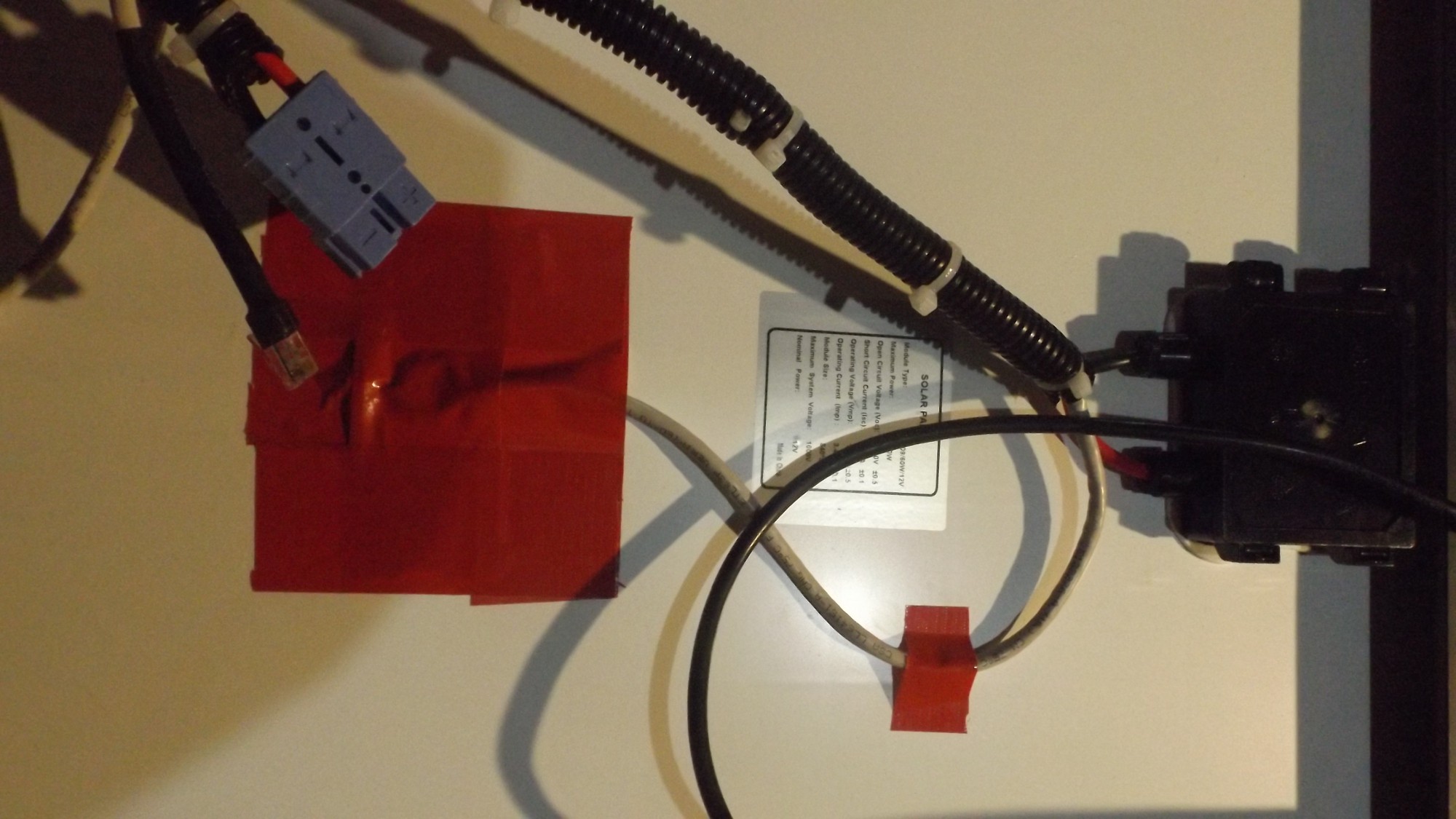 The small strip to hold it while I got the rest of the tape down.

Basic todo list :

- build a bracket to mount the sun tracker to the top of the dish.
- mount the actuator to the dish so that it's able to rotate it without being in a stressed position
- Drill a usb and sd retrieval port. Make a cover with polymorph maybe?
- Get a new sma cable
- Seal the box
- Mount everything
- Program.