In the previous logs, I've shown LoFi in the remote corner of the basement and in the garage. Now, LoFi ventures outside to the garden to measure temperature and light levels.
A 'My M&M' silver favor candy tin (intended for weddings or parties) is the perfect size container for LoFi, the AM transmitter, a solar panel, coin cell (underneath the PCB), and various sensors. A clear lid permits light but blocks bugs, dirt, and hopefully rain. The transmitter antenna wire sneaks out the side through a #54 drill hole.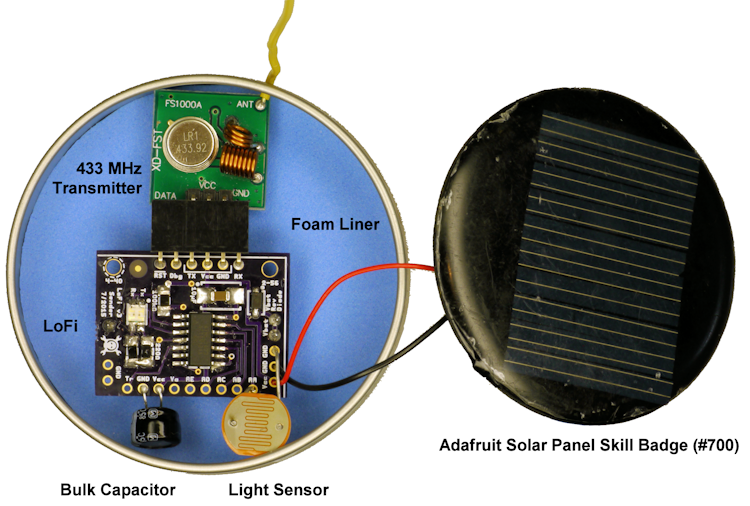 A foam liner was added to the candy tin to avoid electrical shorts. Even though the container has a non-conductive coating to avoid contaminating the candy, I've been burned by scratched or worn areas in the past.
When there is adequate sunlight, the solar panel powers the device. This solar panel was chosen because it fits so well, and provides the maximum voltage with good current. At full sunlight, the panel likely exceeds the ATtiny 5.5 V operating limit, but will stay under the absolute maximum of 6 V and has some voltage dropped by a Schottky reverse-protection diode.
The ATtiny internal temperature sensor and voltage reference are 'no-cost' inputs. An added photocell provides brightness data, and was selected to be sensitive to conditions after the solar panel yielded to the backup battery.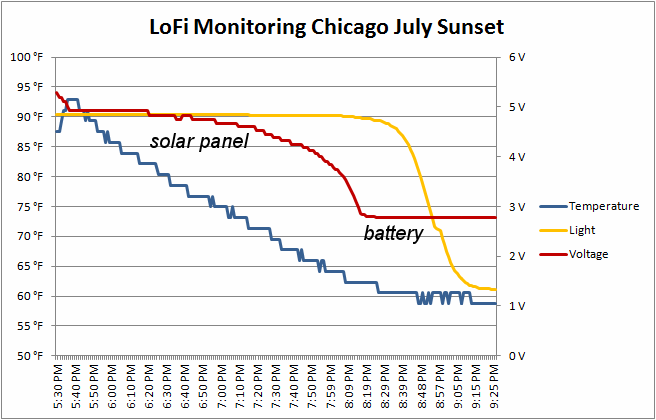 With wireless, it is nice to get immediate readings rather than logging to a flash as I have had to do in past experiments: http://www.robotroom.com/Weather-Station.html
This was not my first choice of locations for LoFi, but I discovered that a spot of land was already claimed by a toad in a hole.