I started designing the core around STM8Sx003K3T6 (or alternatively STM8S105KxT6), and since I'd like to have a board for all kinds of "remote stuff" I decided to add an Arduino style connector, an ESP-07S/ESP12F socket, a CH340 USB/serial converter, and other goodies.  

I decided to assign GPIOs to the Arduino header so that using cheap Arduino Shields is possible (Arduino Playground's Shield Pin Usage table was very helpful). Of course, one-to-one GPIO grouping isn't possible but a bit of glue code can fix that.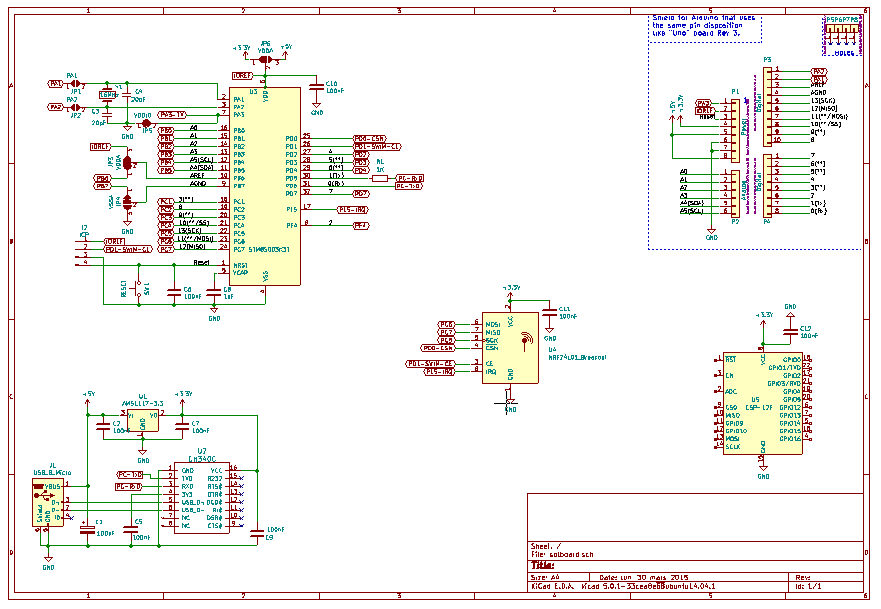 While using Arduino Shield shall be possible, the SolBoard should make best use of the 10x10cm² panel size that budget PCB houses "hand out" to the masses. I hope to find the right mixture of features and pragmatism so that my solar controller board can also be used as a prototype board or for other logging or control use cases.
The general layout of the board is this:

East:


RF, USB and control inputs,

West::


SSR, power supply and heavy-duty connectors

North and South:


5mm spacing for a 100mm wide "aluminum profile case",
maybe a small breadboard area
There are now some things to decide:
Which power supply module to use?
How to design surge and overload protection?
One or two SSRs?
How to do milling for insulation?
Which type of ESP8266 and nRF24L01 module (e.g. external or PCB antenna)
I would be happy to receive some advice from the community!