From simple transistor-based logic gates, we turn our attention to the higher complexity components that make up the essential building blocks of the CPU: multiplexors, to set up the appropriate logic pathway for each instruction, and flip-flops, which become the basis of all of the registers. For this project, the overarching design principal for designing these components is transistor efficiency: We need robust, reliable components made with the fewest transistors. Since, with a 16-bit CPU architecture, each component is effectively copied 16 times for each implementation, even a design with one fewer transistor can make a big difference in the total number of transistors. It also provides increased flexibility for laying out the actual components on the breadboards. After a fair amount of research and building test circuits, the two-input multiplexor circuit shown below was chosen. Instead of the "classic" design with three NAND gates and an inverter (seven transistors), it uses single MOSFETs as a poor-man's tri-state buffer. This works quite well as long as the input signals are buffered, inverting them on input and once again on output, for a total of six transistors. This design can be easily extended to a four-input multiplexor (15 transistors vs. 17 using NAND gates).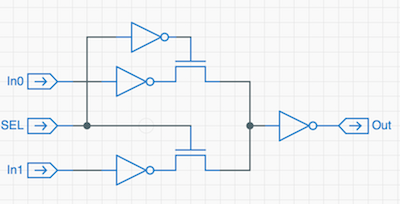 For the flip-flops, Wikipedia (borrowing from the TI 7474 chip) provided a nice transistor-sparing design for a positive-edge triggered D Flip-Flop for all the registers: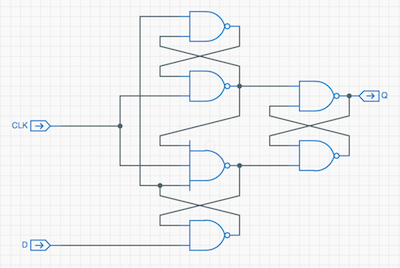 I was also able to use an XOR gate design that required only five transistors, which considerably simplified the layout (and transistor count) of the ALU's adder function: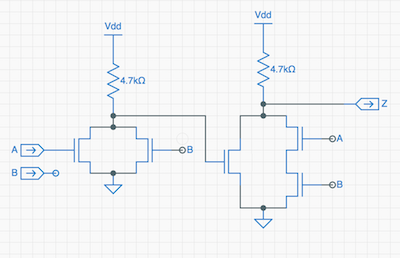 Finally, here's a five transistor design for one bit of static RAM that will be used for general purpose output, bank selection, and "screen memory" storage: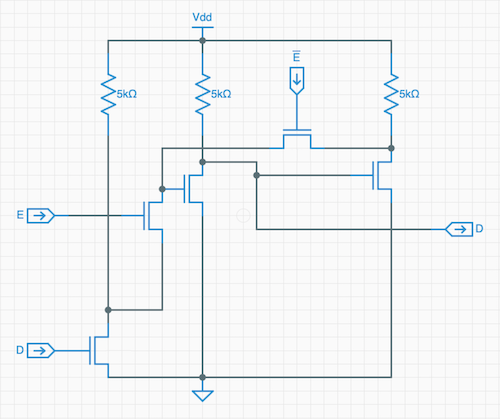 Armed with these basic components, it was time to start figuring out how it would all go together to make the Spikeputor CPU.