Apologies for not posting anything after the initial project page was put up. A lot has happened since then. 
Table
 That machine weighs a little less than 500 lbs so I had to build a frame for it to sit on.
Electronics
The spindle speed is still set via the original manual controls, but that isn't that big of a deal. Adding an encoder on the spindle should help resolve that manual step.
I posted the components I was planning to use in the description. Here you can see that I took an old electrical enclosure and re-purposed it. I unfortunately did not plan it out very well. A lot of the cables would have been at strange right angles within the enclosure. At the last minute a friend with a laser cutter helped me mount the G540 on a piece of Acrylic.
What is not seen in the photo is where heat sinks were applied to the back of the G540. When I get back to it I will need to include a CPU fan, move the E-stop to the top, build doors (probably also arcylic now), and mount it to the side.
That vise is too big!
Remember that table size? Yeah, you can mount a 4'' Kurt vise at a 90 if you would like, but you lose a lot of Z in the process. | wanted something a little smaller, and little less heavy.  So I got on the ol'Amazon and got a crummy Chinese vise delivered.
Unfortunately, the dang thing must have been ground in with a belt sander. I think I found it 0.013 off, and a nice concave shape on the bottom. You get what you pay for, but nothing a little grinding won't fix.
Hello World
The moment of truth. I was planning on running Titan's of CNC tutorial on it, but decided I should just do a simple test cut.
Huzzah! It works.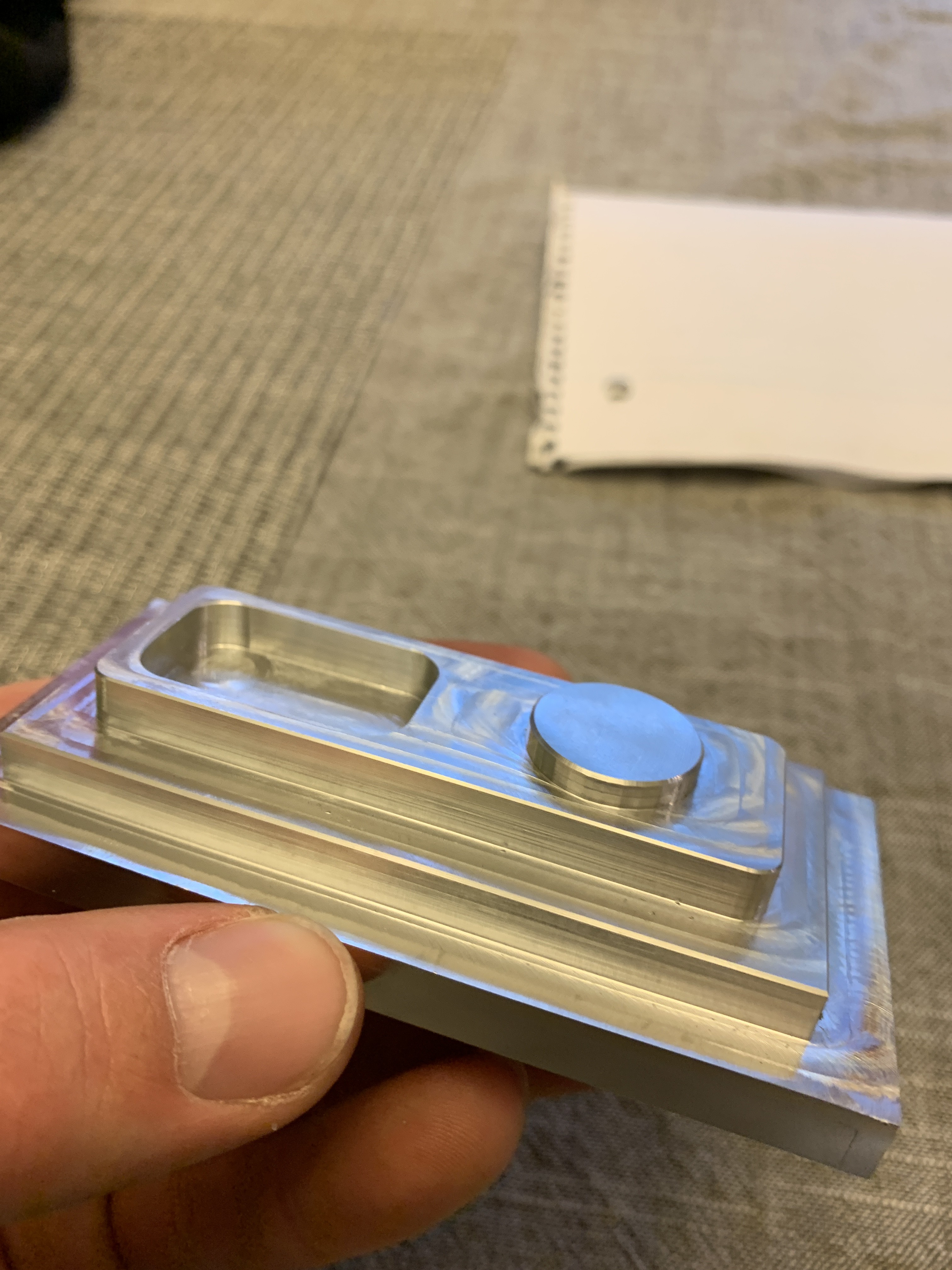 There are some parameters that one needs to be aware of when using the AcornCNC software, in particular there are different profiles. These profiles set for example the line segment lengths used in circular moves.  If you look closely you will see there is a good .125 line segment on that island. Turns out I was running it in the roughing profile. Not bad though for a first test. 
I also purchased the Wireless Electronic MPG Pendant, which makes running this thing soooo much easier.
What's next?
Well, I have an encoder waiting to be mounted on the machine. I believe there is a 2:1 belt setup between the spindle and motor and I am investigating how I can place the encoder on the motor fan mount. If I can get that running then rigid tapping becomes available as will electronic spindle speed control. Then I imagine it will be time to put an enclosure around that thing. I spent just as much time sweeping as I did cutting.