ARX X1M
Design Overview
X1M focuses on developing an advanced mechanical design that maintains a high functionality whilst being modular and maintaining ease of assembly. The hand mainly functions off of a configurable whippletree block that drives two removable finger modules (index & middle, ring & pinky) when actuated. Driving the actuation is a configurable 1 to 3 stage block and tackle pulley system to provide mechanical advantage or shorter actuation for use with motorised attachments. Additionally, alternative attachments may be placed on the back of the palm using the additional mounting holes. The thumb on the hand is also a removable module for a fixed thumb or an actuated thumb. Wrist can be rotated 180 degrees with 7 indented positions that can be adjusted for varying stiffness.  
Design Features
Mechanical prosthetic design
Easy to print - No TPU prints
Easy to assemble - Roughly 30 mins to assemble with minimal need for drilling, cutting or sanding
Materials are fairly easy to source - Uses common screws, fishing line, elastic cord and 3D printer filament
Design is durable and is capable of withstanding impacts and drops
Able to assist with lifting and grasping of objects - Able to lift 8kg
Modular hot-swappable finger and thumb sections
Configurable whippletree and pulley system allowing for 1 to 3 stages
Additional print features (custom brim, supports and part reinforcements) are added to aid printing
Back of the palm has additional mounting holes for extra attachments
Compatible motorised attachment in works
Wide range of rubber finger tip options available
Hand Design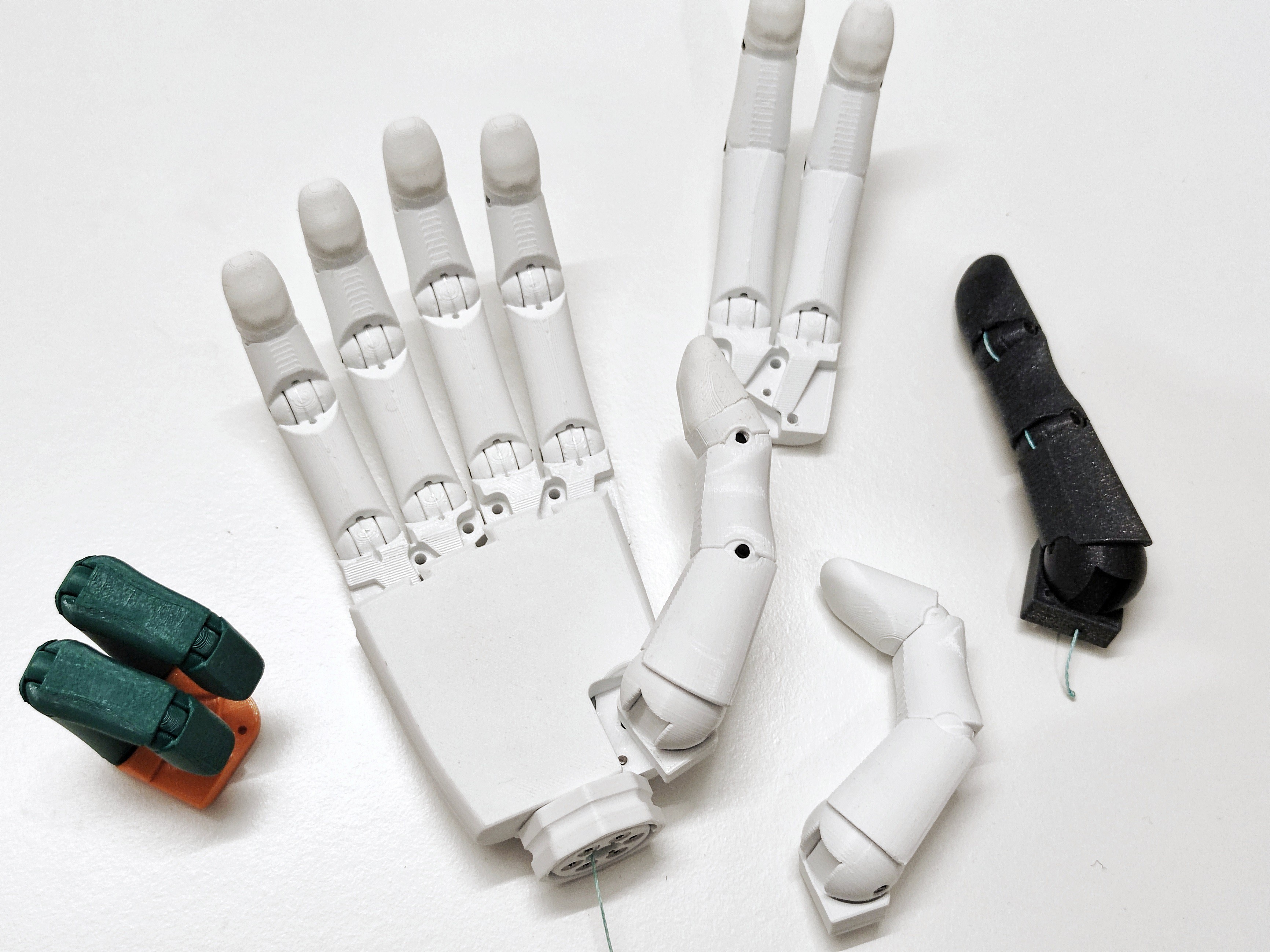 Finger Modules


The fingers of the hand are separated into two modules with one module consisting of the index and middle, and the second module consisting of the ring and pinky. The modules can easily be swapped out by removing a few screws and unhooking the tendon line.


The ability to swap out the finger module aids with allowing for ease of customisation and experimentation of alternative parts. The fingers of the module can have fewer joints, posable, fixed or can be designed to be application specific. Alternative finger mechanics like TPU joint fingers or compliant fingers can also be experimented within the same design as a module.


Current fingers used in the modules also bring their own set of customisability and experimentation, as the pins, tendons, elastic and rubber grips can be adapted to whatever possible requirements or lack of source materials. Every part of the finger can be disassembled and replaced, so each part can be replaced with alternative materials or designs. Shown bellow are a range of possible elastics (TPU, silicone, latex and nitrile) as well as a range of possible finger tip materials (silicone cast, finger protector, TPU print, rubber feet, Sugru)


Thumb Module


The thumb module allows for swapping out between a fixed thumb or an actuated thumb. Both thumbs have a 3 position ratcheting mechanism which is user adjustable. The module is only held by one screw which allows for easy replacement in case of any damage to the thumb or to swap to a different type. Additionally, application or user specific thumbs can be designed.

Palm


Whippletree system designed into the palm consists of a rotating block with a channel for each pair of fingers, index-middle and ring-pinky.  Each channel allows for slipping between the pairs of fingers to provide independence between fingers when either is obstructed when closing. When either pair is fully obstructed, the rotating block allows for further independence between finger pairs.

For the pulley system used in the palm, mechanical advantage can be configured by adjusting the method of cord attachment as shown in picture bellow. With a 2x mechanical advantage, the cord is attached to the main palm body, and routed through the whippletree block. For 3x mechanical advantage, an additional pulley is added to the cord path and the cord is attached to the whippletree block. To fully close the fingers, a cord actuation of greater than 40mm is needed for 2x, and 60mm for 3x mechanical advantage.

Palm design has been split into flat plates to allow for easy printing of complex geometry and allowing for additional attachment/plates to be adhered or screwed on using the hidden mounting holes. Additional attachments/plates may be grips pads, motor modules, grip lock, pen holder, bag holder, aesthetic plates, etc.

Wrist
Wrist design features a 180 degree rotating joint with 7 ratcheting positions. The torque required to ratchet between positions is user adjustable up to 4 stages and can be further increased/decreased by swapping out a single printed part. Design is created to be fairly reliable and durable with the use of nylon bearing surfaces provided from 2.85mm/3mm nylon filament, and reinforced structure from multiple screws. Center rotating axis has an open channel for any cords or wiring to be routed through. 
Materials
PLA, PETG or any similar filament
2.85mm/3mm nylon filament or similar flexible filament (e.g. NinjaTek Armadillo)
0.5mm to 0.8mm diameter monofilament fishing line
2mm elastic cord
16mm
3D Printing
The ARX Hand Project can be printed using any standard FDM printer that can print PLA. Majority of prototypes I have printed are in PLA using a fairly modified RepRapPro Huxley 3D printer purchased in 2014. The design has been based around 0.2mm layer height with a 0.4mm nozzle, so using different parameters may affect part fit. Some additional small geometries have been added to the models to compensate for some effects caused by 3D printing.
No supports are needed when printing out all parts, however, if there's inadequate cooling of the undersides of joints, supports may be needed. Parts can be printed without brim for materials like PLA and PETG, but bed adhesion should be made as strong as possible for finger joints as they are prone to warping due to their length. The use of a removable flex bed is recommended to allow for easy part removal if print is adhered strongly to the bed.
Typical print specifications:

0.4mm nozzle
0.2mm layer height
30mm/s outer perimeter
40mm/s inner perimeters
60mm/s infill
+-0.1mm XY accuracy
0.2mm Z resolution (layer height)
Print materials:
PLA or PETG for hard plastics
85A TPU for rubber parts (not a requirement)
STEM
ARX X1 Variants 
Disclaimer
Although I have experience in designing things from being self taught, I do not have any degree or qualification as of writing. This design therefore should not be used as a medical device or to be used in any situations where it may cause injury or harm. I can not be liable to any injuries, harm, or issues resulting from the design and therefore should only be used at your own discretion.
License
This work is licensed under a Creative Commons Attribution-NonCommercial-ShareAlike 4.0 International License.