It appears Blockly has some built-in customization for block shapes. This is used when initializing the Blockly workspace in code.js:1094 - 
Blockly.Themes.Barnabas = Blockly.Theme.defineTheme(

'barnabas'

, {
  

'base'

: Blockly.Themes.Classic,
  

'componentStyles'

: componentStyles,
  

'blockStyles'

: blockStyles,
  

'categoryStyles'

: categoryStyles,
  

'fontStyle'

: fontStyle,
  

'startHats'

: 

true


});
Hats are the arc shape on top of event blocks. There are only two event blocks in Barnabas Blocks - the setup/loop block and the subroutine declaration block. If startHats is set falsey, then these arcs will not be drawn: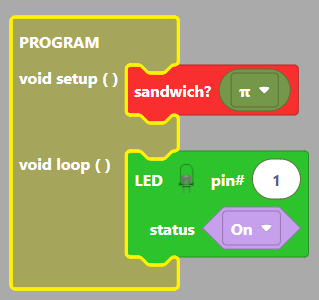 Therefore there is at least one method to reshape blocks through the regular Blockly API. My endless searching through projects was therefore unfortunately not very useful.
Hopefully I can find more ways, but in the meantime I'll be reversing the gulp toolchain responsible for the compressed source files (mainly the Blockly ones) so that editing is actually practical.