のむむ (@umumon) is a professional robotics engineer who has dedicated his life to building robots of all kinds.

He made Stack-chan walk. No, I'm not kidding. I couldn't believe that such a small robot could walk either until I saw it in action.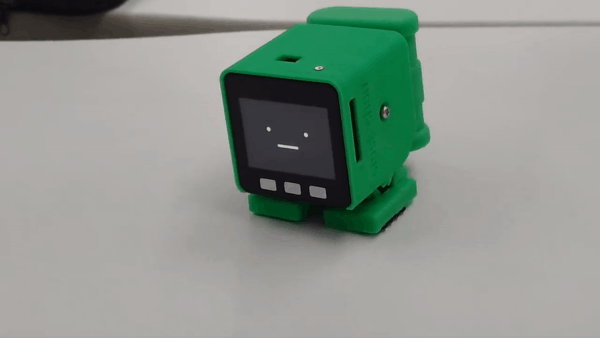 He kept Stack-chan's appearance the same, but revamped its internal mechanism and added the ability to walk.What happens when Stack-chan, which is cute even when stationary, starts walking? How could it not be cute!
What makes Stack-chan different from other small bipedal robots is that it has a walking function and also realizes pan-tilt movement. This means that Stack-chan's original head-shaking function can be used. And did you hear it say "Yoisho(grunts)" as he walked step by step, showing his respect for Stack-chan's kawaii principles?
I would like to give him the words, "One step for Stack-chan, one giant leap for whole Stack-chan community"
Looking inside, you can see that it is an amazingly complex system.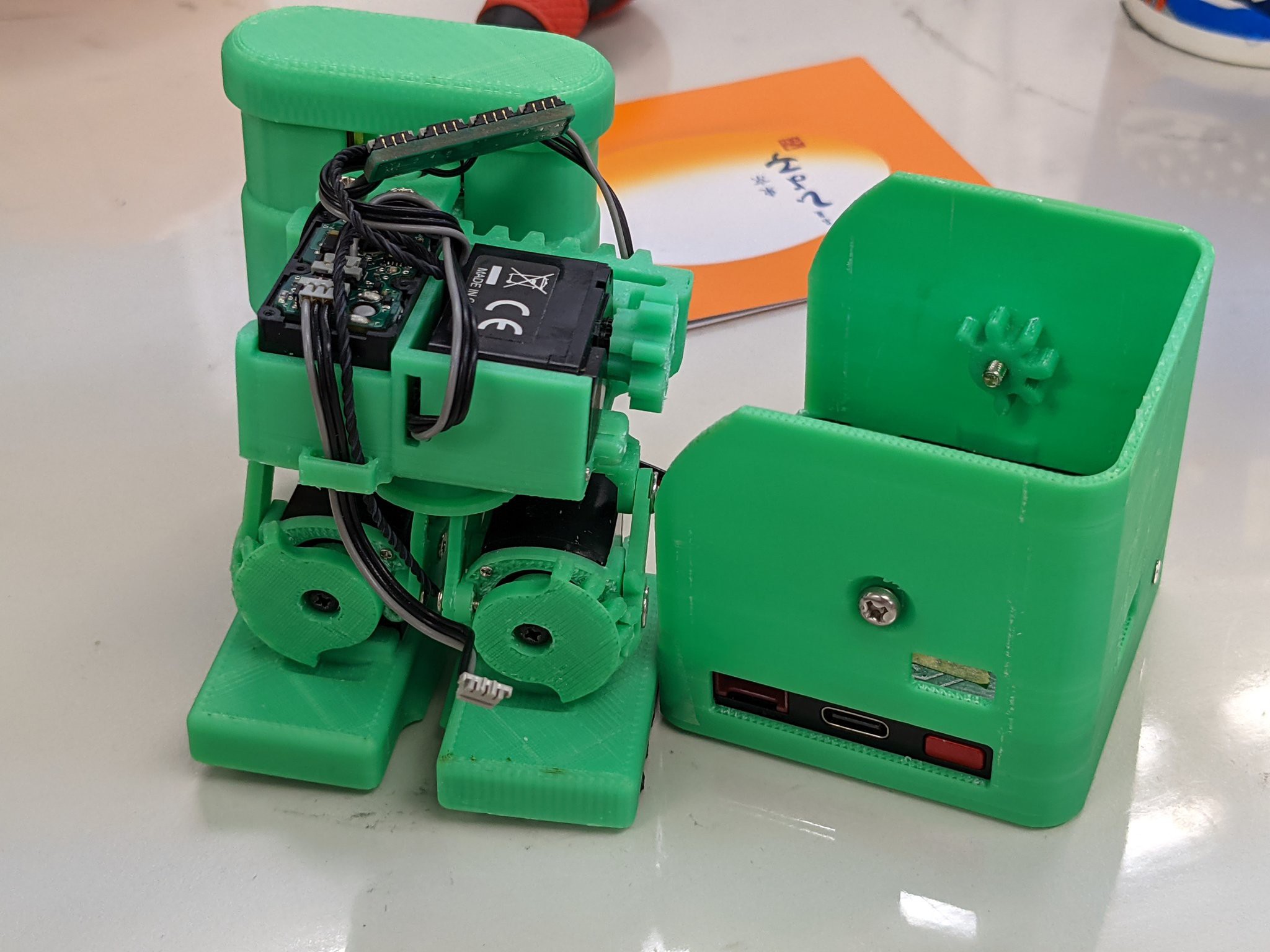 He used the RS204MD, which is a serial servo even smaller than the RS304MD. He also modified the circuit board to fit this connector.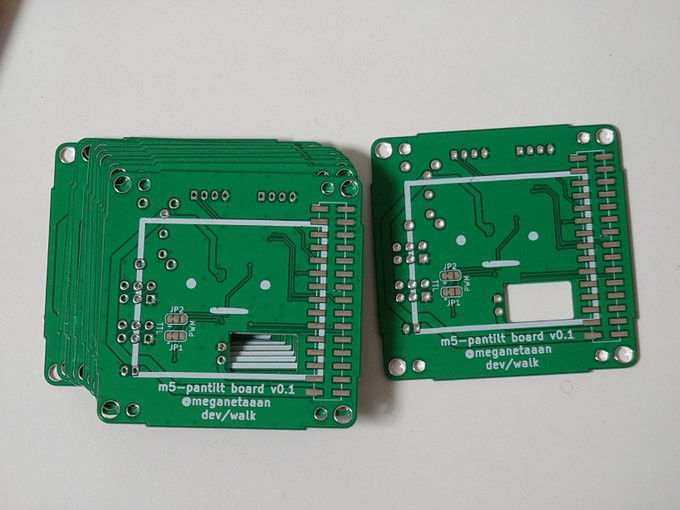 The backpack on his back is for storing batteries, but it also serves as a weight for shifting the center of gravity necessary for walking.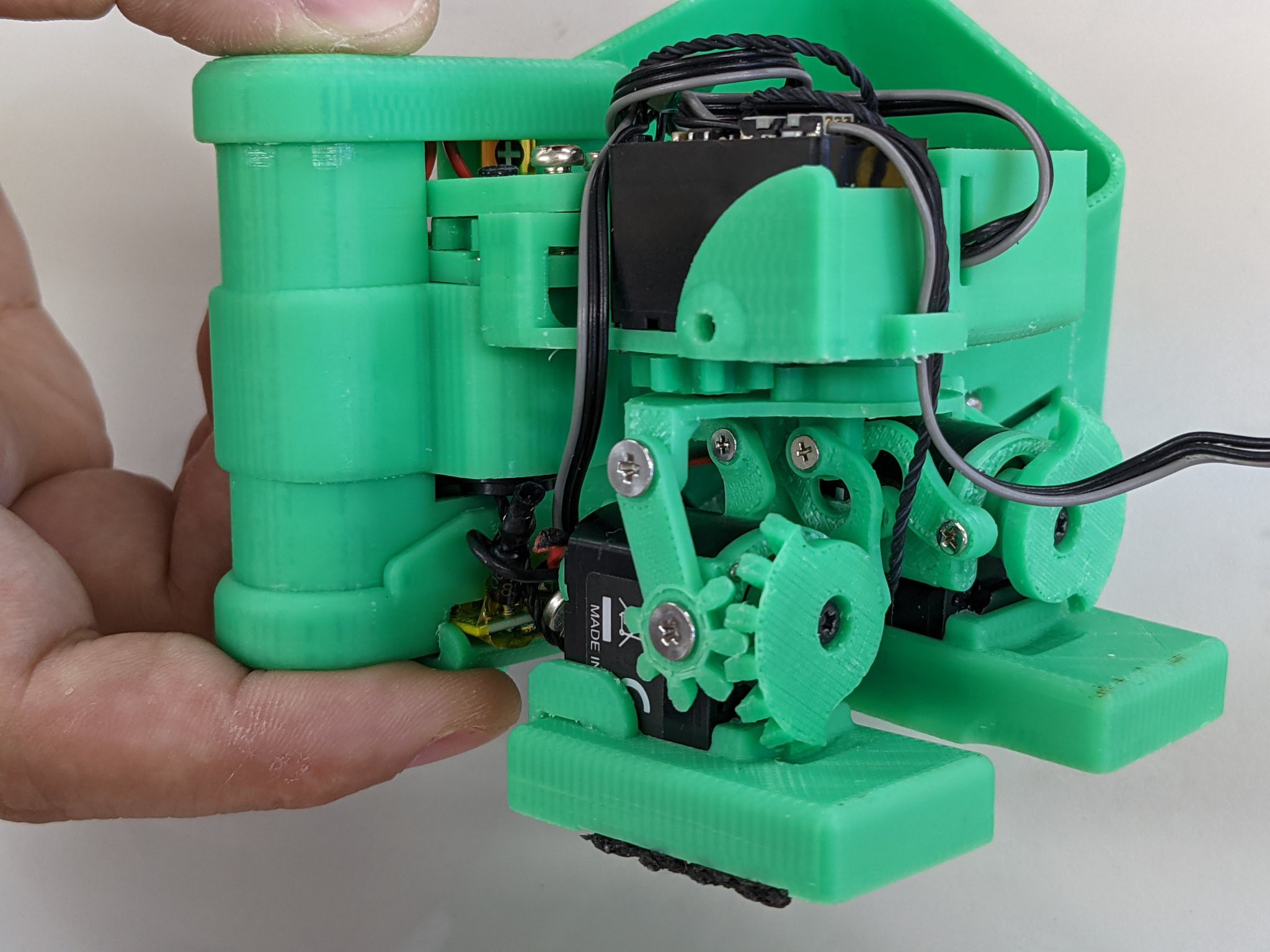 Various other improvements have been made to the exterior. The modification of Stack-chan's case that I introduced earlier was inspired by his walking Stack-chan. For example, a frame that allows the servos to be snapped into place without screws.
The data for his walking Stack-chan is available (in 3D printable form) on GitHub. The number of parts has increased to over 40, but if you are a skilled Maker, why not give it a try?
---
Now, I have introduced eight examples with permission from the user community. If you missed any of them, please my project log archives! There are many more Stack-chans being created on Twitter (by over 30 Makers in the first six months, with over 200 tweets). I myself did not expect Stack-chan to become such a big movement, and I can't predict how it will turn out in the future. However, I do believe that the concept of "an open community raising one robot as a whole" will gradually come true. I enjoy following the tweets every day, and the more I see unexpected ways to use the robot that I hadn't thought of, the more motivated I get to develop it. I'm sure tomorrow will be even better.
A summary of the examples can be viewed on Togetter. You can check out the latest tweets from the official Stack-chan hashtag on Twitter, so please take a look. What would you do with Stack-chan? If you're interested, try making one!