Tesla Coil
A Tesla coil is an electrical resonant transformer circuit designed by inventor Nikola Tesla in 1891. It is used to produce high-voltage, low-current, high frequency alternating-current electricity. Tesla experimented with a number of different configurations consisting of two, or sometimes three, coupled resonant electric circuits. Tesla used these circuits to conduct innovative experiments in electrical lighting, phosphorescence, X-ray generation, high frequency alternating current phenomena, electrotherapy, and the transmission of electrical energy without wires. Reference: https://en.wikipedia.org/wiki/Tesla_coil
                               Tesla coil close-up
In this project I'm using this principle to transmit electrical energy to the UV lamp by means of a Tesla mini coil. Thanks to this great invention I have the following advantages:
I have saved money on the purchase of a ballast, and an AC converter;
The robot is less heavy and less big;
I'm not using UV LEDs, which have very low power, and I'm not simulating UV radiation. This is real.
Where can I get this device? Example: https://www.elecrow.com/mini-diy-tesla-coil-kit.html
                               Mini DIY Tesla Coil
UV Lamp
I'm using a UV lamp. UV light helps detect the records and watermarks that are included in bills and important documents. This lamp has a power of 6 watts and a life time of approximately 8000 hours.
                               UV lamp
Assembling Tesla coil and UV lamp, recommendations:
Mount the Tesla coil and UV lamp on the back of the autonomous robot.
My UV lamp was turned on at a maximum distance of 2 cm from the Tesla coil, so I set them at a distance of 1 cm to ensure the lighting of the UV lamp. You can try something similar.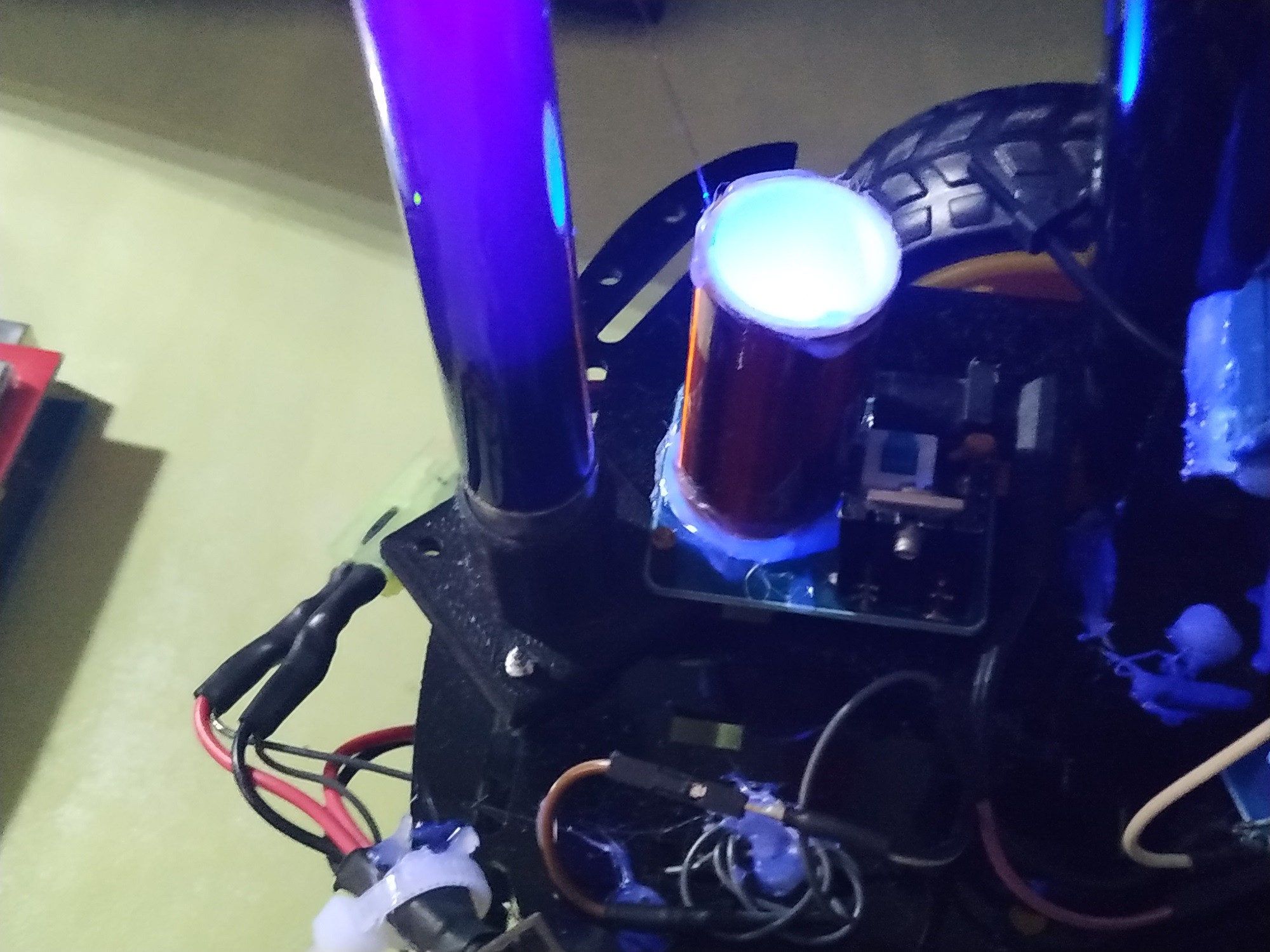 UV Meter
The World Health Organization publishes a practical guide on the UV index in which it explains the health risks of ultraviolet radiation and proposes some protective measures depending on their intensity.
                               UV index
This is optional; to measure UV radiation I've developed this device, and using the UVM30A sensor. I show you the electrical diagram in the figure below:
                               UV Meter
Code: uv-meter.ino
//AUTHOR: GUILLERMO PEREZ GUILLEN



     
 



int16_t

 BOXSIZE;


uint16_t

 ID, currentcolor;


uint8_t

 Orientation = 

0

;    

//PORTRAIT


String UVIndex = 

"0"

;
String Index = 

" "

;  



// Assign human-readable names to some common 16-bit color values:


 
 
 
 
 



void

 

setup

()


{
    

while

 (!Serial);
  Serial.begin(

57600

);
   
    

uint16_t

 tmp;
    tft.reset();
    ID = tft.readID();
    tft.begin(ID);
    tft.setRotation(Orientation);
    tft.fillScreen(BLACK);
}
 


void

 

loop

()


{
  

float

 sensorVoltage;
  

float

 sensorValue;

  sensorVoltage = (sensorValue * (

5.0

 / 

1023.0

))*

1000

;  

//Voltage in miliVolts





////////////////////////// UV Index



  

if

(sensorVoltage<

50.0

)
  {
    UVIndex = 

"0"

;
    Index = 

"LOW"

;
  }
  

else

 

if

 (sensorVoltage>=

50.0

 && sensorVoltage<

227.0

)
  {
    UVIndex = 

"0"

;
    Index = 

"LOW"

;
  }
  

else

 

if

 (sensorVoltage>=

227

 && sensorVoltage<

318

)
  {
    UVIndex = 

"1"

;
    Index = 

"LOW"

;    
  }
  

else

 

if

 (sensorVoltage>=

318

 && sensorVoltage<

408

)
  {
    UVIndex = 

"2"

;
    Index = 

"LOW"

;    
  }

else

 

if

 (sensorVoltage>=

408

 && sensorVoltage<

503

)
  {
    UVIndex = 

"3"

;
    Index = 

"MEDIUM"

;    
  }
  

else

 

if

 (sensorVoltage>=

503

 && sensorVoltage<

606

)
  {
    UVIndex = 

"4"

;
    Index = 

"MEDIUM"

;    
  }

else

 

if

 (sensorVoltage>=

606

 && sensorVoltage<

696

)
  {
    UVIndex = 

"5"

;
    Index = 

"MEDIUM"

;    
  }

else

 

if

 (sensorVoltage>=

881

 && sensorVoltage<

976

)
  {
    UVIndex = 

"8"

;
    Index = 

"VERY HIGH"

;    
  }
  

else

 

if

 (sensorVoltage>=

976

 && sensorVoltage<

1079

)
  {
    UVIndex = 

"9"

;
    Index = 

"VERY HIGH"

;    
  }
  

else

 

if

 (sensorVoltage>=

1079

 && sensorVoltage<

1170

)
  {
    UVIndex = 

"10"

;
    Index = 

"VERY HIGH"

;    
  }
  

else

 

if

 (sensorVoltage>=

1170

)
  {
    UVIndex = 

"11"

;
    Index = 

"THE HIGHEST"

;    

// EXTREMELY HIGHEST


  }
  


/////////////////////////////////////


    
  Serial.print(

"sensor reading = "

);
  Serial.print(sensorValue);
  Serial.println(

""

);
  Serial.print(

"sensor voltage = "

);
  Serial.print(sensorVoltage);
  Serial.println(

" V"

);
  Serial.print(

"UV Index = "

);
  Serial.print(UVIndex);

   tft.setCursor(

0

, 

5

);
   tft.setTextSize(

3

);   
   tft.setTextColor(MAGENTA, BLACK);   
   tft.println(

"  UV METER"

);
   tft.println(

" "

);   
   tft.setTextColor(YELLOW, BLACK);
   tft.println(

"mV: "

 + String(sensorVoltage) + 

"  "

);
   tft.println(

" "

);
   tft.println(

"UVIndex: "

 + String(UVIndex) + 

" "

);  
   tft.setTextColor(WHITE, BLACK);
   tft.println(

" "

);      
   tft.println(String(Index) + 

"     "

);       
   delay(

1000

);
}