See Edits below!

If a product claims have an input voltage range of 4.5V to 40V the internal power supply should be somewhat robust. The DC/DC converter discussed in the previous log entry uses the following as a linear regulator circuit for the 3.6V that I measured with my Fluke voltmeter: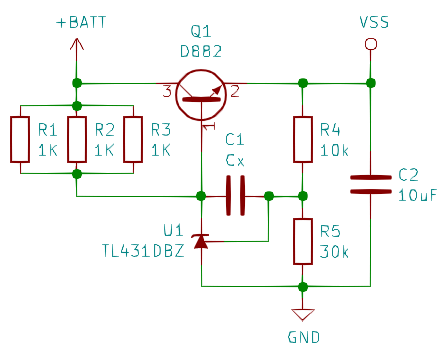 I used hints from this write-up to do some simple calculations: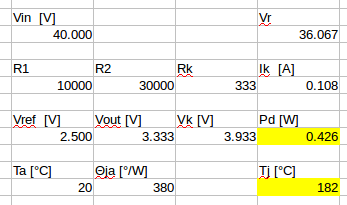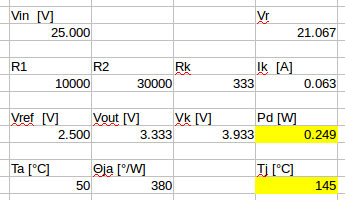 Of course, this still doesn't explain why I measured 3.6V instead of the 3.33V that the application note makes me expect (maybe the "generic TL431" is rather "D" instead of "B" grade ;-)  ).
The other thing that strikes me is the role of Cx. Doesn't amplify noise transmission from +BATT to +VSS?
The circuit discussed in the write-up mentioned above would be more like this: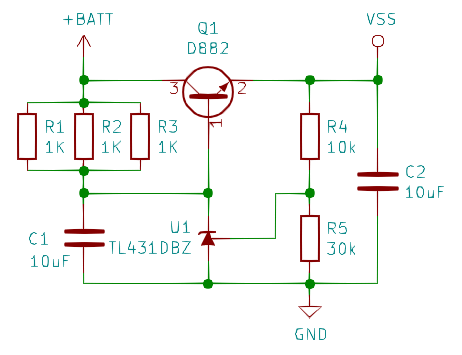 Unfortunately I currently don't know how to simulate the transient response of the linear regulator. Maybe someone has a suggestion?
Edit 1:
1. After @Ken Yap pointed out a mistake in my circuit-reading, I corrected calculations and findings. Due to reciprocity of error and effect the results didn't change ;-)
2. Ken proposed that operation without LED current might be outside the operating range of the linear regulator circuit on the DCDC-MH board, and that it hence reaches 3.6V instead of the expected 3.33V. I tested that hypothesis and didn't find any load dependency:
3.64V without LED
3.64V with LED
3.64V LED + 10mA load
3.63V LED + 30mA load
3.63V LED + 40mA load
Also I killed the D882 (and had to replace it with an 40 year old BC238 from the used parts box but the voltage didn't change).
Note to self: there is a reason why the TL431 and 78L05 style linear regulators have protection circuits!
Edit 2:

@rubypanther thinks that the purpose of the cap in the DCDC-MH circuit is soft-start or reduced transient responses. He might have a point, and it might not be unusual at all: the TI TL431 datasheet proposes a very similar circuit: