Here I will show you how I prepared my layout file for toner transfer.
This is fairly easy, but not particularly straightforward.
Starting with your completed board layout in eagle, click the display layers icon.
When the icon pops up, it should look something like this: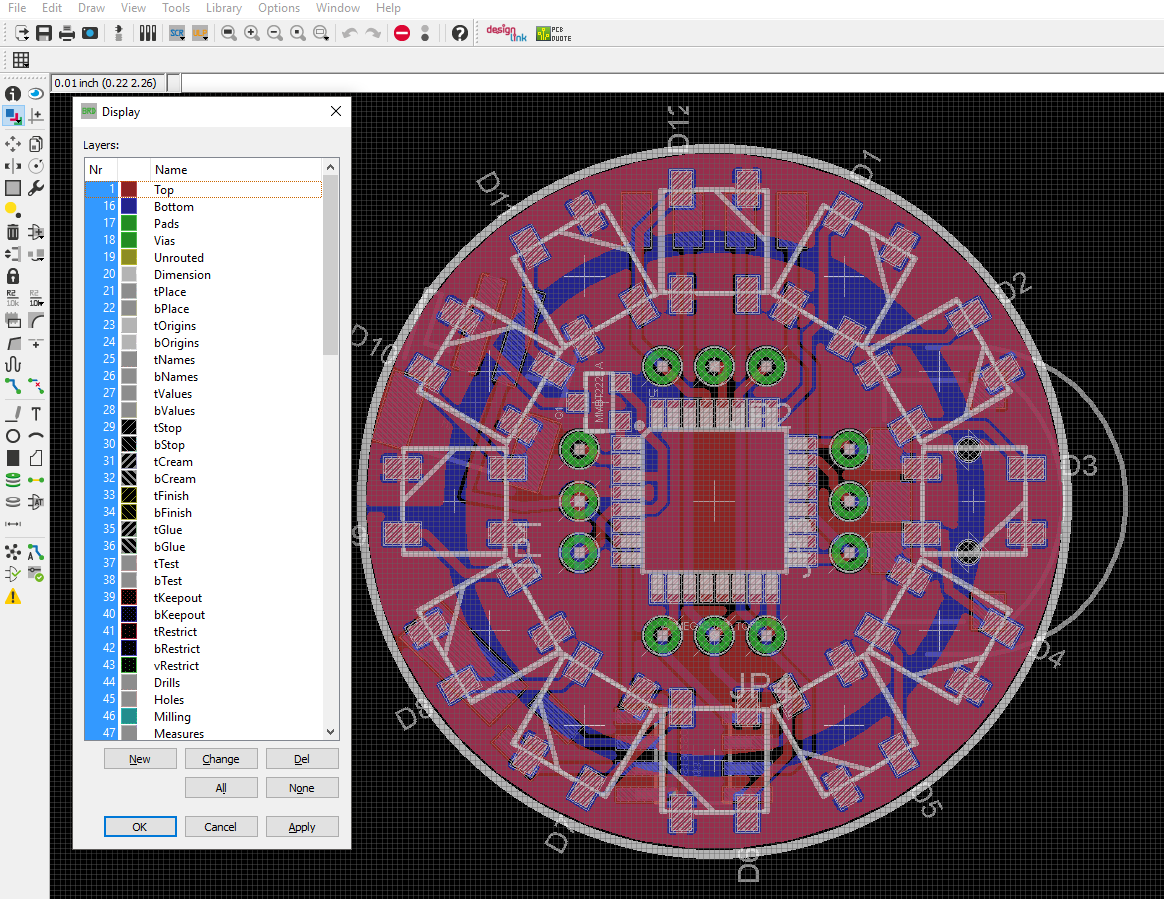 click None, then select only top, bottom, pads and vias.
Your overview will now look like this: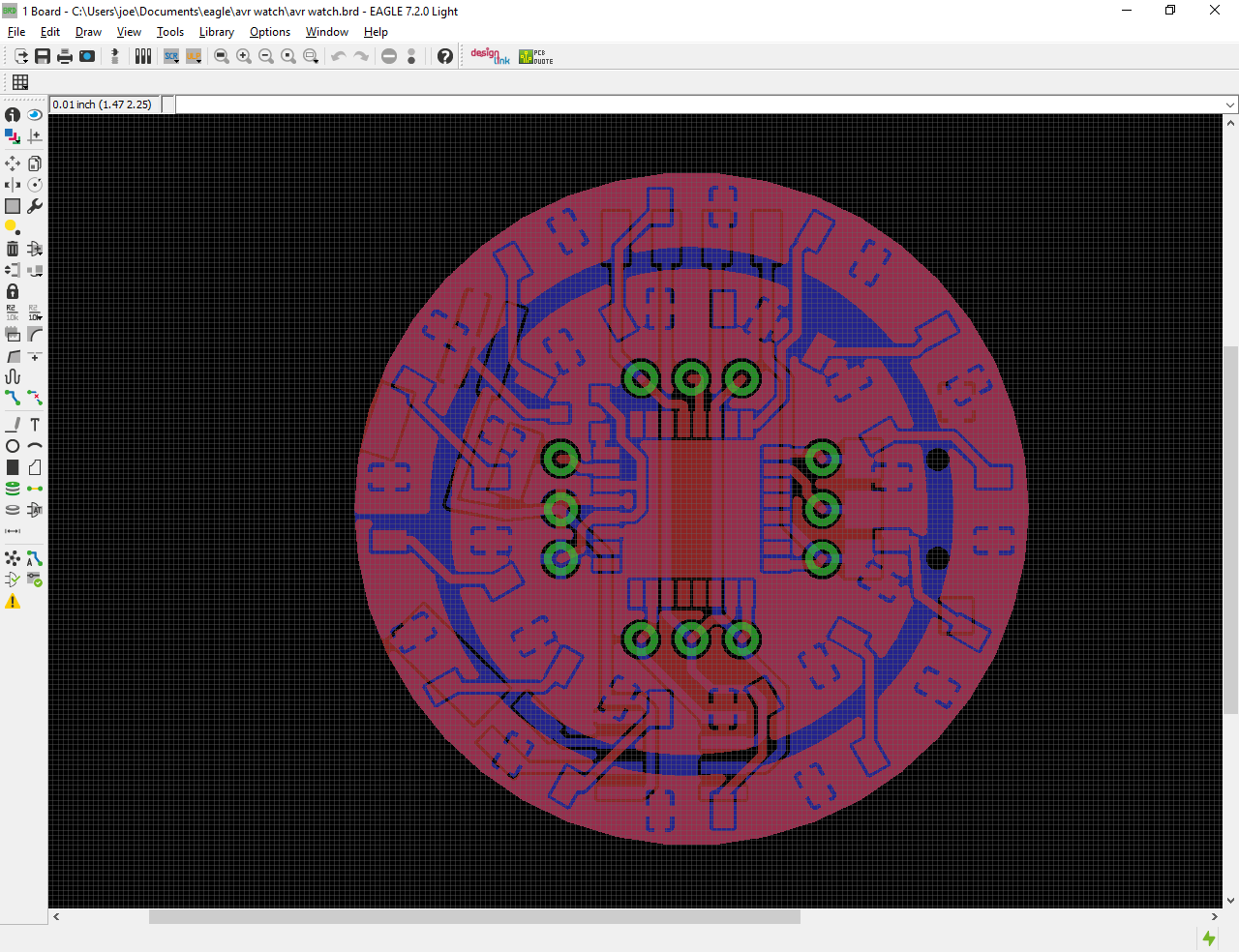 Once you have this view, it's time to export an image.
Click file > export > image
Set the resolution arbitrarily high. I use somewhere around 1024. Be sure to check window, as that will save space. DO NOT check monochrome! Save the image, and exit eagle.
Open the image in gimp.
add an alpha channel by clicking Layer > Transparency > Add alpha channel
Use the color select tool to select all black, then press delete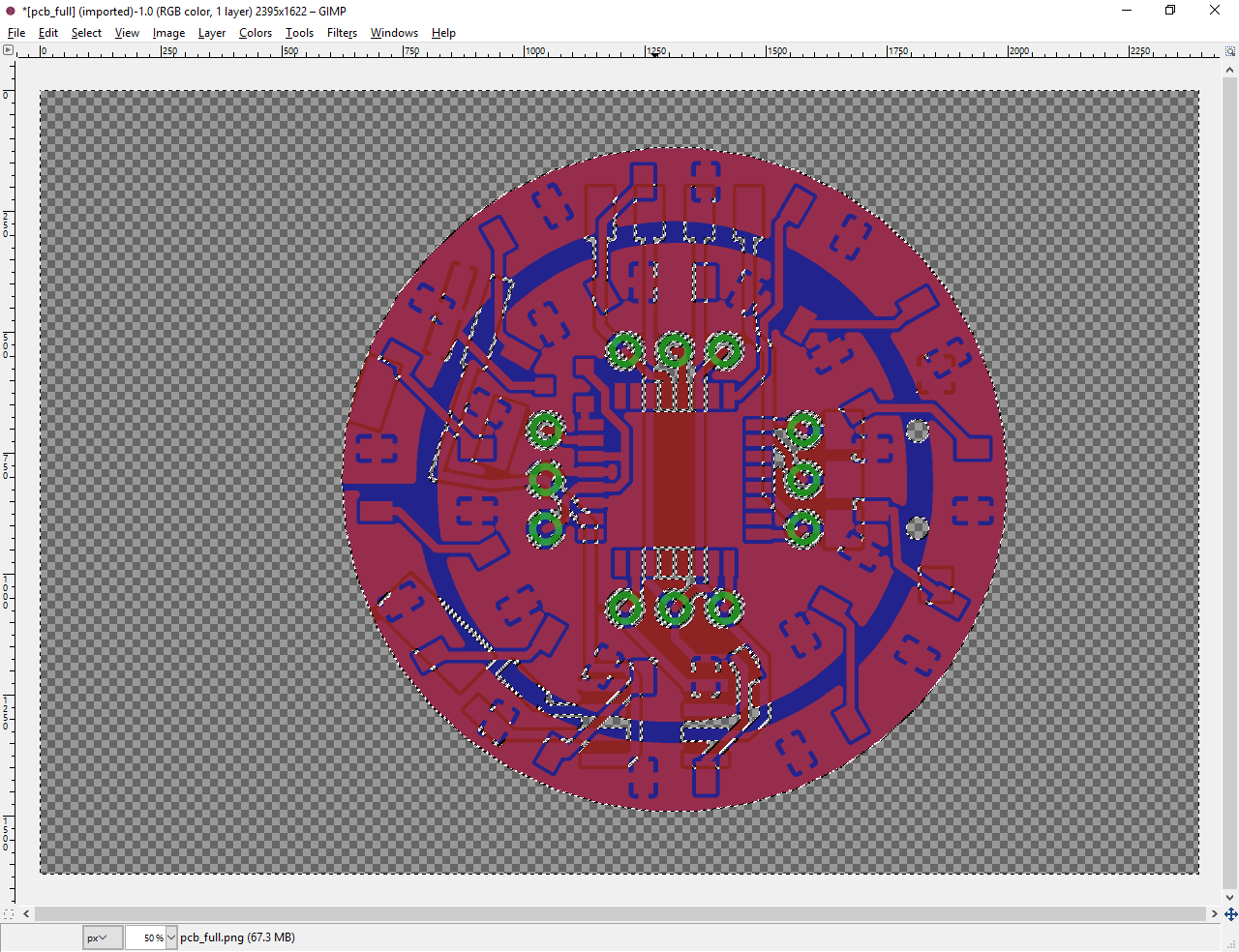 3. Now select None. Our goal is to print out one sheet and fold it in half, align the layers, then crease, so we can just slide our blank board in for toner transfer. So to do this, we'll need some way of aligning the layers. For this we will add guides on each end. these can be simple X's or something more elaborate, as long as there is one on each layer in the same position. For this i'm using a pair of octothorpes.
Note that in the print version, I edited the design a little and used a larger bold typeface for the alignment octothorpes.
Also this is a good time to place any symbols or art. I'm just going to use my initials using a halo font. i'm printing them in white so they'll be etched away. (It's good practice to keep as much copper as possible to save etchant, also it's just faster.)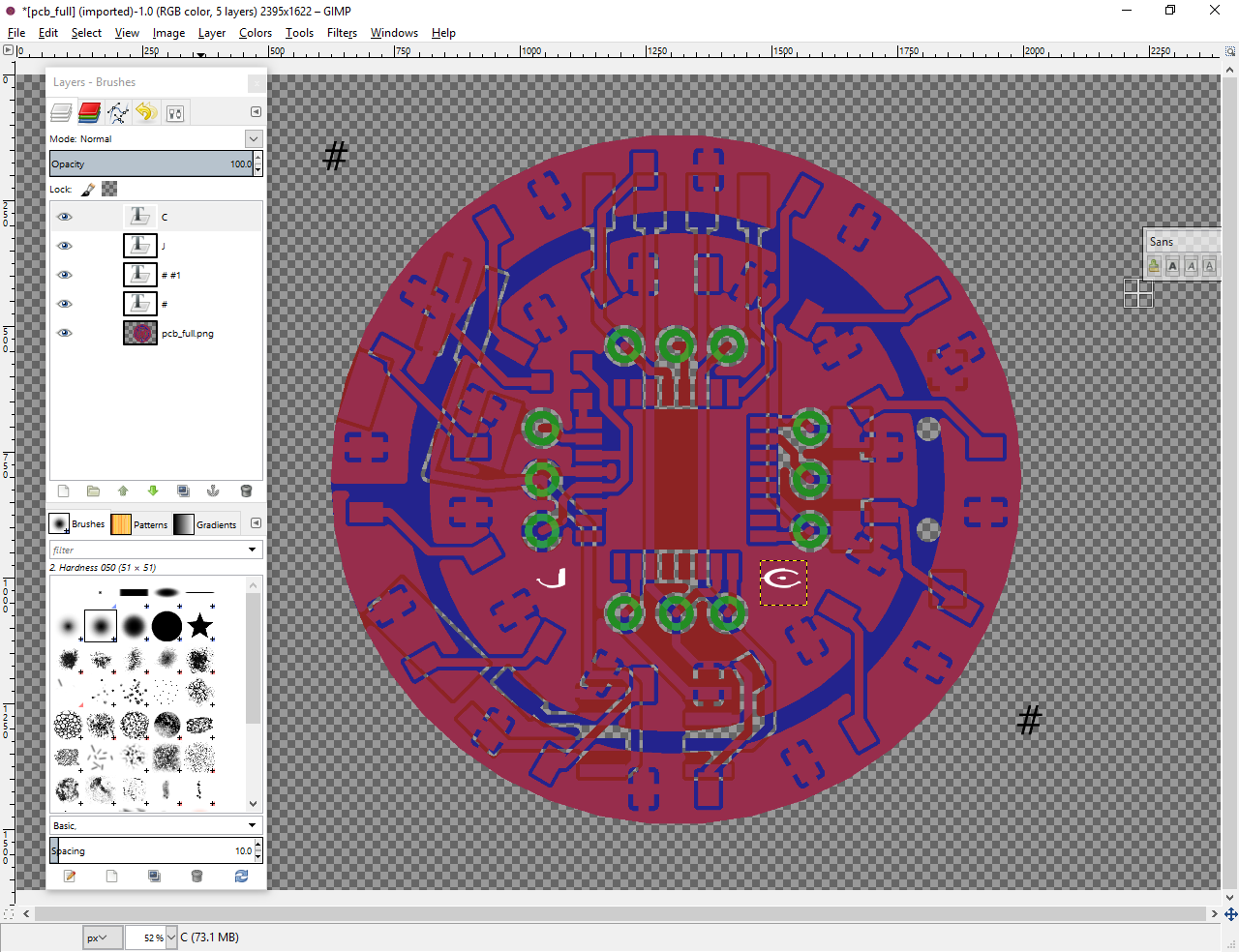 Next is the convoluted part, separating and flipping the layers.
4. Merge all the layers down. then resize the canvas to 200% width, 100% height, do not center. Use image > canvas size.
copy the visible image, using edit > copy visible
Paste it as a new layer, using edit > paste as > new layer
In the layers dialog window, select the duplicate layer by clicking it.
Flip the layer horizontally, using layer > transform > flip horizontally.
If you zoom out you should see the following: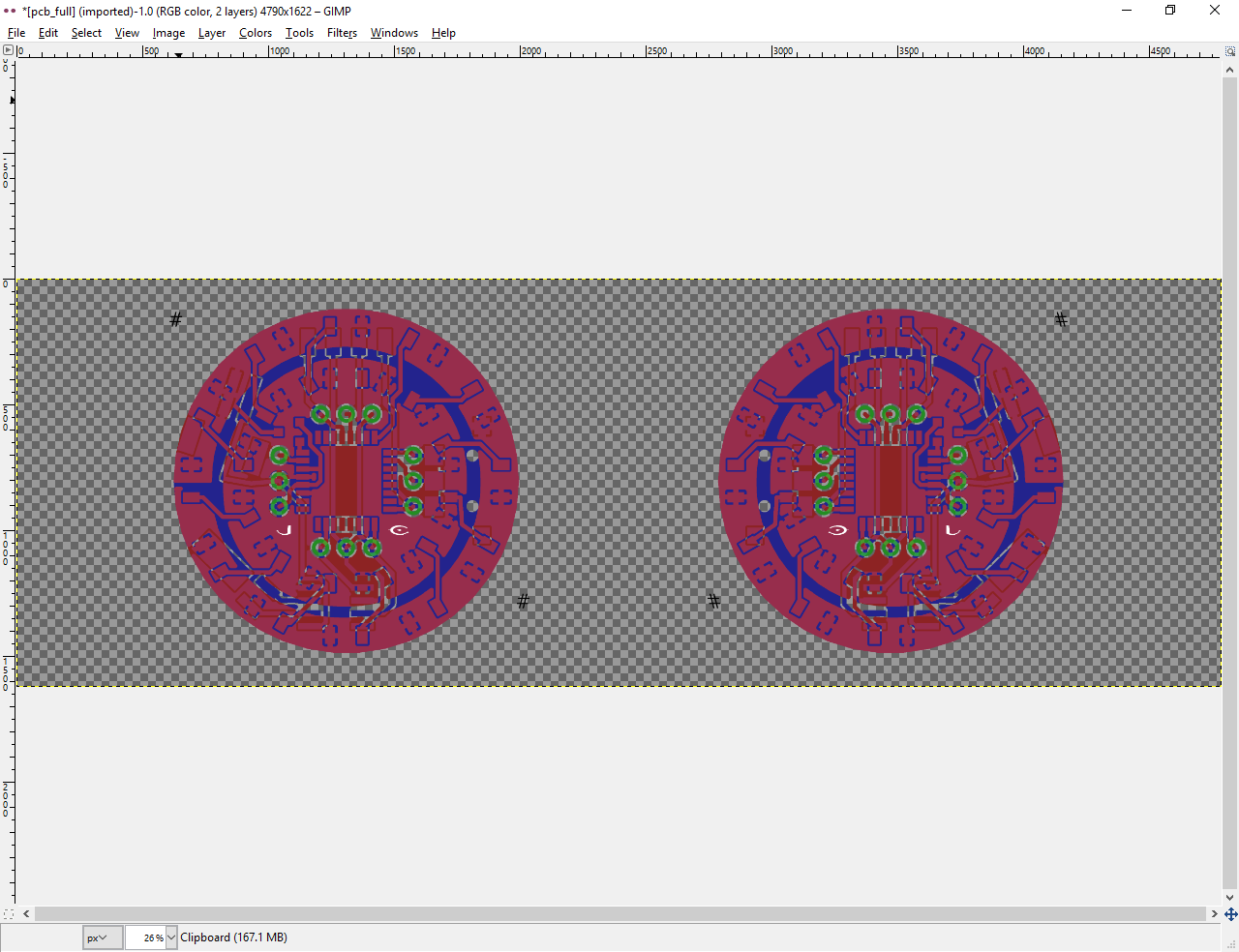 the left image will be the bottom layer, the right and backwards image will be the top. Remember in eagle, Red is top, Blue is the bottom, and Green are vias. This will be important.
4. remove parts not relevant to the layer.
For the bottom (left) layer you want to remove all solid red, leaving green, blue and purple. to do this, use the color select tool and click a RED area. (first make sure you have the correct layer selected!) press delete to clear the area to transparent.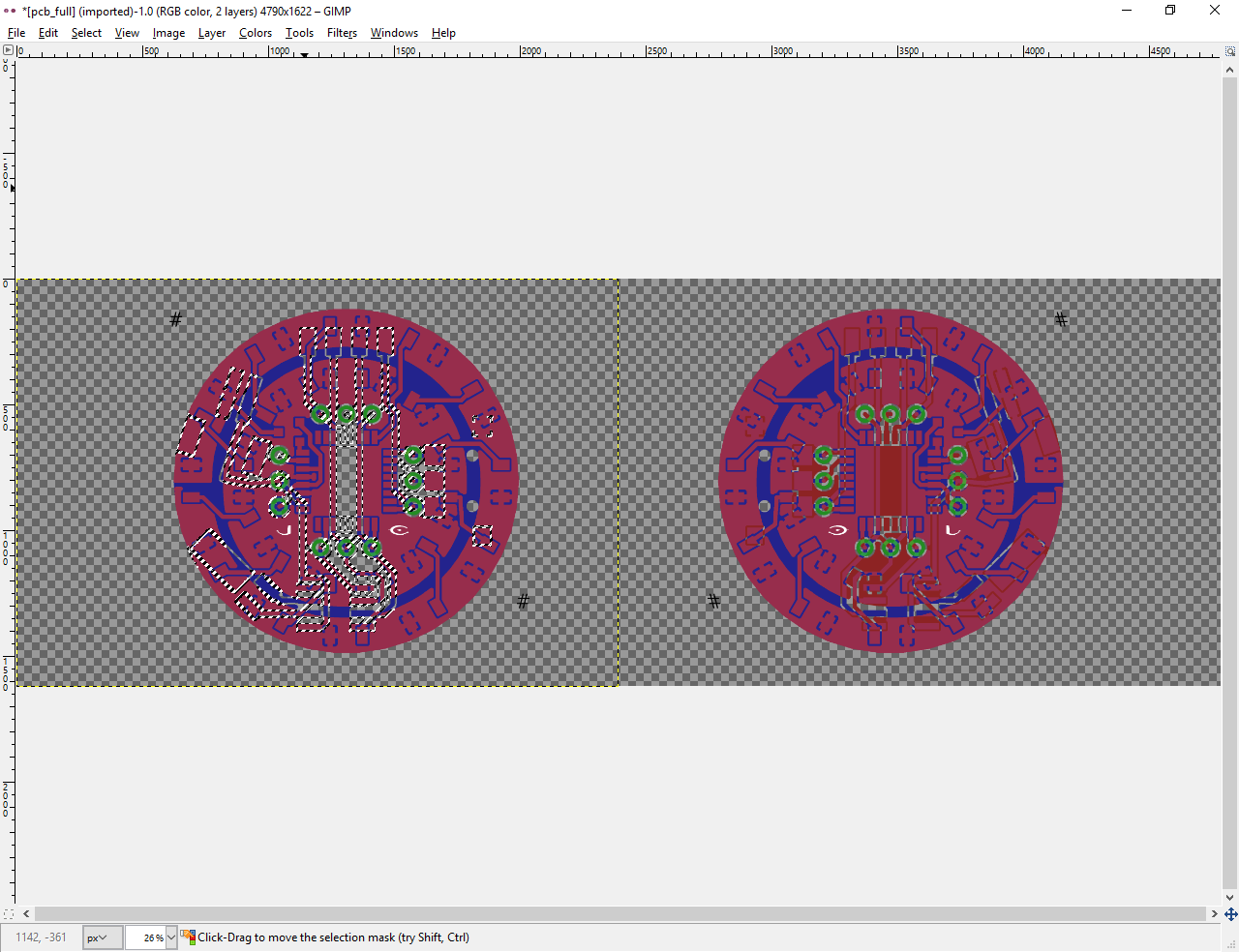 Next, select the other layer and do the same for blue.
5. merge the layers by right clicking the top layer and selecting merge down. Next, switch to monochrome by clicking Colors > threshold. slide the slider to the right until the board turns black. and click ok.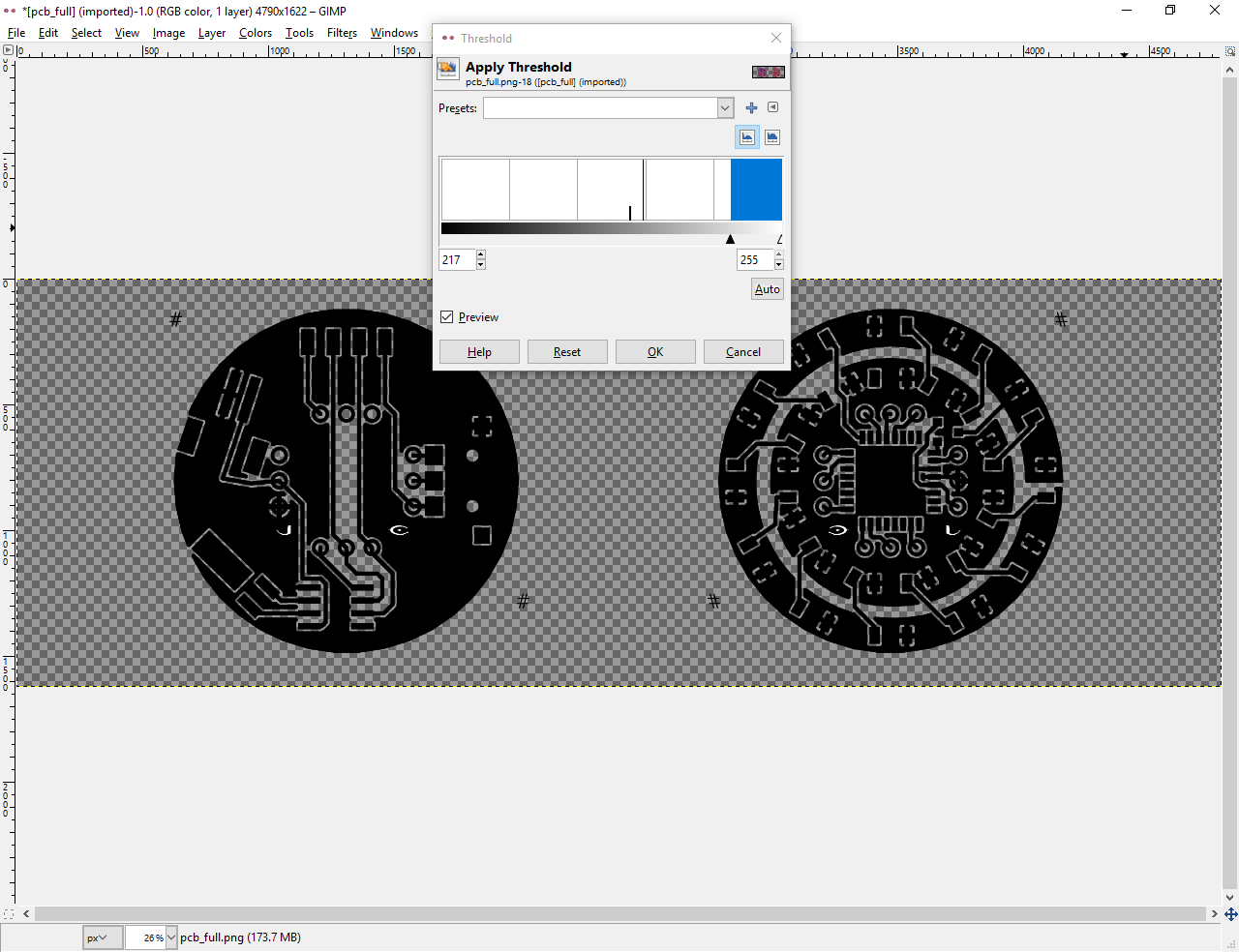 Now just flatten the image using Image > flatten image.
6. Final touch-ups. If you want, fill in the vias using the bucket fill.
If you have a crappy laser printer with dirty scratched drums like mine (tried to print directly to a pcb, didn't work), you can rotate the image 90 degrees.
7. Export! click file > export As. Select portable document format, give it a name and save it! (don't hit the check marks)
Don't print yet!
Next up, preparing the paper for printing.