A few weeks ago Theresa May announced that the UK was facing a shortage of skills in the technological markets, particularly in robotics and AI. She recognised that the solution to the problem lay in education - we dont have a curriculum for robotics unless you count STEM, which utilises Lego Mindstorms as a learning platform.
When I was a child, I had a Lego set. A good one as it happens, given to us by someone with patience and money to collect one worth the gesture. I'm eternally grateful, it contained a giant blue brick with a pair of motors in it that interfaced to wheels, tracks, and a whole bunch of things. It also had a microphone and responded to claps and whistles to control it. Nothing much has changed except for it now connects to a highly proprietary and non-industrial computer system as well. It isnt robotics, its Lego Mindstorm although I wont give Lego a hard time over it. They tried for decades...
To build my hardware and make it move under control, sense the environment and communicate with the user on a physical (non-programming) level I've had to acquire a massive set of skills; Formally with qualifications to call myself a roboticist I'd need electro-mechanical engineering, textiles, computer systems design, computer software design, physics and mathematics, psychology and language. Tough curriculum, and you dont need all of everything...

Well our Prime Minister decided to put 17 million of our quids into solving this, by giving universities the funds to create something to do the job. Thats brilliant, I thought, having been yelling about it for a while myself. I also saw an opportunity to perhaps work in this new sector.
What the one hand giveth, the other taketh away however, and the same soulless beancounters are also notoriously cutting their Social Care bill and funding into the National Health Service on which my daughter and I rely. So much so that they had the utter nerve to ask my daughter to fill in a Capability for Work questionnaire. And the stupidity to write to me to fill it in for her, being as she is too profoundly disabled to fill it in herself. And the terminal ineptitude to lose one of them in the postal system, and send a duplicate for one that then turned up. Bloody marvellous. What am I going to do with a spare form? Build a robot out of it? (Thanks @Dave for the inspiration...)
So, Theresa, if you wish to fund my robotics research by cutting my daughter's benefits and demanding she work for a living, while sanctioning me for trying to improve my and her lot, here's my response as an artist.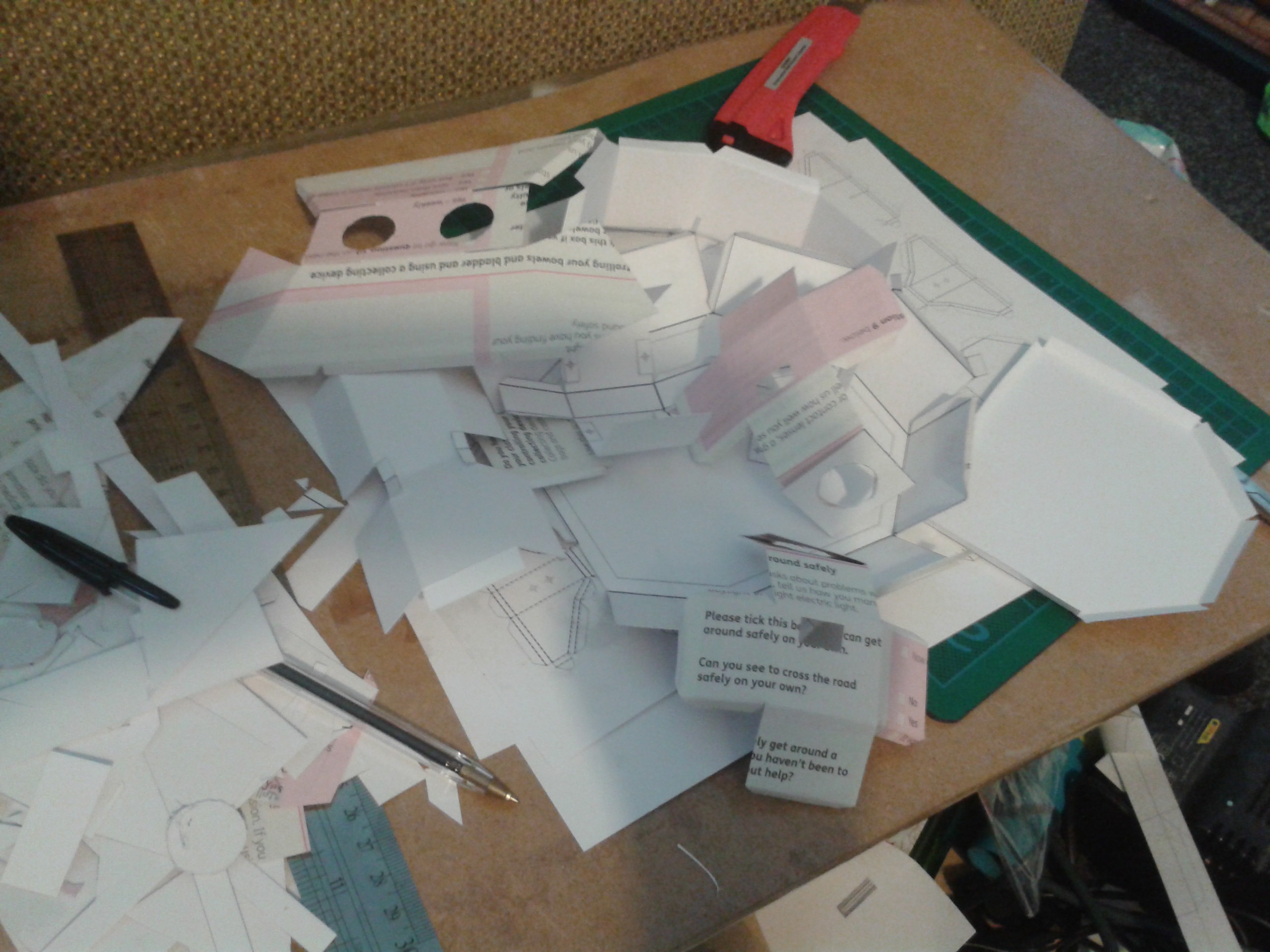 An application of form and function for you. I can build a robot out of very little, thanks to decades of living on the pittance you allow me as a carer. The very word Robot come from the Czech for Worker, and I know all about that.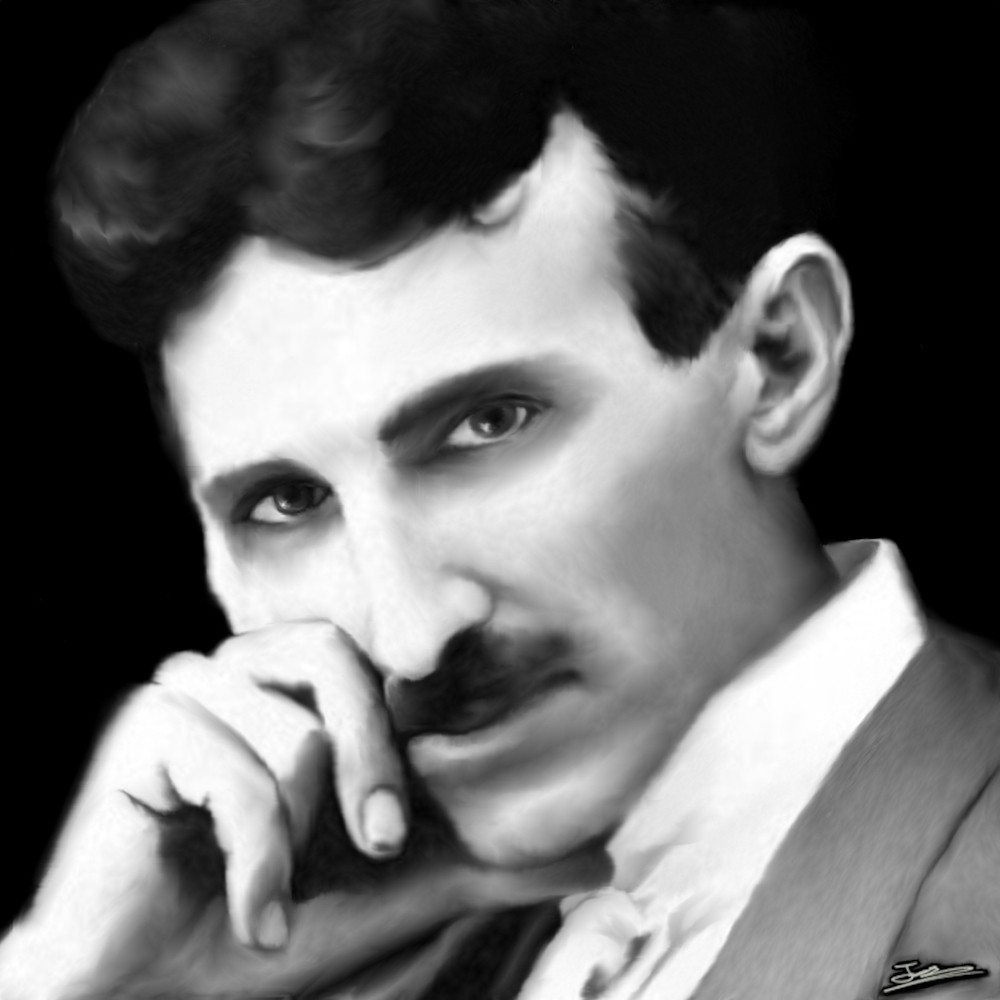 ---
Name and Serial Number, Please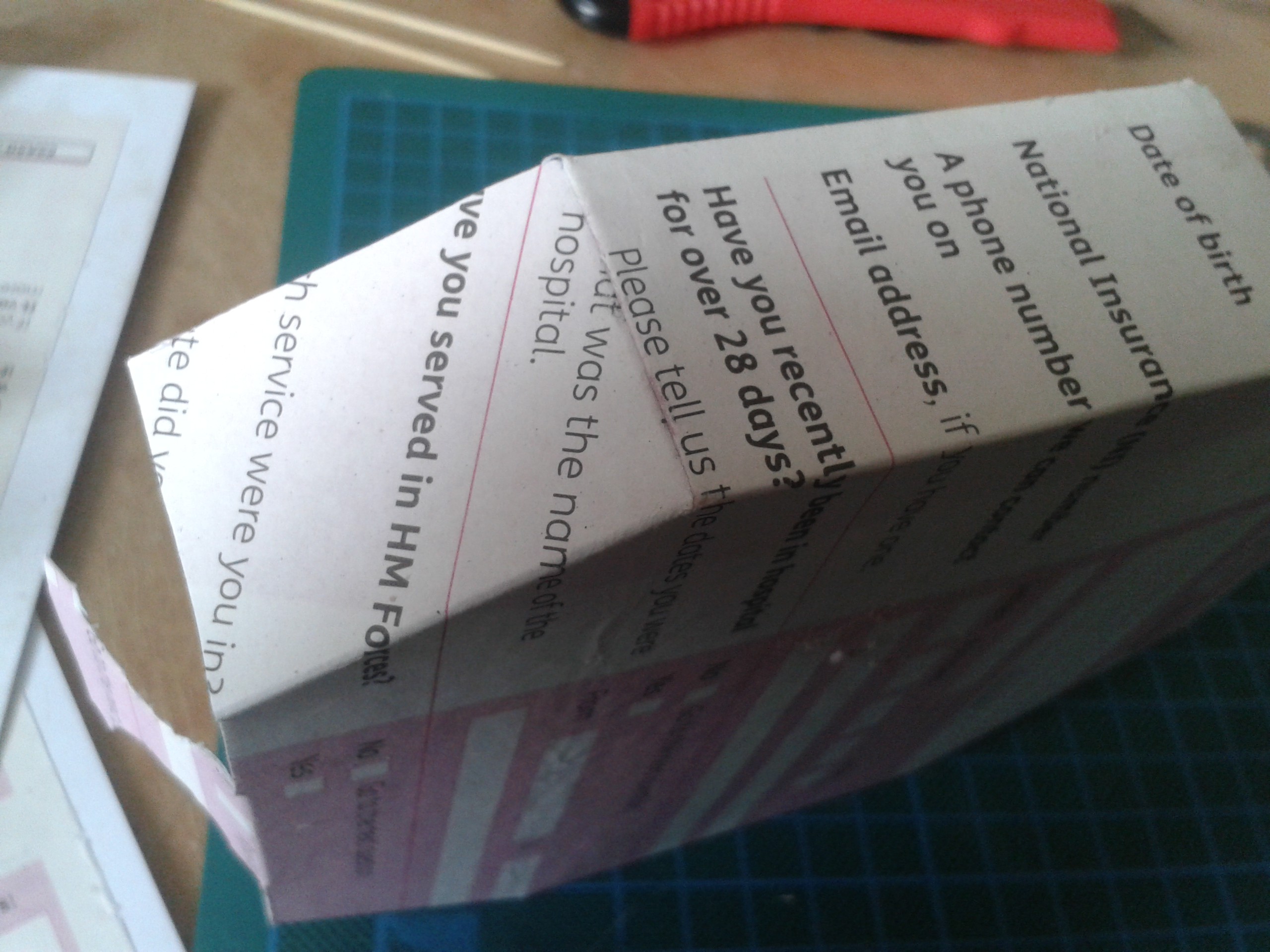 Irony from an organisation that cant find its own backside with a search party, let alone both hands.
---
Q: Why did the robot cross the road?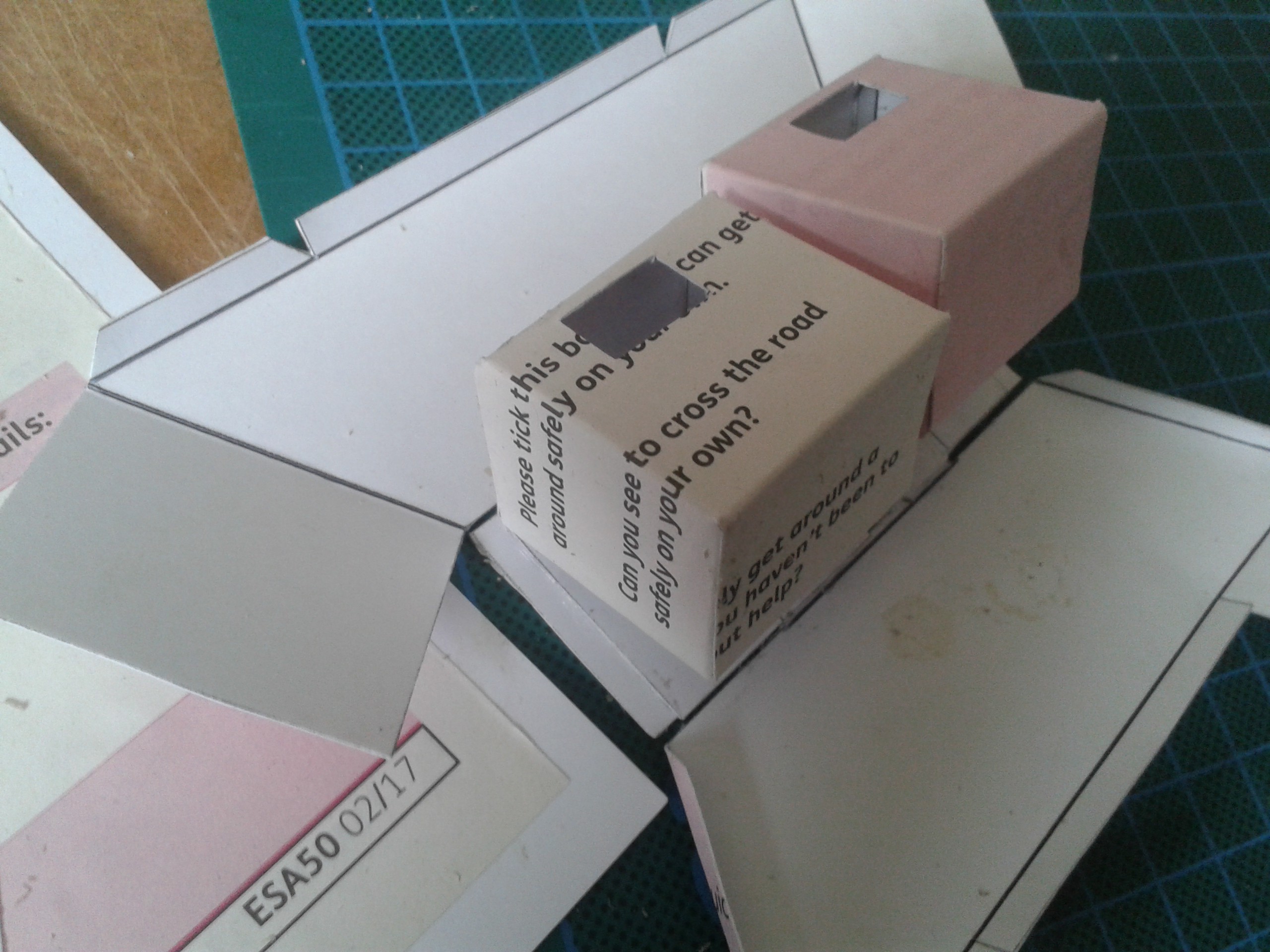 A: Predeterministic programming...

---
An application form should be easy to fill out, concise, and address the information required. Forgive me for taking the p*ss.
Do you see what I did there?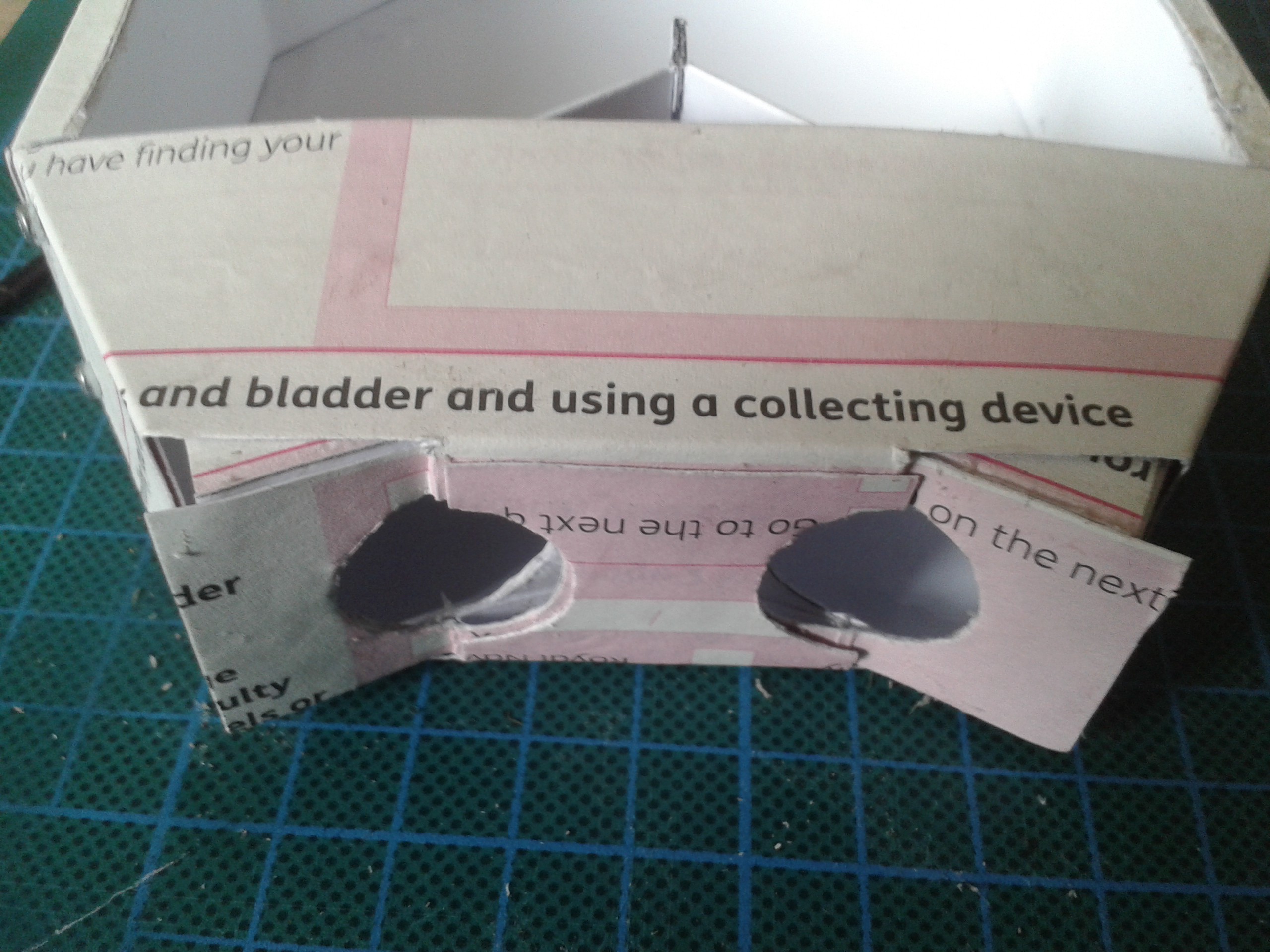 Some things are just low-hanging fruit.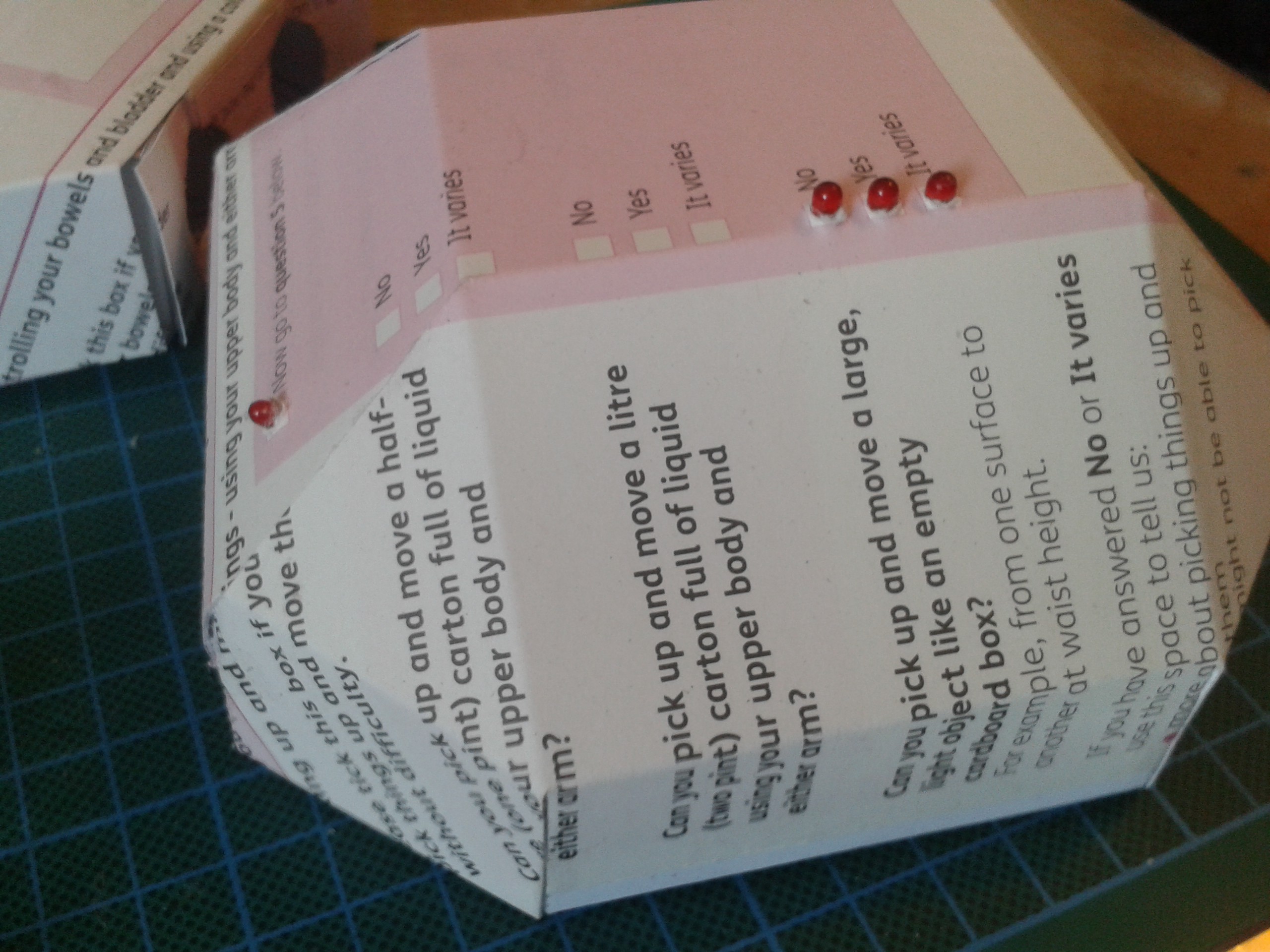 Next up, can I make legs capable of working?
Well, yes and no.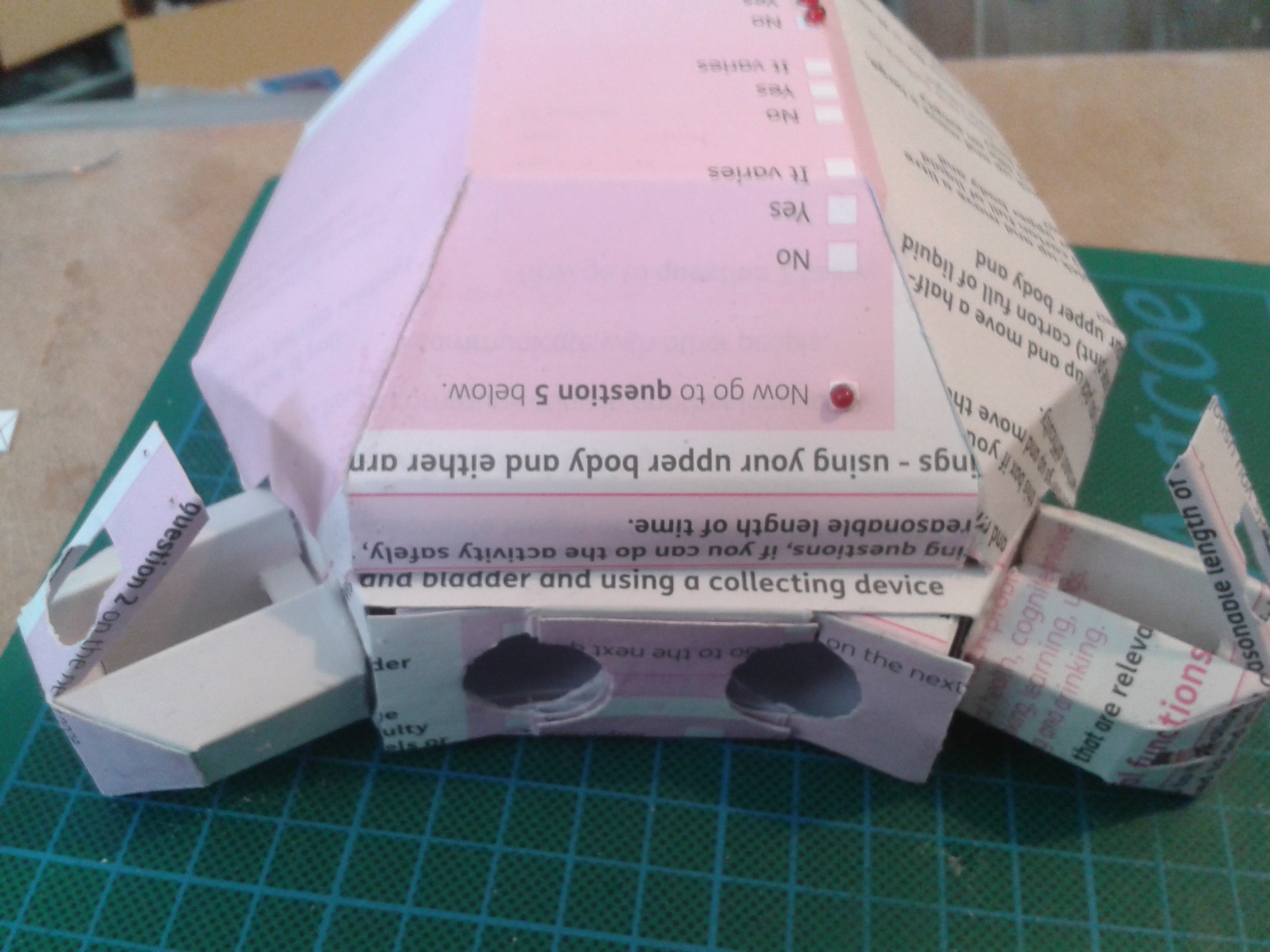 Functional limbs are easy to build with the Cardware system, I've made quite a few in various materials now.
Despite this part being constructed with toilet paper it works pretty well.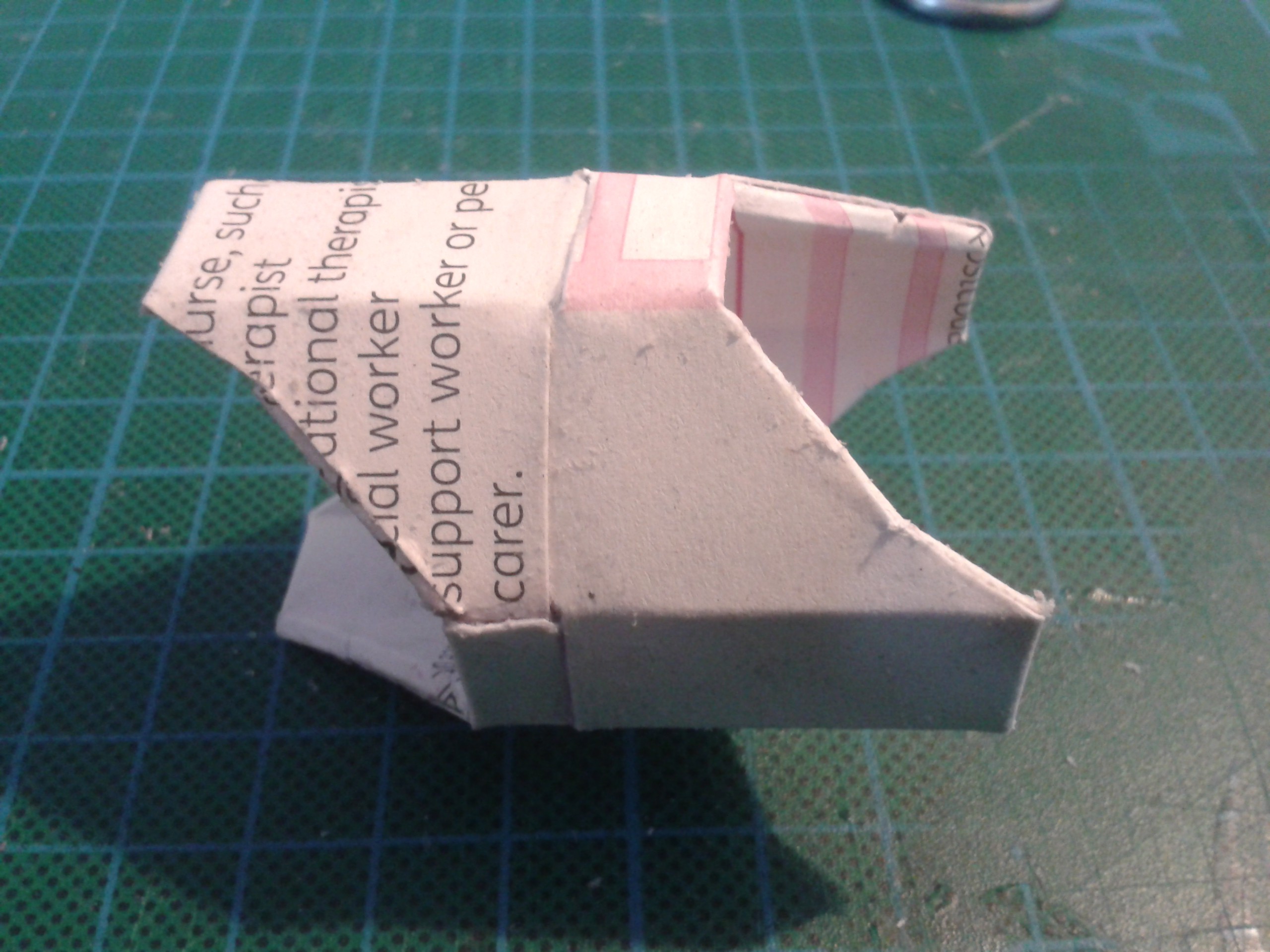 ---
Capability for Offense

I have reached a point in my work where I'm at a moral dilemma. Because of the situation I find myself in funds are a problem, and that's preventing the robot from being fully finished. I had intended to use this to my advantage, and created the world's first disabled robot. Not like Bender, who managed a gig with Beck and then recovered. Anyone can have an accident and wind up in a wheelchair, and its unfair. What is worse is being born this way...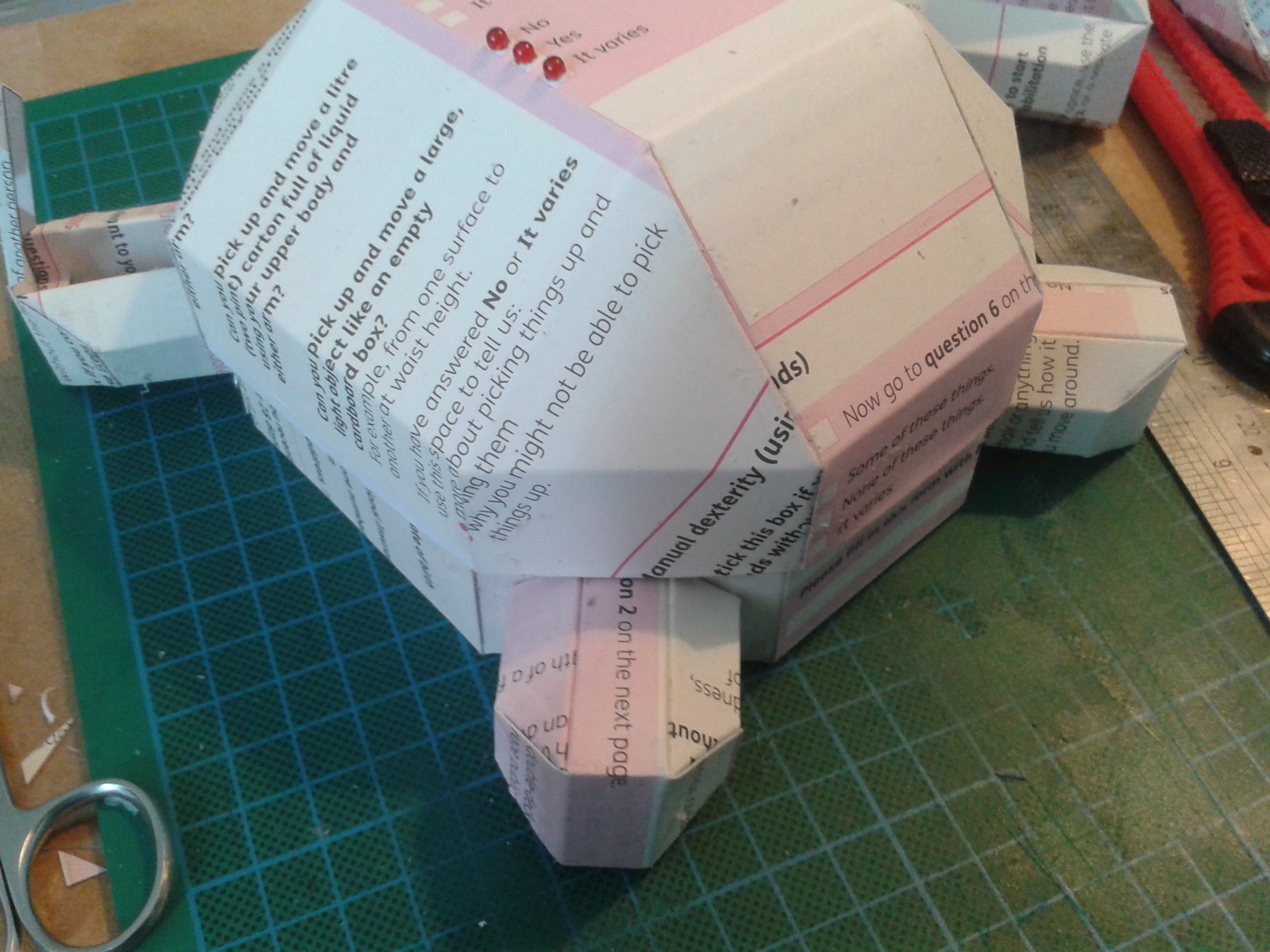 I created the rear hip modules as blanks, leaving them unpopulated. This worked a little better than I expected and because of the form's leprous colouring that looks disgusting. I'm not proud of it at all.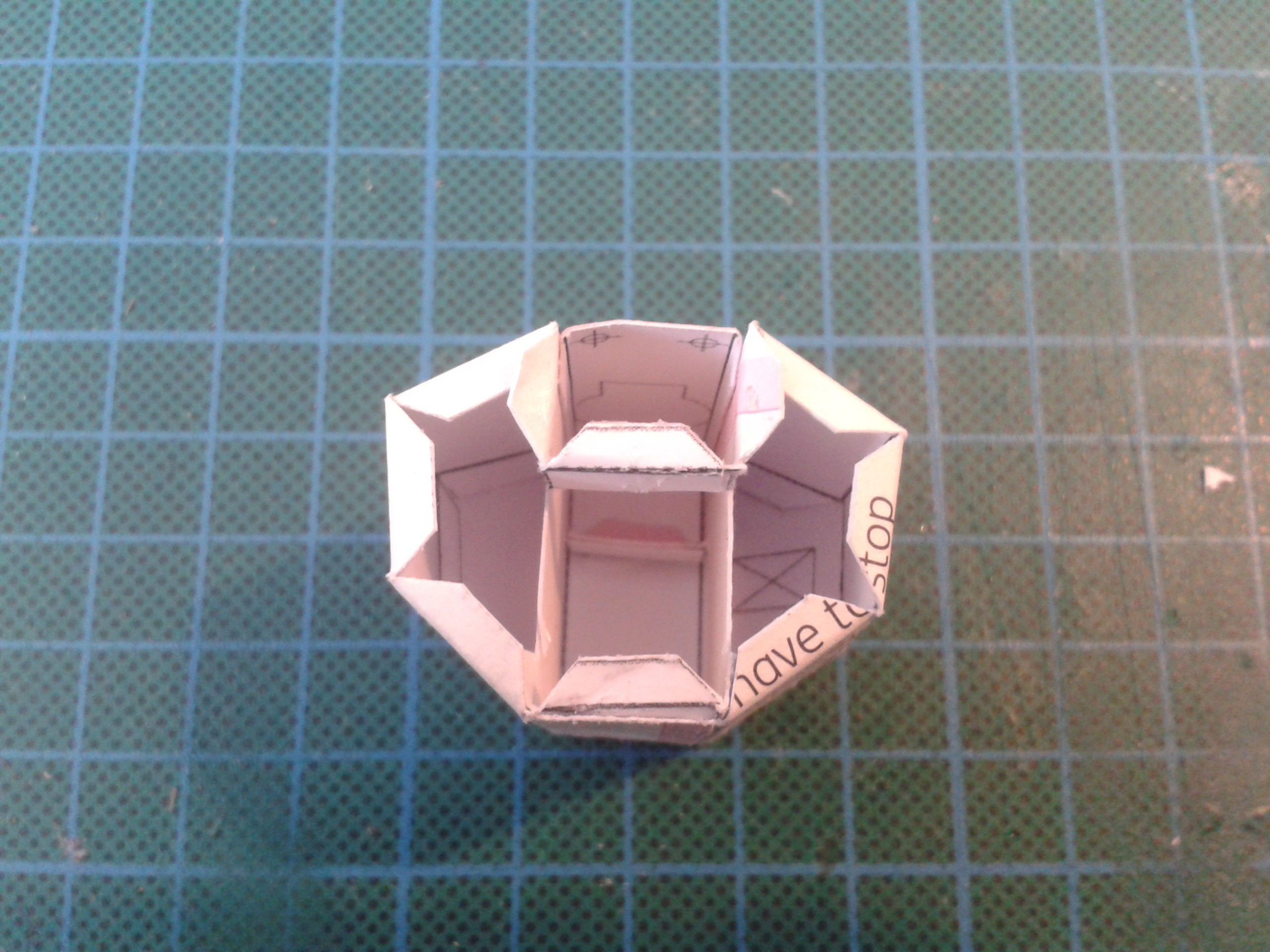 So I customarily found a piece of literature to take the edge off it...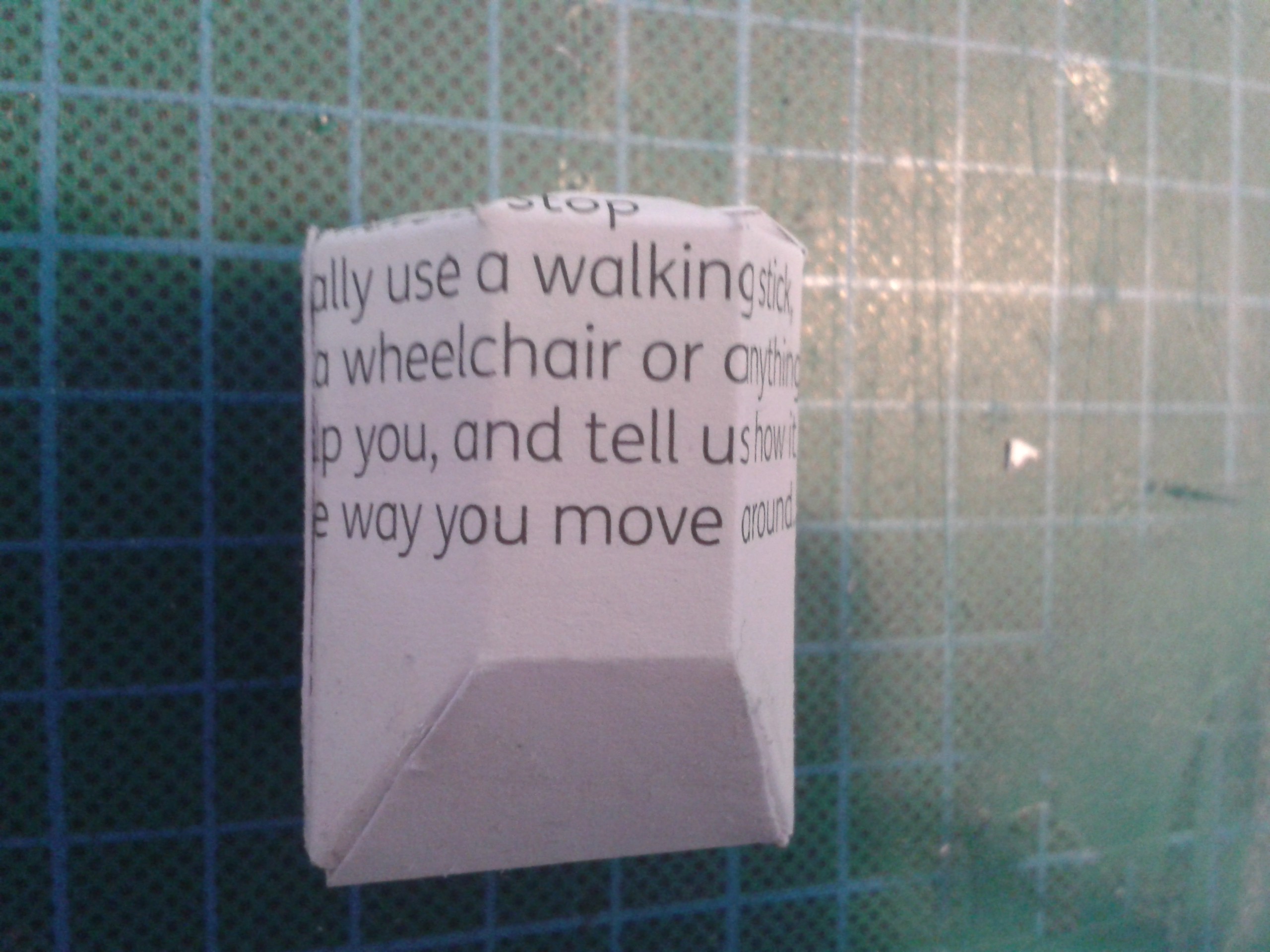 This however is where it gets nasty.
I had planned to build a wheelchair for the robot, so it didnt have to haul itself across the table like the monster it has become. However, out of respect this is not going to happen. With the community losing not just one, but two high profile wheelchair users recently I cannot bring myself to complete the project how I'd originally envisioned it. Frankly, I feel nauseous.
After discussion with Mark, the Capability for Work Robot has been shelved and stands as it does, an empty shell, devoid of reason and clothed in excuses, a testament to the hollow system we are living in.