Edit: Forked to #Precision current generator

---
I am soon getting SOT363-DIL adapters so I might soon evaluate the BFS480.
Meanwhile, I must also evaluate the various peripheral circuits, such as current sources and current mirrors. And if I have a digitally controlled PSU, it's not  working in a suitable range : I want a better precision, from about some µA to maybe 20mA. A good PSU has a resolution of several mA...
ECL circuits use a bias current of about 4mA but I want to to vary it. And a using a fixed resistor on a 9V battery will not provide enough stability if the output voltage varies...
There are many example circuits for current generators, or current limiters, on the 'net. Here is a little sample of what I've found (and links to the pages) :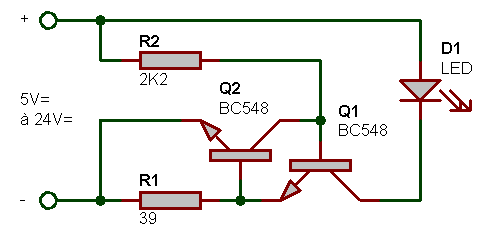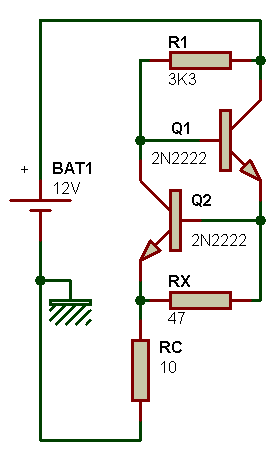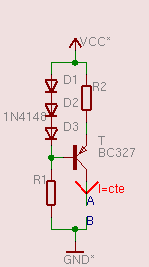 My design priorities are simplicity, use of basic parts (I don't want to use an IC or Opamp) and "some stability". It will be a high-side circuit (to fit with most NPN current mirrors) so it must use a PNP transistor (as in the last picture).

At first the bias-diode-based circuit (as shown just above, or in the 2nd box of the first image) looks interesting: 2 standard diodes set the base voltage, and more if a range switch is added. Very fine tuning can be added with a series adjustable resistor to change the current. However the bias might not be very stable, with a mismatch of thermal coefficients, and because there would be 2 or more PN junctions on one side, but only one on the transistor side.
A 2-transistors circuit is chosen, as shown on the pictures. If both transistors are from the same lot (and stuck together), the thermal behaviour should be almost identical and the circuit is a bit more stable (I hope, because there is only one junction). I won't use high currents so heat won't be a significant issue. I can still add a finetuning adjustable resistor, in addition to the main current setting resistor. Its value is approximatively set as follow :
I=U/R=Vbe/Rs= 0.7/R
I have found a nice potentiometer, 220K log, so the minimum current is about 0.7/220000=3µA.

Max current is R=U/I=0.7/0.02=35 Ohms so a fixed 33 ohms resistor is added in series.
Another 2K potentiometer in series (R2) adds more tuning flexibility though (unlike with the diodes voltage reference) I doubt it's actually useful (I'll have to test).
I also want to add a current probe (ammeter) in series...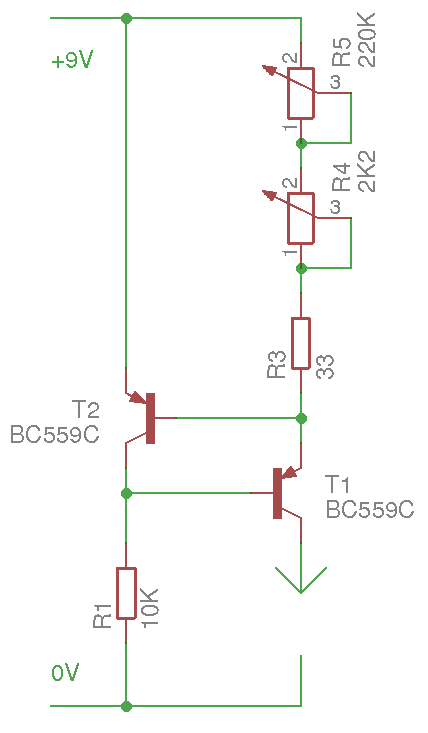 A single alkaline 9V battery should be enough, but an external PSU can also be used. The voltage difference for the circuit can reach about 8V (9V minus the Vbe and some Vce_sat) but can be increased with a higher supply voltage. The ammeter's drop should also be considered... It varies from device to device so I can't be sure yet.
But for 5V-powered ECL, it should be good enough :-)
---
OK, the first prototype doesn't work as well as expected but I built it in a hurry... at least I have a fancy box with nice knobs :-)
---
2nd prototype accepts to work. The 220K log pot is great for the range under 1mA, down to 4,7µA.
The range above 2mA is tricky though, the low-value potentiometer might not be adapted. Maybe a log type would work better. And I still don't know why it was so difficult to make it run correctly, why I measured odd voltages, but I was initially in a hurry so I might have overlooked something.
I want to generate not-too-unreliable currents, up to maybe 10mA. The ammeter measures 17mA when it short-circuits  the output. The potentiometer can't set the current reliably above 3mA...
---
20180711:
I replaced the pot with a 4K7 log model and it works better, though I should really replace it with a 2K2 log model. I can get a good usable range but the higher current values are still tricky, above the 8mA mark. I'll buy one tomorrow.
Meanwhile the case is progressing :-) it looks pretty cool, pictures will come soon...
Now I would love to have an integrated ammeter but I can't find a suitable model. I have one that would be great but that I don't want to damage. The autorange feature is quite handy so I don't have to switch a button everytime the value crosses a threshold. But this model was a freebie from maybe 15 years ago so it's impossible to find another unit...
Well, OK, it was a websearch away : the JT-033A :
and it seems mine has a broken (soldered) probe, so it's not such a bad idea to transform it into a panel instrument, after all... I'll just need a larger box :-D