As the misery spreads, it seems only fitting that we should recognize those who are unfortunate enough to successfully complete the SMD Challenge.  To be included in this club, you must submit photographic evidence (or link thereof) of a working SMD Challenge to 648.ken@gmail.com, for which you will receive inclusion on this list and a digital copy of a frame-worthy certificate of your skill and/or insanity.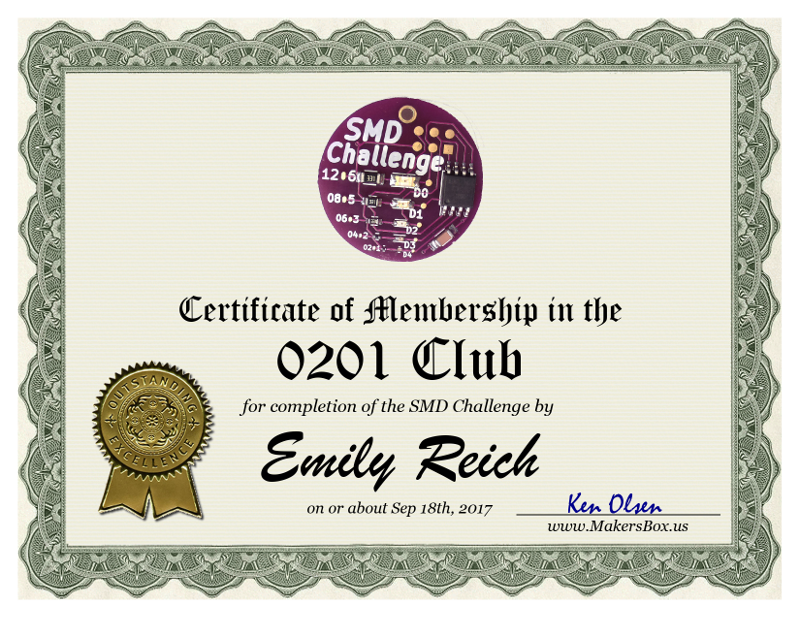 Members:
Martin Lukasek, August 2017
Michael Butler, Sigma Design, September 2017
Emily Reich, Sigma Design, September 2017
Drew Fustini, OSH Park, October 2017
Zach Fredin, October 2017 (thinking way outside the box!)
Michael Welling, November 2017
Jordan Bunker, November 2017
Mathew Mills, November 2017 (with a nicely hacked power switch)
Shawn Hymel, SparkFun, December 2017
Jeremy Gordon, December 2017
Alvaro Prieto, December 2017
Jeremy Hong, Hong's Electronics, December 2017
Ben Hencke, ElectroMage, January 2018
Tyler Folmer, FC builders and Hacker Cooperative, January 2018
Gary Baynes, FC builders and Hacker Cooperative, January 2018
Greg Courville, January 2018
Jeff Bogusz, January 2018
Ben Slagle, TEXAR Broadcast Systems, January 2018
Paul "LeoNerd" Evans, January 2018
Ben Hibben, January 2018
Jaren Havell, January 2018
Kris Cochrane, January 2018 (with an excellent video of the process)
Jeramay Brian, January 2018
Tim Czerwonka, January 2018
Eduardo Ramirez, February 2018
Peter Newman, FC builders and Hacker Cooperative, February 2018
Michael Teeuw, February 2018
Neal Zipper, February 2018
Tim Voss, February 2018
Vincent Trudel-Lapierre, February 2018
Alexander Huikeshoven, DARKPHOTONS, February 2018 (check out the video!)
Martin Samuelsson, February 2018
Bastiaan, March 2018
Andrew Mackenzie, March 2018
Randal Masutani, March 2018
Ward Ramsdell, March 2018, with a special bit of"008004" artistry.