The revised PCBs arrived earlier this week and later the same night, I was holding another fully assembled 4chord MIDI piano prototype in my hand. Moment of truth has come: will this finally be the revision I'm happy enough to share it with the world and start offering to strangers?
Initial situation looked good, I attached an USBasp programmer and checked if avrdude could recognize and communicate with the controller. No smoke, no short circuit, ATmega328p recognized - all good. Flashed the firmware, remembered to burn the fuses to use the external oscillator right away this time, and excitedly watched the syslog output as I plugged in the USB cable for the first time.

New USB device found, idVendor=1209, idProduct=deaf
What beautiful words.
The LCD back light went on and the 4chord MIDI logo appeared on the LCD itself. It was one of those Disney moments you just want to burst into song. So I started up fluidsynth.
Long story short, latest revised Piano shaped 4chord MIDI keyboard PCB seems to work all well and nicely, the toppling problem is solved, and the back light works.
Time for some pictures and show the (admittedly minor) differences between the two PCB iterations.

On the left is the initial version, on the right the revised one. Ignore the buttons on the right, I'm currently on the (seemingly futile) mission to find the perfect tactile switch.
Main change is the fourth rubber foot on the top, slightly lowered silk screen on the buttons and the voltage selector for the UART connector.
The bottom side, has mostly re-arranging some components and re-routing the tracks accordingly and some silk screen related changes, and of course fixing the back light transistor arrangement (which is also a MOSFET now).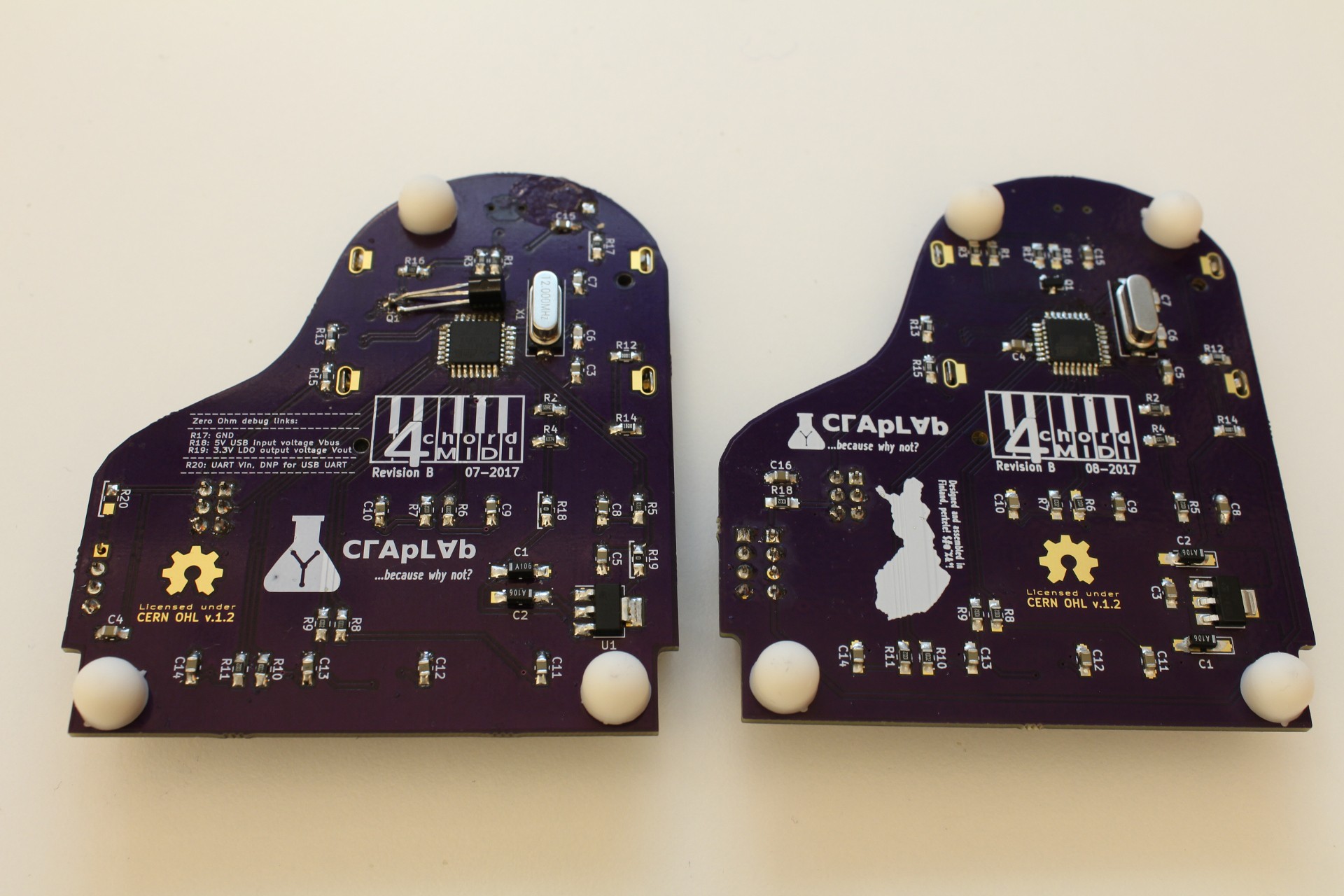 Again, left side the initial PCB, right side the revised, latest version.

So, yeah, I'm happy enough with all of it, so this will be the version that is going to be shared on the OSH Park website. The KiCad and Gerber files have been merged to the Github master branch and tagged as release.
Next steps are finalizing my preparations for a first small batch that will eventually make it to Tindie. But as I mentioned, I'm currently on some quest for buttons. Some year ago or so I ended with a random eBay order of tactile switches (the ones used for the chords), which are like no other switch I ever met. They are simply smooth and silent with a nice pressure point and feeling to it (Omron B3S series as it turned out). Would be great to find the same type of switch for the menu buttons - preferably in black (ebony would be perfect since those Omron ones are actually ivory), but so far no luck.

So I'll keep up the quest for a little while longer and little by little set up everything else - including some new firmware features.