When Luggable PC Mark II was constructed in Fall 2017, the industry was experiencing a shortage of flash memory. Most of the fabrication facilities were switching to over to make the next generation "3D NAND" flash, following the lead of industry leaders like Samsung who got their 3D NAND flash up and running first. Taking fabs offline meant a shortage in supply and, with the technical glitches that always come with a big upgrade, the shortage in supply started driving prices upwards.

Industry news sources estimated the supply crunch will ease sometime around first quarter of 2018. So I used a 256GB M.2 SSD already on hand for the project expecting to upgrade later. Well, it's the end of 1Q2018 and prices have indeed started dropping. 256 was getting awfully cramped so even though prices are likely to drop further, today it has dropped enough for impatience to win out. Time to double the capacity with a WDS500G2B0B.
This is a unit from Western Digital's Blue line, the economy alternative to their high performance Black line. From a technical perspective, the biggest differentiation is the NVMe interface used in the Black line. We won't get top of the line performance with a Blue drive, and ~500GB can still feel cramped at times, but it's enough elbow space while we wait for 1TB NVMe 3D NAND SSD prices to drop. (That's a lot of acronyms all strung together...)
The Luggable PC chassis was originally designed for easy SSD replacement by cutting an access port in the back plane to make SSD accessible by removing the monitor. Unfortunately, complications were found after assembly, requiring extra clamps to keep the monitor in place. Which sadly also made it much more difficult to remove, defeating the purpose of the access port. We're back to plan A, removing motherboard to replace the M.2 SSD underneath.
Four screws were removed so we could lift the center panel.
Taking a good look at the insides, we see that one of the monitor mounting screws has gone AWOL. We'll have to replace it during re-assembly.

After the wireless network cables were detached, along with the four motherboard mounting screws, carefully lifting the motherboard exposed the M.2 SSD underneath for replacement.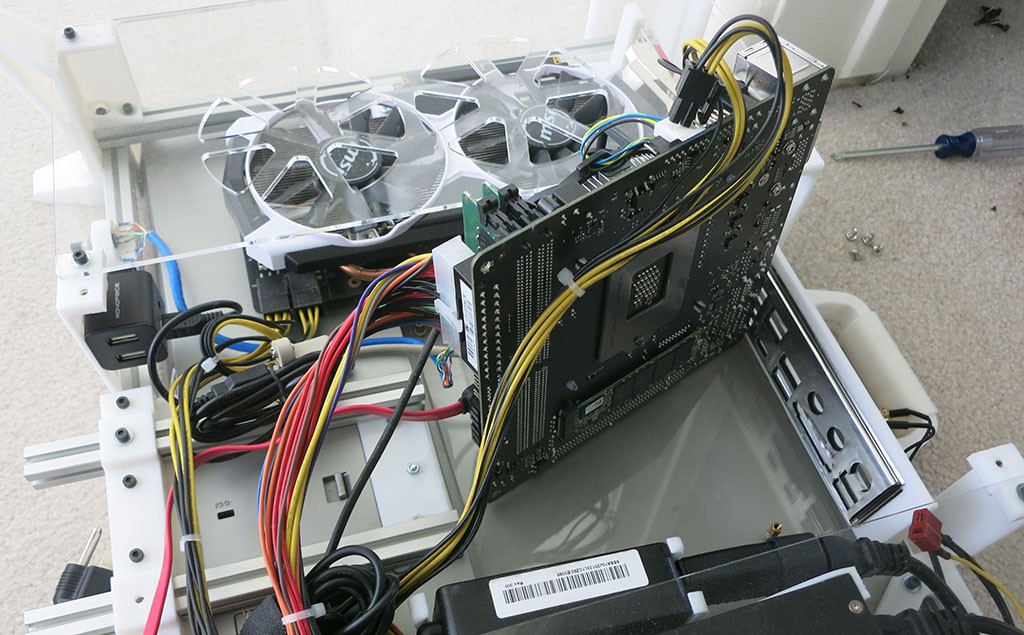 With the SSD upgraded, the biggest remaining pain point is the old GPU. We've waited six months for the 3D NAND transition to ramp up to drop SSD prices. We're still waiting for the cryptocurrency fad to blow over so we can get a reasonably priced GPU...
(Cross-posted to NewScrewdriver.com)