Did a couple virtual experiments with how I could hinge the corners to enable 'spin folding'.  Rotate the top 60 degrees and it lowers to sit on the matching bottom.  
Right now, you have to actually remove the 6 vertical members to fold it down.  This would allow you to just unhook and fold up 3 of the arms, and then turn/lower the top to meet the bottom with the remaining 3 arms still attached at both ends.
Using ball joints this would be super easy, but that would also sacrifice a ton of rigidity.  Making the joints as pivots will work much better, but then the pivot axis vector and arm length/position has to be carefully planned.
 Here is the best I got so far.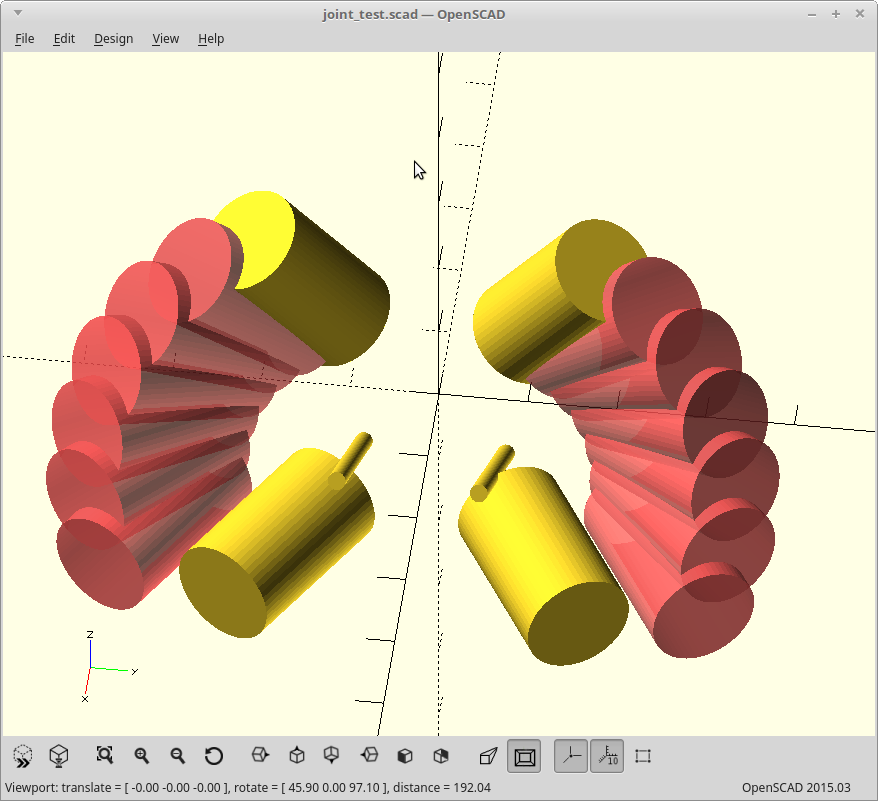 The large yellow cylinders are the current angles needed by the joints, and the pink ones are what you get when you rotate them about the axis represented by the smaller yellow cylinders.  The rotational axis vector was determined first and properly (as best as I can tell with just the math) represents the swing required of the arms during the 'spin fold'.
Then I just iterated on offsets of the rotational axis until I got a path where the arm length matches reality.  
I believe if I put a hard stop in the rotation in the extended position which is attached to the part of the triangle that stays static, I won't be giving up as much rigidity to do this either.
The current iteration is still not good enough though, as that folded arm position intersects with where I currently have stepper mounts.
It's a side goal, and the rest of the project can move on without it, but this would definitely be cooler.
EDIT: If anyone is ambitious enough to check my math, here is the 'so far' joint model in OpenSCAD.
Only works for one of the two joints though, as the second joint (from the opposing arm) would actually occupy the same space as the first when folded... but that's just details.  :)  I could use a different set of offsets for that joint, and the ends don't acutally have to line up as they will be disconnected for that one.
module

 

joint_test

() {
    wall_thickness=

2

;
    support_rod_dia=

8.25

; 

//

 

Driveway

 marker diameter.
    support_rod_depth=

20

; 

//

 

Depth

 of the pockets 

for

 support rods.
    roswell_constant=

19.47

;
    q=

32

;
    x=q/

2

;
    y=q/

4

;
    z=q/

8

; 
    translate([x,y,z]) rotate([

0

,

45

+roswell_constant/

2

,

0

]) {
        cylinder(r=

1

,h=

30

,center=

true

);
        

for

 (i=[

15

,

30

,

45

,

60

,

75

,

90

]) rotate([

0

,-

45

-roswell_constant/

2

,-i]) translate([-x,-y,-z]) rotate([-

30

,roswell_constant,

0

]) translate([

0

,

0

,support_rod_depth*

1.5

]) 

#cylinder(r=support_rod_dia/2+wall_thickness,h=support_rod_depth,center=true);


    }
    translate([x,-y,z]) rotate([

0

,

45

+roswell_constant/

2

,

0

]) {
        cylinder(r=

1

,h=

30

,center=

true

);
        

for

 (i=[

15

,

30

,

45

,

60

,

75

,

90

]) rotate([

0

,-

45

-roswell_constant/

2

,i]) translate([-x,y,-z]) rotate([

30

,roswell_constant,

0

]) translate([

0

,

0

,support_rod_depth*

1.5

]) 

#cylinder(r=support_rod_dia/2+wall_thickness,h=support_rod_depth,center=true);


    }
    rotate([-

30

,roswell_constant,

0

]) translate([

0

,

0

,support_rod_depth*

1.5

]) cylinder(r=support_rod_dia/

2

+wall_thickness,h=support_rod_depth,center=

true

);
    rotate([-

30

,

90

,

0

]) translate([

0

,

0

,support_rod_depth*

1.5

]) cylinder(r=support_rod_dia/

2

+wall_thickness,h=support_rod_depth,center=

true

);
    rotate([

30

,roswell_constant,

0

]) translate([

0

,

0

,support_rod_depth*

1.5

]) cylinder(r=support_rod_dia/

2

+wall_thickness,h=support_rod_depth,center=

true

);
    rotate([

30

,

90

,

0

]) translate([

0

,

0

,support_rod_depth*

1.5

]) cylinder(r=support_rod_dia/

2

+wall_thickness,h=support_rod_depth,center=

true

);
}
joint_test();