There have been a few times when I needed an oscillator I could start very quickly, with a small timing jitter.  I had never really found a good solution, until now.  Looking through a datasheet for a time-to-digital converter, I saw they used a gated ring oscillator for timing.  I quickly threw together a prototype using a 74AC02. The enable input is able to start the oscillator in 2.5ns, with a standard deviation (jitter) of only 68ps.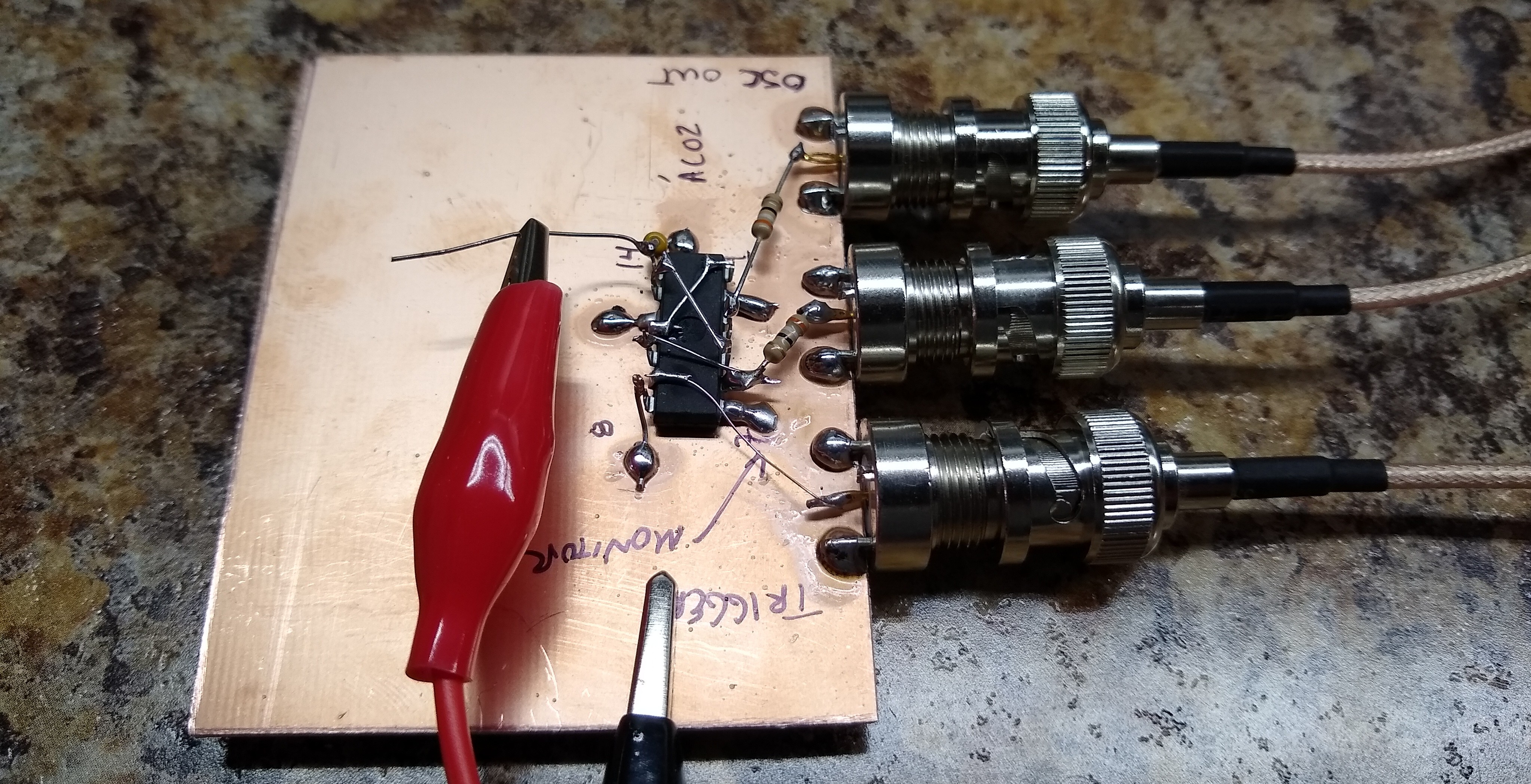 The circuit is extremely simple.  One NOR gate from the package is used as a buffer and inverter for the gate signal input.  The remaining three NORs are connected as a ring oscillator - two of them as inverters, and one used to gate the oscillation - it's an inverter when the other input is low.  39 ohm resistors are used to source terminate the signals sent to the oscilloscope to avoid reflections on the cable.  The cables to the oscilloscope are the same length.


The scope image below shows what's going on here - when the enable input goes low, the oscillator starts up - and very quickly.  You can see the relevant measurements at the bottom of the screen.

The enable input is able to start the oscillator in 2.5ns, with a standard deviation of only 68ps.  This is pretty good for something thrown together in a few minutes.  Once started, the oscillator runs at 76MHz - a version with one NOR (or NAND) gate and two inverters would probably run faster, although the start-up time is dependent on the 2-input gate.

The oscillator output could be used to drive a counter for measuring the period of short pulses, or could be divided down to drive the clock input of a microcontroller for synchronizing code with an incoming signal.  Of course, the frequency of the ring oscillator depends on temperature and supply voltage, so any system using this technique would have to calibrate periodically if accurate timing was required.

I think I'm going to make another version on a PCB with two 74LVC1G04's and a 74LVC1G00 to see how it works.