Today i drilled/filed all the holes and curves on the transparent front plate, it's really nerfwrecking drilling 10mm holes into polycarbonate plastic, the drill bit grabs the plastic almost all the time. Drilling slowly with a metal bit while having the plate secured to the table helps allot, i also did allot of test holes in a scrap piece of polycarbonate to get comfortable. The whole thing turned out quite nice for a second try (on the first try i accidentally drilled a hole i shouldn't have.). Good thing i have plenty of spare plates.
You're asking yourself : "Why is the top transparent?". No i'm not going for the transparent 90's look, my plan is to cover the inside of the transparent plate with a black (dark) sticker which covers everything except the screen area, this way the screen is protected and the front plate is one smooth surface. A perfect thing would be to be able to make a sticker with graphics (letters for buttons etc) on the sticky side of the sticker, but i'm not sure how hard that is to get/make.
---
(Pre-drilling holes and marking the D-pad + corners)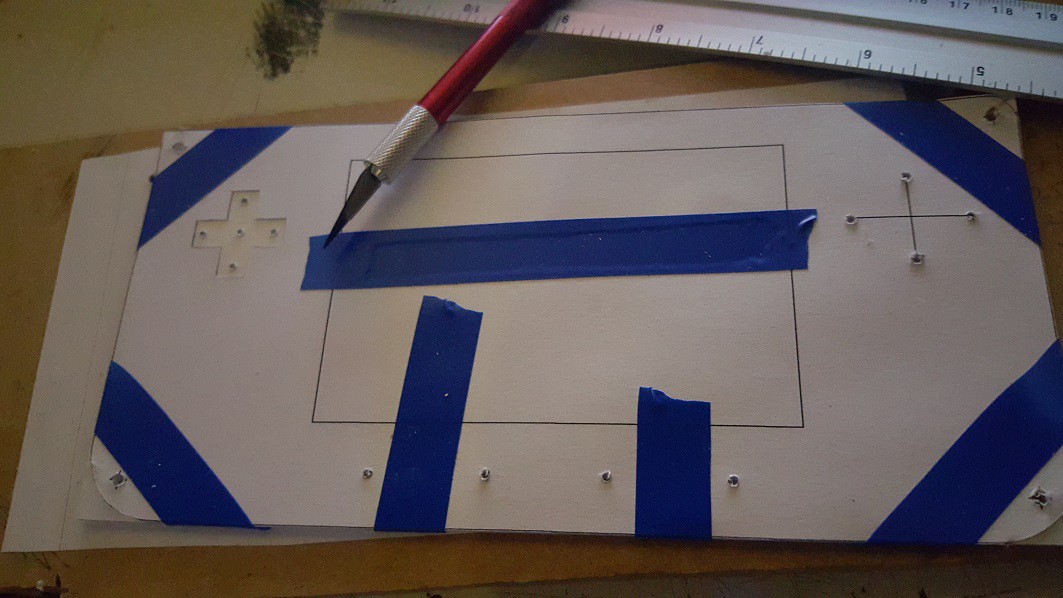 ---
(Drilled 5 holes and filed away the rest to create the D-pad hole)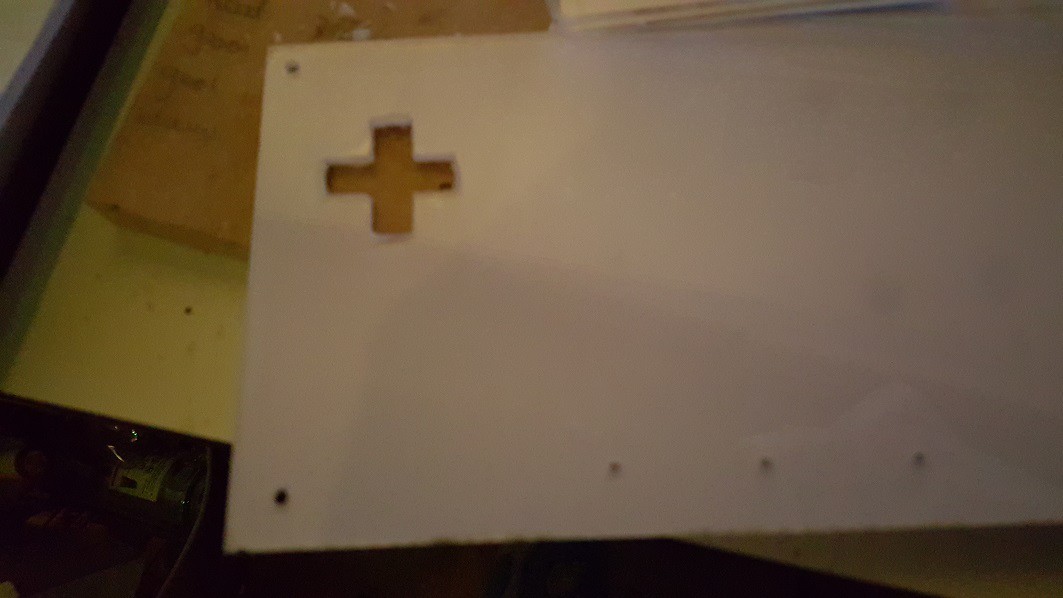 ---
(D-pad and play buttons done)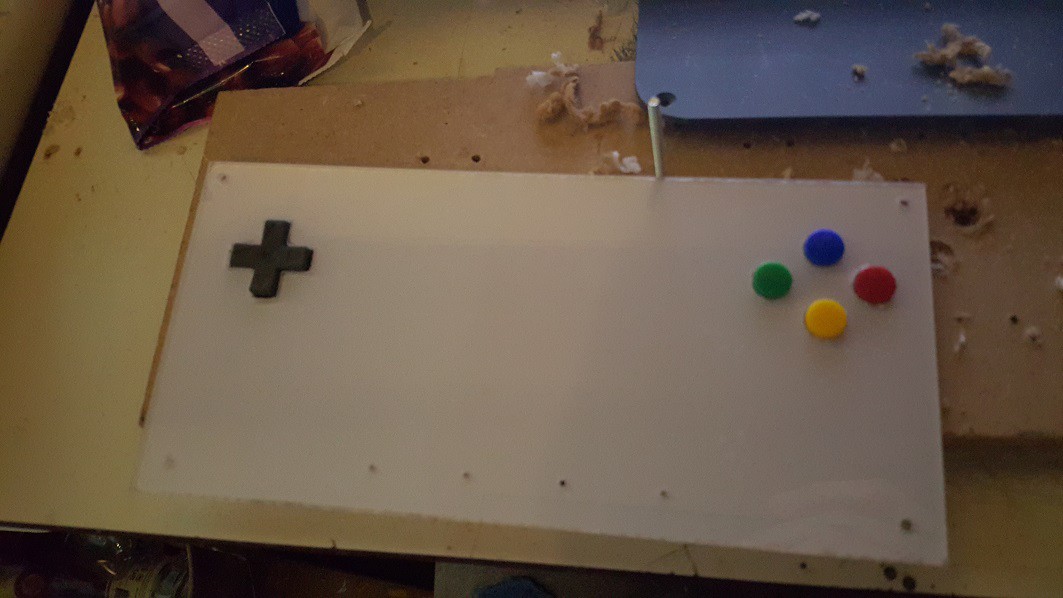 ---
(Holes drilled for the "Menu buttons" ie : Start, select, menu, options)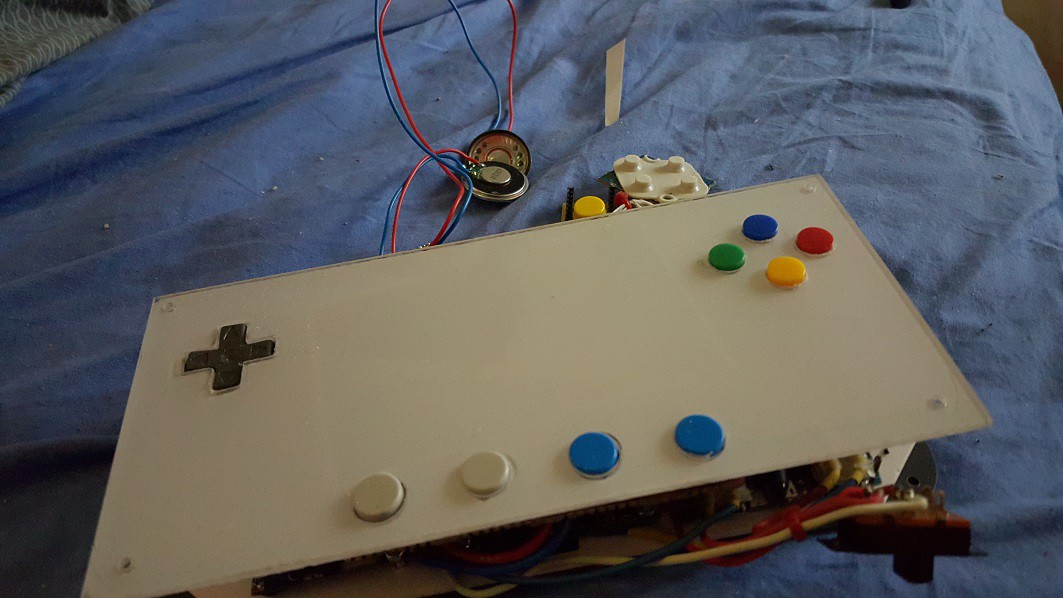 ---
(The D-pad hole still needs some smoothening, the sticker-to-be will also hide allot of crimes.)

---
The hardest part is yet to come : Bending the long strip of PVC to fit around the portable exactly, i have 5 tries to get it right or i'll have to re-order materials. This part will largely define the "professional look" of the case, if there are gaps or other odd bends it wouldn't look good at all.
Luckily the plastic is really cheap, considering they cut everything to size :) (I ordered the plastic at a dutch webshop).
By my calculations the entire unit will be 29mm tall, 209mm wide and 99mm high.
[captain hindsight mode on]
I think the entire unit is a bit too thick, i should have used smaller lipo batteries but besides that i'm very pleased with how this project is going.

[captain hindsight mode off]
Oh yea, i cut away parts of the structure plate where the batteries lay, i also removed some padding and tape from the batteries and flattened the wires of the button-PCB's. All of this saved me atleast 5mm in thickness of the entire unit. The batteries is what defines the thickness of the unit so every bit counts.