The best way to learn, apparently, is by teaching.  In my case, the best way to understand what I am doing has been by explaining it to others. For,  that requires me to structure things such that they are easy to understand.  The best explanations are the ones that need no jargon.  

Ever since I made the intro video of Kite, I have had the desire to take a short intro session for students.  I was sharing the video with everyone. One of my friends, Channa Bankapur, watched the video.  He's a brilliant chap (an ex-googler, in case you want a quick intro).  He asked me if I would be interested in involving students.  It took us quite some time to arrange a session.  Channa teaches at PES University, a top-tier engineering college in Bangalore. Big thanks to him for making this happen!

Given the multi-disciplinary nature of Kite, I had asked him to invite students from at-least a few departments - Computer Science, Electronics and Mechanical.  300 students said they'd come. 70 actually showed up.  Due to another technical fest that happened to run at the same time, there was a bit of a last minute change of plans. My session got moved from morning to afternoon.  That possibly caused a bit of a dip in the turn-out.

The 70 students were almost split 60:40 between computer science, and electronics students.  I had prepared a reasonable presentation deck.  Along with me, from my team, I took Shalini & Saravana to help with the presentation. 

Interestingly, I found that most students own phones in the price range 10k-20k INR.  Only 2 among them had actually used a 3D printer.  A lot of them had used Arduino & the Pi.  As expected, most of them use a smartphone as a consumer device.  It's powerful enough for programming, they get that - but the display is too small to do anything serious.

I had a good time explaining the motivation behind making the Kite kit.  To spice things up, I had requested that a student make a presentation about "here's how smartphones work".  Priya Nayak from PESU made the presentation - to my surprise she had dug up one of my favourite quotes by Alan Kay. 

People who are really serious about software should make their own hardware
It also kind of proved my point - that Android is a black-box even to students who are into technical education.   In any case, I was happy to continue my preset story line.

I showed many prototypes - including my new Piano Phone.  For the first time, I also showed off the HDMI capability of Kite.  Both of these blew away the students, I thought.  I also did obligatory screwdriver tear-downs of Kite. There was a hearty applause at the end of the presentation, and many questions from the students.  One question about a Satellite phone popped up, and I was happy to show some work-in-progress too. Post presentation, I had a detailed discussion with a couple of students.  They seemed interested to do some VR - and I pointed out the upcoming two display support in KiteBoard v2. I also explained the community angle in Kite, and the open interfaces(e.g. display). All in all, that went better than I expected...

I have uploaded the slides for the session to SlideShare . I expect to refine my presentation next time...  teaching truly is the best way to learn & understand. 

Here are my favourite three slides from the presentation. Smartphone vs PC:

"who is impacted":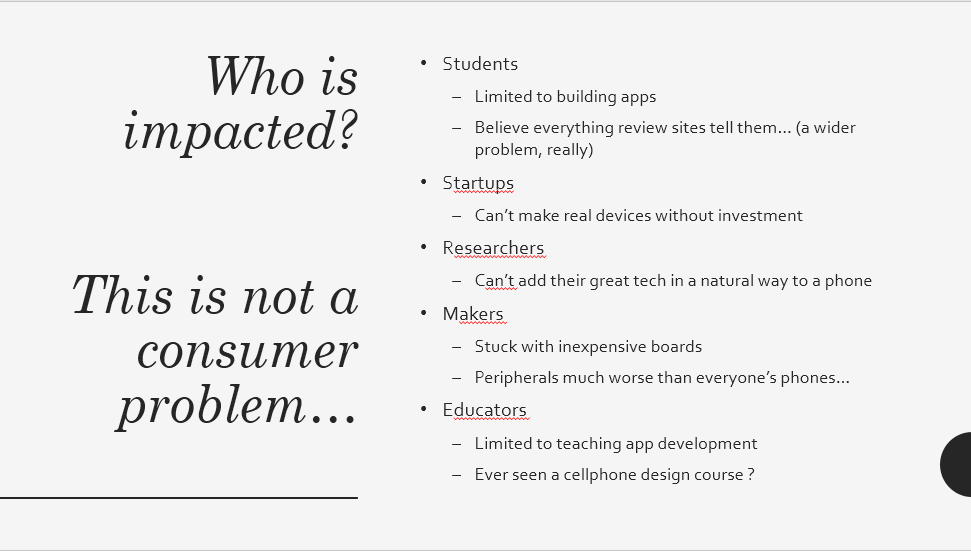 and the "design philosophy" behind Kite: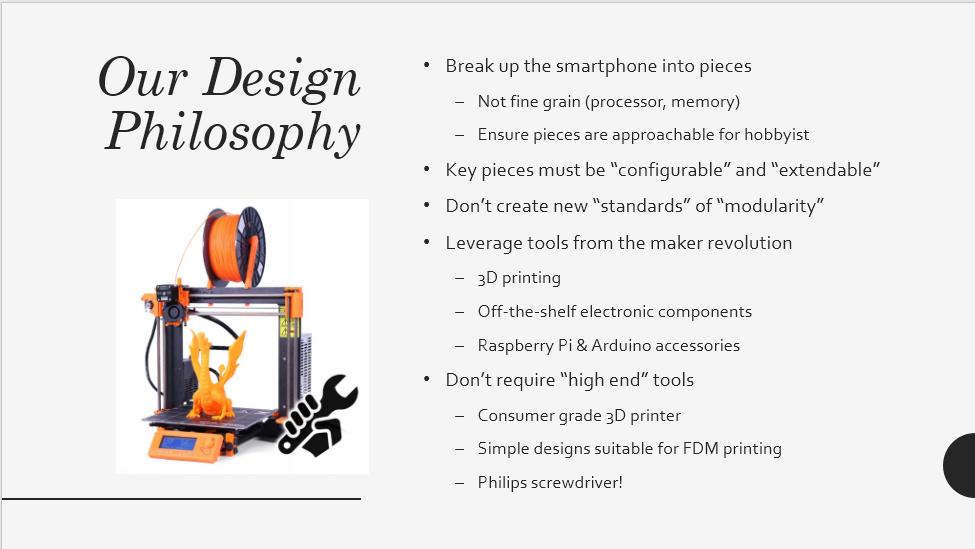 A few pictures from Channa's shaky camera... Introducing the speakers...