The design files are available in the files section.
To avoid pops when turning the preamp circuitry on and off, a mute circuit is really useful. So I sacrificed one input and converted the fifth relay to mute. 
The functionality of this board is now:
Four inputs, one input, one mute relay
All relays (except the SSR control, which technically isn't a relay) have flyback diodes to prevent clicks and pops
The relays (TQ2-5V) are "make before break", which also prevents clicks and pops when changing to another input
Separate power and signal GND
Mute, goes between the preamp output and the power amp input.
Control for Solid State Relay (SSR) 
Break-out for all ESP32 pins (even those that are in use for relays)
Control inputs with rotational switch 
              or
Control inputs, SSR and mute with ESP32
Here's a quick and dirty drawing in MS Paint to show what I mean: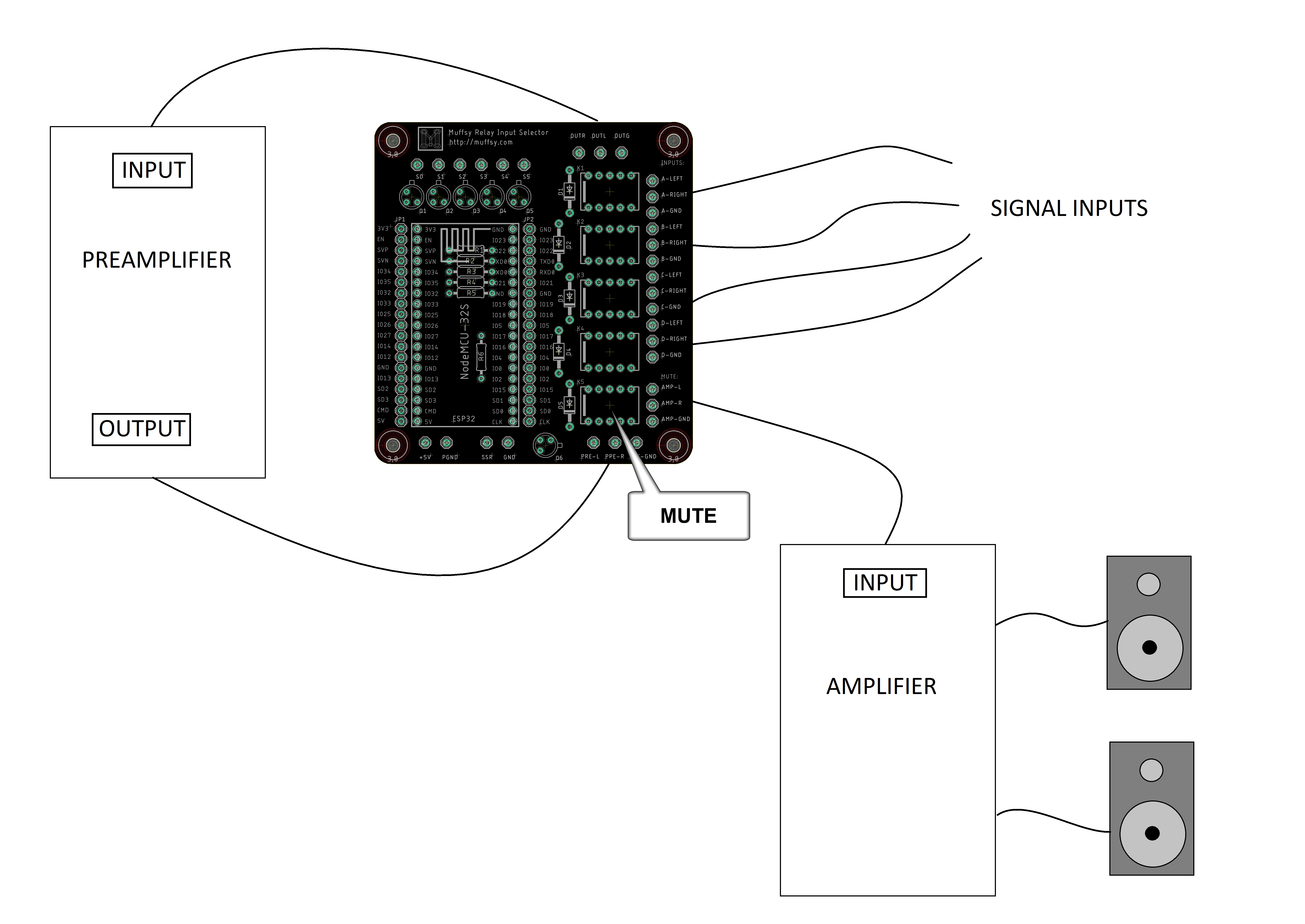 Picture of the actual board: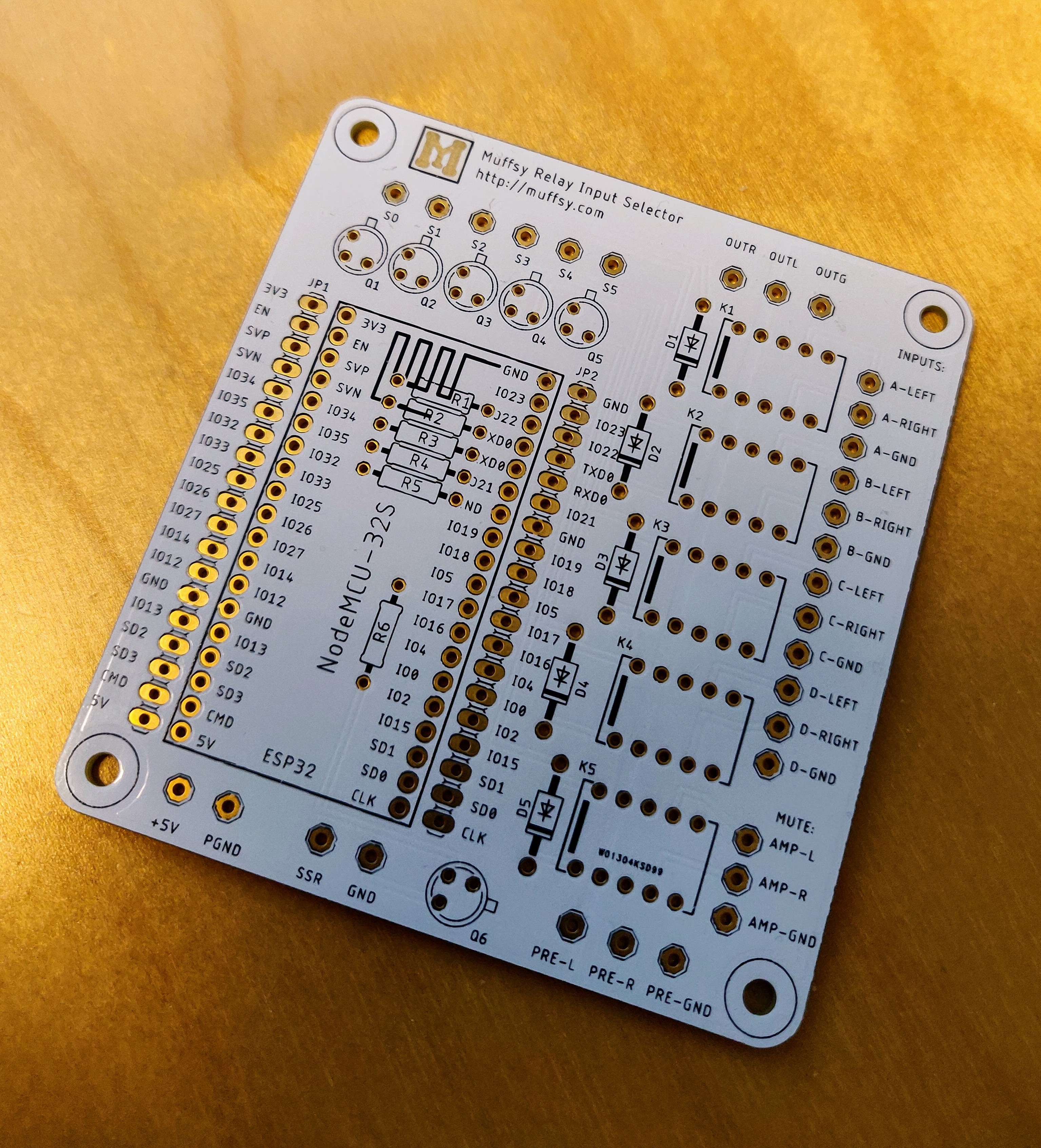 Below is the design in Eagle, the big red rectangles are the two separate ground planes. A Post-IT note is 76x76 mm by the way.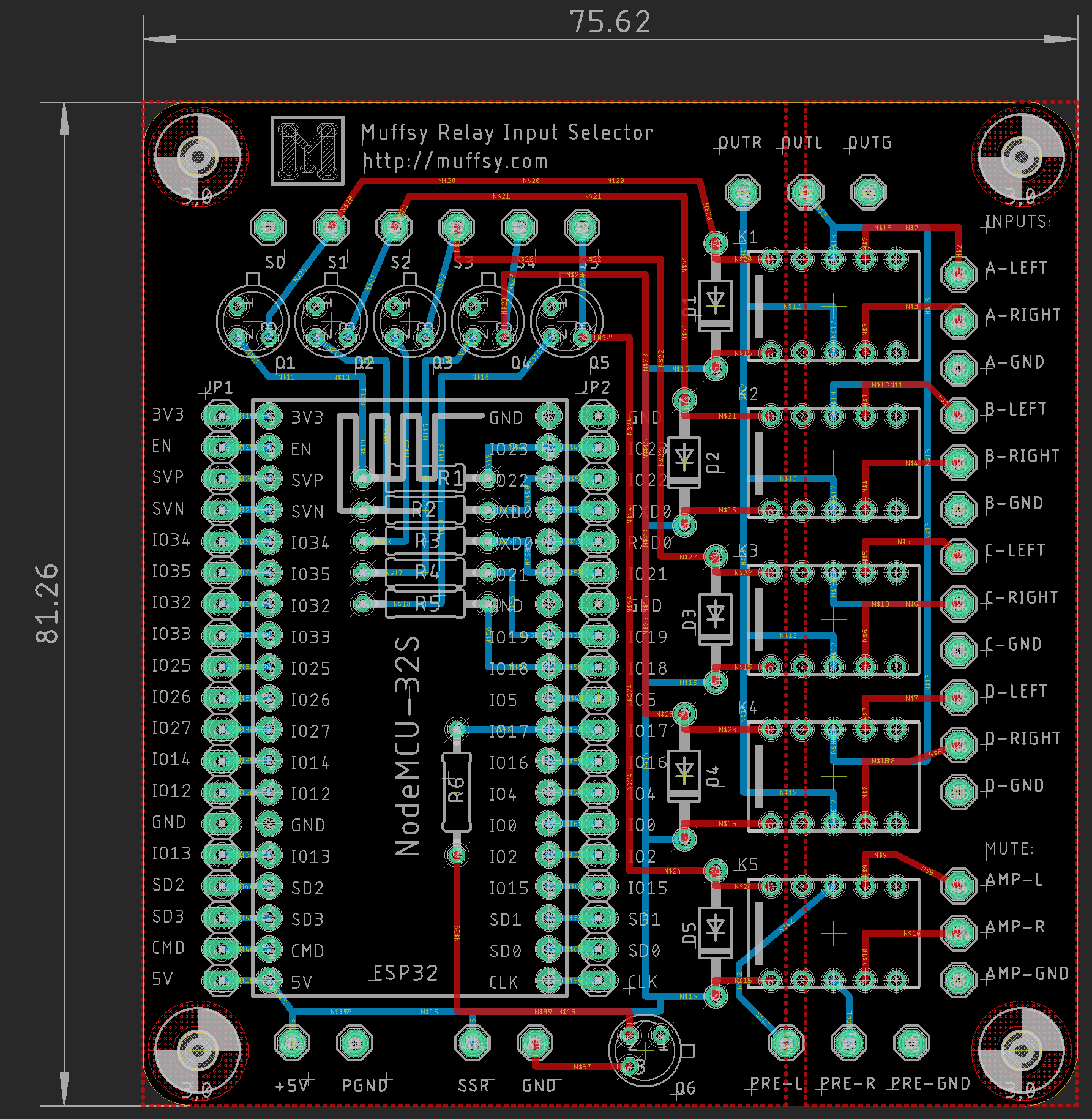 Here's the final build.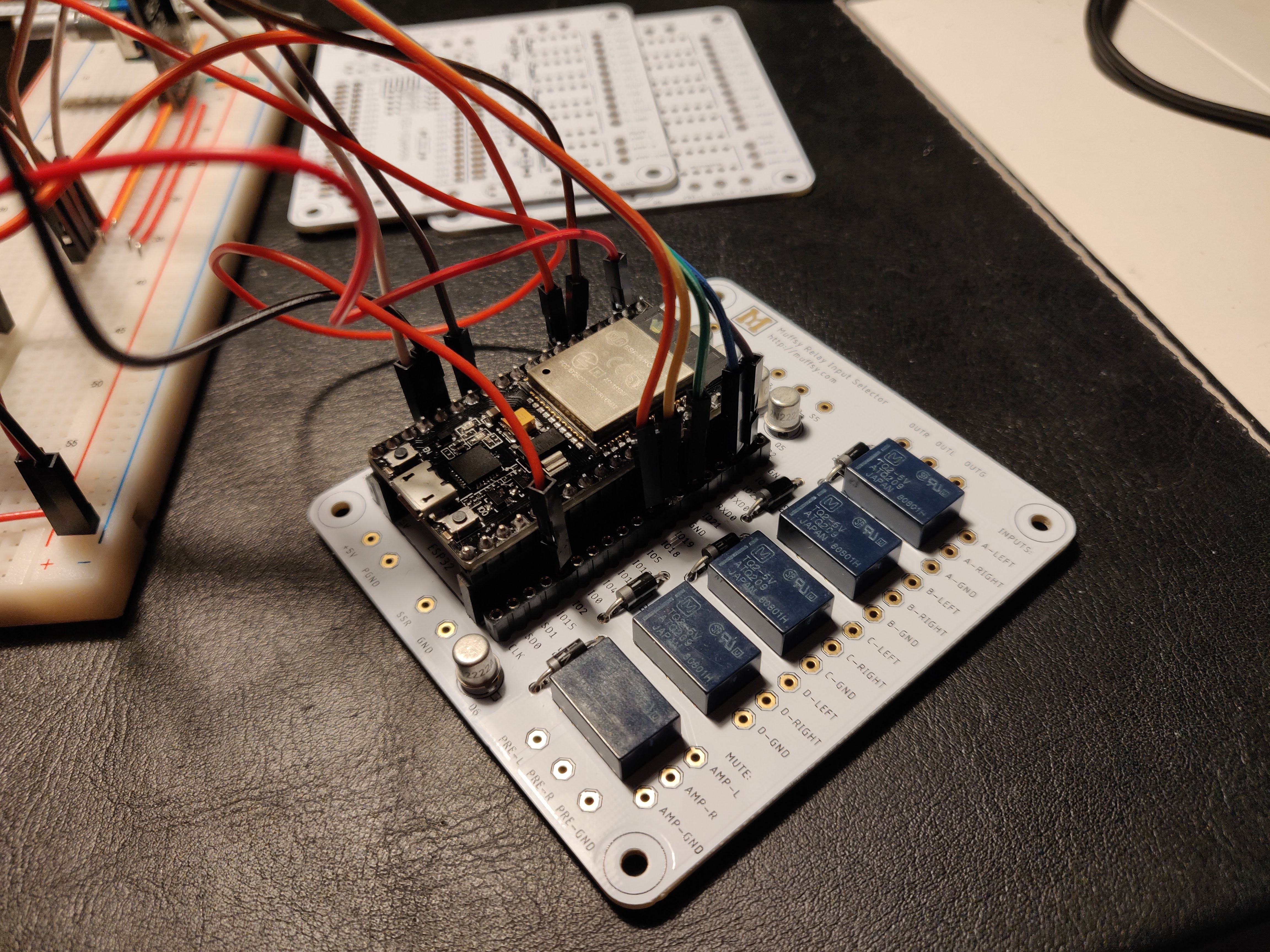 Arduino Code, Four Inputs and Mute
/* Muffsy Relay Input Selector
 *      
 *  Control relays using IR and rotary encoder
 *  Control external power to amp using IR and push button
 *  
 */



 

/*
  * powerState:
  * 
  *   0: Boot
  *     powerOn()
  *       startup procedure
  *       read NVRAM (relayCount)
  *       set relays to off (previousRelay = relayCount)
  *       set power amp to off, SSR = LOW
  *       
  *   1: Powered ON
  *       turn on power button LED
  *       set power amp to on, SSR = HIGH
  *       trigger relayOn(): previousRelay = relayCount + 1
  *     rotaryEncoder()
  *       increases or decreases relayCount depending on rotational direction
  *       pushbutton: Power ON/OFF
  *       does only Power ON if powerState == 2
  *     irRemote()
  *       input up/down
  *       input direct (buttons 1-5)
  *       power on/off
  *       does only Power ON if powerState == 2
  *     relayOn()
  *       activates relays based on the relayCount
  *       handles relayCount too high or low
  *     powerControl()
  *       read power button, set powerState accordingly
  *       
  *    2: Powered OFF
  *     turn off all relays
  *     set power amp to off (SSR = LOW)
  *     powerControl()
  *       read power button, set powerState == 1 if pushed
  *     irRemote()
  *       read power button, set powerState == 1 if pushed
  */



 

// Libraries


  
  

 

//  Size: 1 (relayCount)


  

 

// Variables, pin definitions



 

// Onboard LED/Power LED


  

 

// IR Receiver pin and setup


  
 IRrecv 

irrecv

(IR_Recv)

;
 decode_results results;
  
 

// Power button


  

 

// Pins for the rotary encoder:


  
  

 

// Relays


  
  
  
  
  

 

//Solid State Relay


  

 

// Rotary Encoder variables


 

int

 counter = 

0

; 
 

int

 previous = 

0

;
 

int

 aState;
 

int

 aPreviousState;  

 

// Relay Array


 

int

 relays[] = {

23

, 

22

, 

21

, 

19

, 

18

};

 

// Relay variables


 

int

 relayCount;
 

int

 previousRelay;
 

int

 relayNumber;

 

// Power/Mute variables


 

int

 powerState;
 

int

 buttonState = 

1

;       

// the current reading from the input pin


 

int

 lastButtonState = 

1

;   

// the previous reading from the input pin


 

unsigned

 

long

 lastDebounceTime = 

0

;  

// the last time the output pin was toggled


 

unsigned

 

long

 debounceDelay = 

50

;    

// the debounce time; increase if the output flickers


 

int

 mute = 

0

; 

// Mute on/off (1/0)



 

// Setup


 

void

 

setup

()

 { 

   

// Power button


   pinMode (poweronButton,INPUT_PULLUP);
   
   

// Onboard LED


   pinMode (LED,OUTPUT);
   
   

// Rotary Encoder


   pinMode (rotaryA,INPUT);
   pinMode (rotaryB,INPUT);

   

// Reads the initial state of the rotaryA


   aPreviousState = digitalRead(rotaryA); 

   

// Relays


   pinMode (R1,OUTPUT);
   pinMode (R2,OUTPUT);
   pinMode (R3,OUTPUT);
   pinMode (R4,OUTPUT);
   pinMode (R5,OUTPUT);
   pinMode (SSR,OUTPUT);

   

// Relay variables


   EEPROM.begin(EEPROM_SIZE);
   relayCount = EEPROM.read(

0

);
   previousRelay = relayCount + 

1

; 

// Start out not matching relayCount???



   

// Start the IR Receiver


   

//pinMode(IR_Recv, INPUT_PULLDOWN);


   irrecv.enableIRIn(

true

); 

// Starts the receiver


   
   

/*
    * powerStates:
      * 0: Powering on
      * 1: Powered on
      * 2: Powered off
    */


   powerState = 

0

;
   mute = 

0

; 

// Mute on/off (1/0)



   

// Serial monitor


   Serial.begin (

115200

);
 } 

 

/*
 * Main program
 */


 

void

 

loop

()

 {
  

if

 (powerState == 

0

) {
    powerOn();
  } 

else

 

if

 (powerState == 

1

){
    relayOn();
    rotaryEncoder(); 

// Include Push = MUTE


    powerControl(); 

// Read power button


    irRemote(); 

// Up, Down, Direct, Volume, MUTE, Power


  } 

else

 {
    rotaryEncoder(); 

// Rotary push button is temporarily power button???


    powerControl(); 

// Read power button


    irRemote(); 

// Power on/off only


  }
 }

 

/*
  * Turn on current relay
  */




void

 

relayOn

()

 {
  
  

// If relayCount has changed: Turn on the selected relay (next, previous, direct)


  

// If previousRelay has changed: Turn on the last selected relay


  

if

 (relayCount != previousRelay) {

    

// Rollover 3 or 0


    

if

 (relayCount > 

3

) {
      relayCount = 

0

;
    } 

else

 

if

 (relayCount < 

0

) {
      relayCount = 

3

;
    }

    

// Turn off all relays, then turn on relayCount


    relayOff();
    digitalWrite(relays[relayCount], HIGH);

    

// Stop IR, write relayCount to memory, start IR


    irrecv.enableIRIn(

false

);
    EEPROM.write(

0

,relayCount);
    EEPROM.commit();
    irrecv.enableIRIn(

true

);
    Serial.print(

"[http://muffsy.com]: Written \"relayCount = "

);
    Serial.print(relayCount);
    Serial.println(

"\" to save slot 0"

);
      
   

// Reset counters, output relayNumber


   previousRelay = relayCount;
   relayNumber = relayCount + 

1

;
   Serial.print(

"[http://muffsy.com]: Activated relay #"

);
   Serial.println(relayNumber);
   Serial.println();

   

// If circuit is muted, unmute


   

if

 (mute == 

1

) {
    Serial.println(

"[http://muffsy.com]: Waiting 1.5 seconds before turning off mute"

);
    delay(

1500

);
    toggleMute();

   }
  }
}



/*
 * Power on amplifier
 */




void

 

powerOn

()

 { 

// Only called if powerState is 0 (Powering on)


    Serial.println("\n       --- http://muffsy.com ---\n");
    Serial.println(

"The Muffsy Relay Input Selector has woken up!\n"

);
    Serial.print(

" ** Reading saved relay state from NVRAM: "

);
    Serial.println(relayCount);
    digitalWrite(relays[

4

],LOW);
    mute = 

1

;
    Serial.println(

"\n ** Mute Relay turned ON"

);
    Serial.println(

" ** All input relays are turned OFF"

);
    relayOff();
    Serial.println(

" ** Solid State Relay is turned OFF\n"

);
    digitalWrite (SSR,LOW);
    Serial.println(

" ** Startup completed - waiting for Power ON\n"

);
    Serial.println(

"       -------------------------\n"

);
    
    

// Set powerState to 2 (Powered off):


    powerState = 

2

;
}



/*
 * Read powerbutton, turn on or off
 */




void

 

toggleMute

()

 {
    

if

 (mute == 

0

) {
      Serial.println(

"[http://muffsy.com]: Mute relay turned ON\n"

);
      digitalWrite(relays[

4

],LOW);
      mute = 

1

;
    } 

else

 {
      Serial.println(

"[http://muffsy.com]: Mute relay turned OFF\n"

);
      digitalWrite(relays[

4

],HIGH);
      mute = 

0

;
    }
}




/*
 * Read powerbutton, turn on or off
 */




void

 

powerControl

()

 {
    

int

 reading = digitalRead(poweronButton);

    

if

 (reading != lastButtonState) {
      lastDebounceTime = millis();
    }

    

if

 ((millis() - lastDebounceTime) > debounceDelay) {
    

// whatever the reading is at, it's been there for longer than the debounce


    

// delay, so take it as the actual current state:



    

// if the button state has changed:


    

if

 (reading != buttonState) {
      buttonState = reading;

      

// only toggle the LED if the new button state is HIGH


      

if

 (buttonState == 

1

) {
        Serial.println(

"[http://muffsy.com]: Power button pushed"

);
        
        

if

 (powerState == 

1

) { 

// Turning power OFF: All relays OFF, power amp OFF


          powerState = 

2

;
          digitalWrite (SSR,LOW);
          digitalWrite (LED,LOW);
          relayOff();
          

if

 (mute == 

0

) {
            toggleMute();
          }
          Serial.println(

"[http://muffsy.com]: Solid State Relay OFF"

);
          Serial.println(

"[http://muffsy.com]: Power OFF\n"

);
          
        } 

else

 

if

 (powerState == 

2

) { 

// Turning power ON: Last selected relay ON, power amp ON


          powerState = 

1

;
          digitalWrite (SSR,HIGH);
          digitalWrite (LED,HIGH);
          previousRelay = relayCount + 

1

; 

// Trigger relayOn()


          Serial.println(

"[http://muffsy.com]: Power ON"

);
          Serial.println(

"[http://muffsy.com]: Solid State Relay ON\n"

);
        } 
      } 
    }
  }
  lastButtonState = reading;
}

 

/*
  * IR Remote
  */




void

 

irRemote

()

 { 

// Start irRemote function



    

// Decode the infrared input


      

// Decodes the infrared input


  

if

 (irrecv.decode(&results)) {
    

long

 

int

 decCode = results.value;
    Serial.print(

"[http://muffsy.com]: Received IR code: "

);
    Serial.print(decCode);
    Serial.println();
    

// Switch case to use the selected remote control button


    

switch

 (results.value) { 

// Start switch/case


      
      

case

 

7770223

: 

// Relay 1


        {
          Serial.println(

"[http://muffsy.com]: Button \"1\""

);
          

if

 (powerState == 

1

) {
            relayCount = 

0

;
          } 

else

 {
            Serial.println(

"[http://muffsy.com]: Powered off, doing nothing...\n"

);
          }
          

break

;
        }

      

case

 

7774303

: 

// Relay 2


        {
          Serial.println(

"[http://muffsy.com]: Button \"2\""

);
          

if

 (powerState == 

1

) {
            relayCount = 

1

;
          } 

else

 {
            Serial.println(

"[http://muffsy.com]: Powered off, doing nothing...\n"

);
          }
          

break

;
        }

      

case

 

7766143

: 

// Relay 3


        {
          Serial.println(

"[http://muffsy.com]: Button \"3\""

);
          

if

 (powerState == 

1

) {
            relayCount = 

2

;
          } 

else

 {
            Serial.println(

"[http://muffsy.com]: Powered off, doing nothing...\n"

);
          }
          

break

;
        }

      

case

 

7787053

: 

// Relay 4


        {
          Serial.println(

"[http://muffsy.com]: Button \"4\""

);
          

if

 (powerState == 

1

) {
            relayCount = 

3

;
          } 

else

 {
            Serial.println(

"[http://muffsy.com]: Powered off, doing nothing...\n"

);
          }
          

break

;
        }

      

case

 

7748293

: 

// Mute


        {
          Serial.println(

"[http://muffsy.com]: Button \"Mute\""

);
          

if

 (powerState == 

1

) {
            toggleMute();
          } 

else

 {
            Serial.println(

"[http://muffsy.com]: Powered off, doing nothing...\n"

);
          }
          

break

;
        }

      

case

 

7742173

: 

// Channel UP


        {
          Serial.println(

"[http://muffsy.com]: Button \"UP\""

);
          

if

 (powerState == 

1

) {
            relayCount++;
          } 

else

 {
            Serial.println(

"[http://muffsy.com]: Powered off, doing nothing...\n"

);
          }
          

break

;
        }

      

case

 

7738093

: 

// Channel DOWN


        {
          Serial.println(

"[http://muffsy.com]: Button \"DOWN\""

);
          

if

 (powerState == 

1

) {
            relayCount--;
          } 

else

 {
            Serial.println(

"[http://muffsy.com]: Powered off, doing nothing...\n"

);
          };
          

break

;
        }

      

case

 

7745743

: 

// Power button


        {
          Serial.println(

"[http://muffsy.com]: Button \"POWER\""

);
          

if

 (powerState == 

1

) {
            powerState = 

2

;
            digitalWrite (SSR,LOW);
            digitalWrite (LED,LOW);
            relayOff();
            

if

 (mute == 

0

) {
              toggleMute();
            }
            Serial.println(

"[http://muffsy.com]: Solid State Relay OFF"

);
            Serial.println(

"[http://muffsy.com]: Power OFF\n"

);
            
          } 

else

 {
            powerState = 

1

;
            digitalWrite (SSR,HIGH);
            digitalWrite (LED,HIGH);
            previousRelay = relayCount + 

1

; 

// Trigger relayOn()


            Serial.println(

"[http://muffsy.com]: Power ON"

);
            Serial.println(

"[http://muffsy.com]: Solid State Relay ON\n"

);
          }
          

break

;
        }

      

default

:
      {
        Serial.println(

"[http://muffsy.com]: Going back to waiting for IR remote keypress\n"

);
      }
    } 

// End switch/case


    irrecv.resume(); 

// Receives the next value from the button you press


  }
    
  } 

// End irRemote function



  
 

/*
  * Mute (turn off all relays)
  */


   

void

 

relayOff

()

 {
    

for

 (

int

 off = 

0

; off <= 

3

; off++) {
      digitalWrite(relays[off], LOW);
      }
   }


 

/*
 * Rotary Encoder Control of Relays
 */


 

void

 

rotaryEncoder

()

 { 
   aState = digitalRead(rotaryA); 

// Reads the "current" state of the rotaryA


   
   

// If the previous and the current state of the rotaryA are different, that means a Pulse has occured


   

if

 (aState != aPreviousState){  

     

// If the rotaryB state is different to the rotaryA state, that means the encoder is rotating clockwise


     

if

 (digitalRead(rotaryB) != aState) { 
       counter ++;
     } 

else

 {
       counter --;
     }
    }

   

// What to do if rotating Right of Left 


   

if

 (previous != counter) {
     

if

 (counter > 

1

) { 

// Since the encoder gives two signals when turning


       Serial.print(

"[http://muffsy.com]: Rotational encoder turned "

);
       Serial.println(

"clockwise"

);

       

if

 (powerState == 

1

) {
        

// Increase relayCount


        relayCount++;
       } 

else

 {
        Serial.println(

"[http://muffsy.com]: Powered off, doing nothing...\n"

); 

// Powered off???


       }
       
     } 

else

 

if

 (counter < 

-1

) { 

// Since the encoder gives two signals when turning


       Serial.print(

"[http://muffsy.com]: Rotational encoder turned "

);
       Serial.println(

"counter-clockwise"

);
       
       

if

 (powerState == 

1

) {
        

// Increase relayCount


        relayCount--;
       } 

else

 {
        Serial.println(

"[http://muffsy.com]: Powered off, doing nothing...\n"

); 

// Powered off???


       }
     }
   }

   

// Reset counters


   previous = counter; 
   

if

 (counter < 

-1

) {
    counter = 

0

;
    previous = 

0

;
   } 

else

 

if

 (counter > 

1

){
    counter = 

0

;
    previous = 

0

;
   }
    
   

// Updates the previous state of the rotaryA with the current state


   aPreviousState = aState; 
 }