Goals
To make Crawla big enough such that she can serve food items.
To integrate enough Artificial Intelligence that she can interact across a range of platforms.
To make the operation easy enough such that even a beginner can operate it via mobile app.
To provide a highly stable walking mechanism that she can carry a glass filled with water without dropping a drop out of the glass.
Specifications
Crawla carries a table top up to 4 feets x 2 feets which is integrated with high torque motors operated via its dedicated lithium polymer power source. It has got inbuilt control system, bluetooth and extremely responsive sensors, the highly balanced Theo Jansen Design makes its top surface balanced at the time of walking operation. The dedicated mobile app for the table makes it easier for any beginner to operate it via IOS or Android Device. It can handle upto 5kg weight with a continuous runtime of 3 Hours. Crawla weight about 20 kg without a load on it.
Crawla V1.0
The development involved a lot of research on design and simulation, based on the iterations the prototype and the control systems was designed and developed with the help of 3D Printing and hand tools. The entire control system is constructed and operated on Atmel microcontrollers with high power industrial motor drives, it has got indigenous built intelligent mobile application which monitors the health of the robot.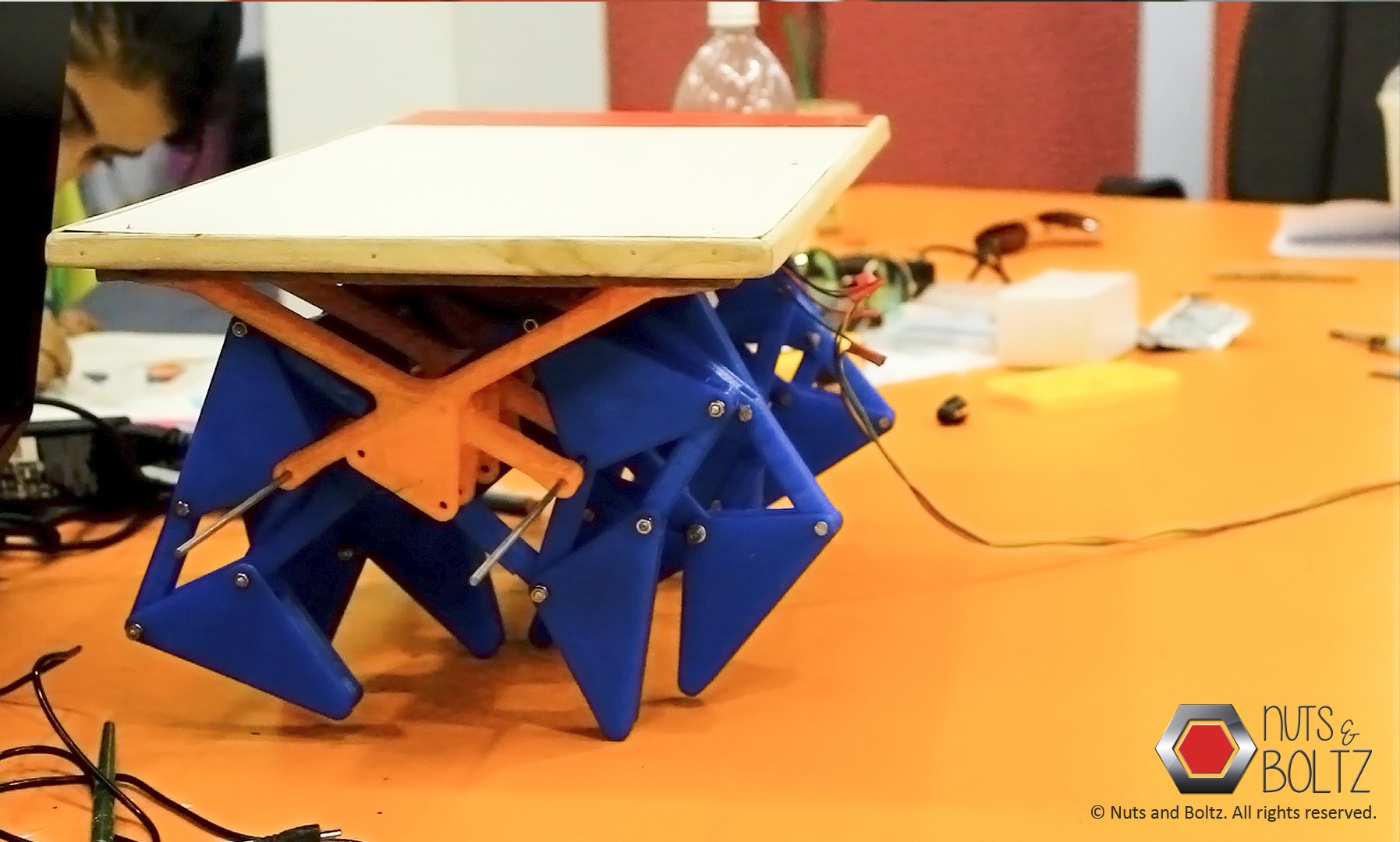 Crawla V2.0 Beta

A full-size table ~ She can walk along large areas with enough intelligence to interact across a range of platforms.
Future
Imagine the world of technology where you can order the food with one-touch mobile app and table itself with get you the food. It can be beneficial for people in old age homes and patients who cannot rapidly move from one place to another to get their basic needy items, there this Crawla Table itself plays a role of hospitality.