Aim
- The goal would be to have something really miniaturized like a 2'' box. 
- I would like it to have the possibility of using an external power adapter or any kind of energy source that can provide between 9V and 30V. 
- I would like it to have many integrated functions and the possibility of having a fuzzy menu with settings for everything but I would'n like it to have many buttons. A simple rotary encoder would be perfect. 
- I would like it to have a small display. Maybe the 16x2 alphanumeric display is a little too big for this. Possibly a 0802 would work fine. 
- backlight maybe. 
- T12 tips for low thermal inertia and precision tip temperature. I woul also like a fast heating rate. I don't like to wait and this is why I would go for this tip. 
- Stand by temperature settings and movement sensor in the handle. This should allow an even faster heating rate when you pick up the iron from the stand. The stand by is the only way you can achieve low overall power consumption. Otherwise is just a heating element which cannot be optimized. 
- Real and accurate PCB temp reading that can be used for compensation and for shutdown in case of PCB overheating.
- Embedded alarms and sound warnings. 
- Power calculations shown on the screen? Maybe.  
Why build your own?
There are similar products on the market. For instance this one: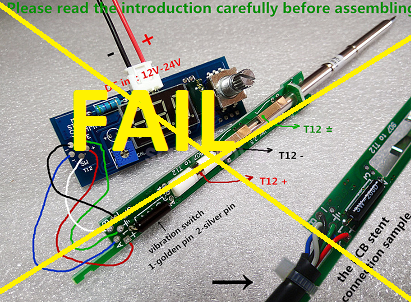 I bought one of this, but I just dislike it. The rotary encoder does not have proper SW debounce and the settings are sometimes decrementing when you want them incremented. The mV/*C setting corresponds to a type K thermocouple, but the actual tip has something like a type C one or something around 20 or 21mV/*C. This means that these funny soldering stations are displaying 350*C and they really heat up to 550 damaging the tip. The menus are just P01, P02.. and you never know what they mean when you need to set something. I just want something that I can trust.