This is an open source project, and that means that even though the company decided to drop it, sources are as available as they have ever been.
So the project is not dead! and I will take this chance to update the least bits of advance, and talk about this complementary project: DeLePeHost
First of all, the last update said FEP was the definitive material for the bottom of the vat, an so it remains to this day, giving wonderful results. Further design has been made on the vat, for it to be easier to assemble, and help keeping the tension on the FEP sheet.
No more physical progress has been made on the design, although there is new commits on the repo that aim to shrink the footprint of the machine.
Another of the causes the design hasn't progressed, is that I was working on yet another RasPi host for DLP 3D printers (half because I need it for future experiments, half for fun). Yep.
It's name is DeLePeHost, and I include link to the sources at the end of this post. It's written in Python and a bit of C. It's far from being clean code by the time I write this, but my plan was to make a backend DLP printer host in Python, in a highly readable way, so people can use it give their printers a host they can customize easily for their needs.
I used Python also because it is a wonderful "glue" programming language, so basically what this projects is, is an amalgamation of several pieces of software I found lying around:
On the top level, it establishes a server that allows you to call it's python routines through the RPC protocol, thanks to the wonderful implementation that @Jesús Arroyo Torrens made: Rainbow. This server calls this set of modules, each of one controlling the projector, the motors, and even a slicer if you want.
The motors are controled by a extension of the Pyserial class, that adds some routines to interact with the variation of the GRBL firmware that controls the Arduino.
It calls Slic3r if you send it an stl file. It's not that much of a burden for the RasPi, because slicing a file into an svg is not that resource hungry. It's still hardcoded to layers of 50 microns, but that could change with the eventual making of an HTML front end.
And probably the part I'm more proud of: Projector Control.
It doesn't depend on a desktop server to control the video signal, because it uses the OpenVG implementation that comes with the RasPi. I got my head around it thanks to the workbench made by @ajstarks, that wraps the implementation in easily callable functions in C. The software still piggybacks on this workbench, but I intend to make my own implementation for performance reasons.
This C code is wrapped in a Python module, and is called from the Python part of the software. The cool thing about this, is that all the magic happens from CLI (those cold white letters on black background). DeLePeHost doesn't need an X server taking care of the video signal, so this thing is invulnerable to screensavers and windows or mouse pointers popping up into the print.
That fact, and being that part written in C makes DeLePeHost quite fast when drawing layers onto the screen. This makes DeLePeHost quite a good software to try continuous layer printing, thing that I plan on tackling when I got my life in order again.
I wouldn't write this huge paragraph without a reason to be excited, and the reason is that 3 weeks ago I retook the project, that was left on an "almost working" state, and finally got it to print. Tried to record a timelapse of it, that my old GoPro messed up almost in the end, but I'll post it anyways:
The print actually came out well. It was a face of an old man, modelled by a friend: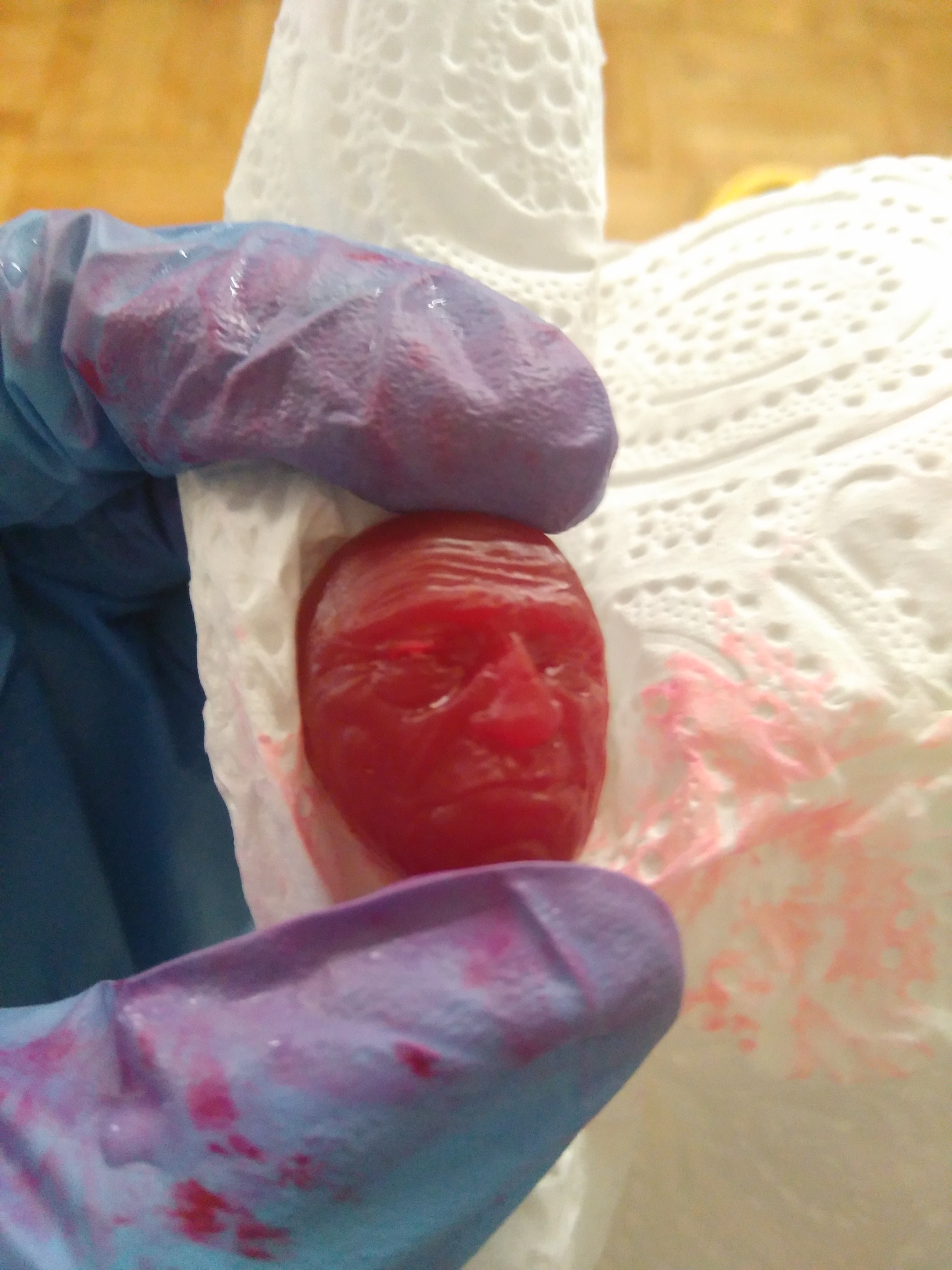 So these are my progresses so far. Sunrise may be slowed down to the rhythm of my free time, but definitely not dead. There's still things to do, things that can be done, and things that you can do! because the source is available in GitHub, and if you have any suggestions, or even designs to add, I'll be listening.
Stay enthusiastic!
DeLePeHost sources: https://github.com/elgambitero/DeLePeHost