Welcome to Hackaday's Circuit Sculpture Contest. Show us how beautiful wires and components can be when they themselves are the art!
Update: Congratulations to the Winners: https://hackaday.com/?p=340935

See all of the entries:;https://hac.io/NXJH
Go beyond the printed circuit board and let the wires that connect components become art! Circuit Sculptures use wire and components to make something visually interesting, while still being a functioning circuit. Here's an example that inspired this contest:
Synth sculpture by Eirik Brandal

Of course there are many ways to build a circuit sculpture. Other techniques that are worth exploring for your sculpture include circuits built with components spanning multiple boards (often called cordwood), circuits built using land pads often called manhattan style, and of course deadbug construction.
We bet you already have everything on hand you need to build a Circuit Sculpture. Set aside an afternoon and let your creativity run wild!
Awards:
Three top entries will each receive a $200 cash prize
Four runners-up will be rewarded with a $100 Tindie Credit!
How to Enter
Show pictures of your Circuit Sculpture and tell the story of how you designed and built it by documenting it as a new project on Hackaday.io. Once you have published your project, look in the right sidebar for the "Submit project to..." menu in order to enter it in the Circuit Sculpture Contest: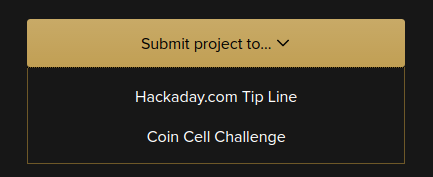 Judging Criteria
Beauty is in the eye of the beholder. That said, here are some criteria judges will have in mind while reviewing entries:
Aesthetic: Is it eye catching, breathtaking, beautiful?
Creativity: Is the concept of the sculpture interesting and unique?
Execution: Is the sculpture well built with attention to detail in solder joints, wire bends, etc.?
Functionality: Is the circuit minimally functional? Does it go beyond the basics in an impressive way?
Backstory: How well has the story been shared about how this was conceived and built?
Circuit Sculpture Contest Rules:
Contest runs 7AM PST Tuesday, December 4th, 2018 through 12PM PST Tuesday, January 8th, 2019 (here is a handy count down timer).
Sharing schematics, source code, and/or design files is highly encourage (but not required). These will be considered during judging and are a big part of "backstory" and helping us understand your circuit sculpture.
Existing projects, or projects that were entered in previous Hackaday contests but did not win a prize are eligible for submission as entries in this challenge with the following restrictions:

A new project page must be created
The project must be significantly different from when previously entered. Show what makes it unique for this contest.

All entries will be judged by Hackaday staff.
Hackaday Staff, Employees of Supplyframe, Judges or the family of any of the preceding are not eligible to take part in this contest. Everyone is still encouraged to build awesome stuff and show it off.