Welcome to Hackaday's Coin Cell Challenge. This challenge is all about building something that is powered by single coin cell battery.
Ignite your creativity. Try out low power, whether it is new to you or anyone else. We want to see some amazing power sipping attempts and for you to document it all. Share what worked and what didn't. Extra wrencher points if you share photos of destroyed batteries pushed too far during experimentation.
In short, do something awesome with a coin cell. But we also have special prizes for the examples in three different achievements: Lifetime Award, Supernova Award, and Heavy Lifting Award.

The Winners Have Been Announced!
Congratulations to all of the winners, and honorable mentions!
Awards and Prizes
The top 20 projects will be rewarded with $100 Tindie Credit plus three additional cash prizes of $500 each for the following special achievements:
Lifetime Award: Running the longest on a coin cell.
Supernova Award: An exciting display of power -- battery lifetime be damned.
Heavy Lifting Award: Disbelief. Think: "you can't do that with a coin cell battery."
How to Enter
Build something powered by a single coin cell and document it as a new project on Hackaday.io. Once you have published your project, look in the right sidebar for the "Submit project to..." menu in order to enter it in the Coin Cell Challenge: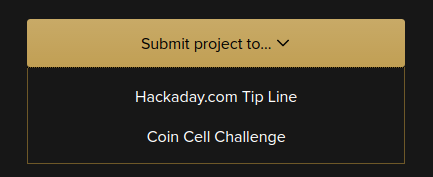 Judging Criteria
How novel or interesting is the entry?
How well is the project documented? Is the description, details, instructions, components, and build instructions filled out?
Is the project open source? Could the work be replicated based on the documentation? 
How complete is the entry? Projects don't have to be complete or working to enter, however those which are finished and working by the deadline may be judged higher.
Coin Cell Challenge Contest Rules:
Contest runs 8AM PDT Wednesday, November 29th, 2017 through 2PM PDT Monday, January 8th, 2018 (here is a handy count down timer).
Project must be powered by nothing more than a single coin cell battery and must include some type of electronics.
Projects must be open source. Source code, schematics, and board layouts for the project software must be either posted in the files section, or include a link to a public repository such as GitHub.
Existing projects, or projects that were entered in previous Hackaday contests but did not win a prize are eligible for submission as entries in this challenge with the following restrictions:

A new project page must be created
The project must be significantly different from when previously entered. Show what makes it unique for this contest.

All entries will be judged by Hackaday staff.
Hackaday Staff, Employees of Supplyframe, Judges or the family of any of the preceding are not eligible to take part in this contest. Everyone is still encouraged to build awesome stuff and show it off.