"Does anyone know of 6x6mm2 buttons that aren't a pain to push?" - Me
---
I'm currently 'researching' keyboard options for a portable raspberry pi device. So far I have an old cheap chinese bluetooth keyboard, some 4x4 keypads and an xbox controller and I'm not happy. Without screw holes -that were on the eBay listing pics- I can't mount those 4x4 boards anywhere and I don't like the pressure I have to apply to the switches. The BT board I might be able to hack in to, but after failing with the chatpad I feel slightly "meh" about it.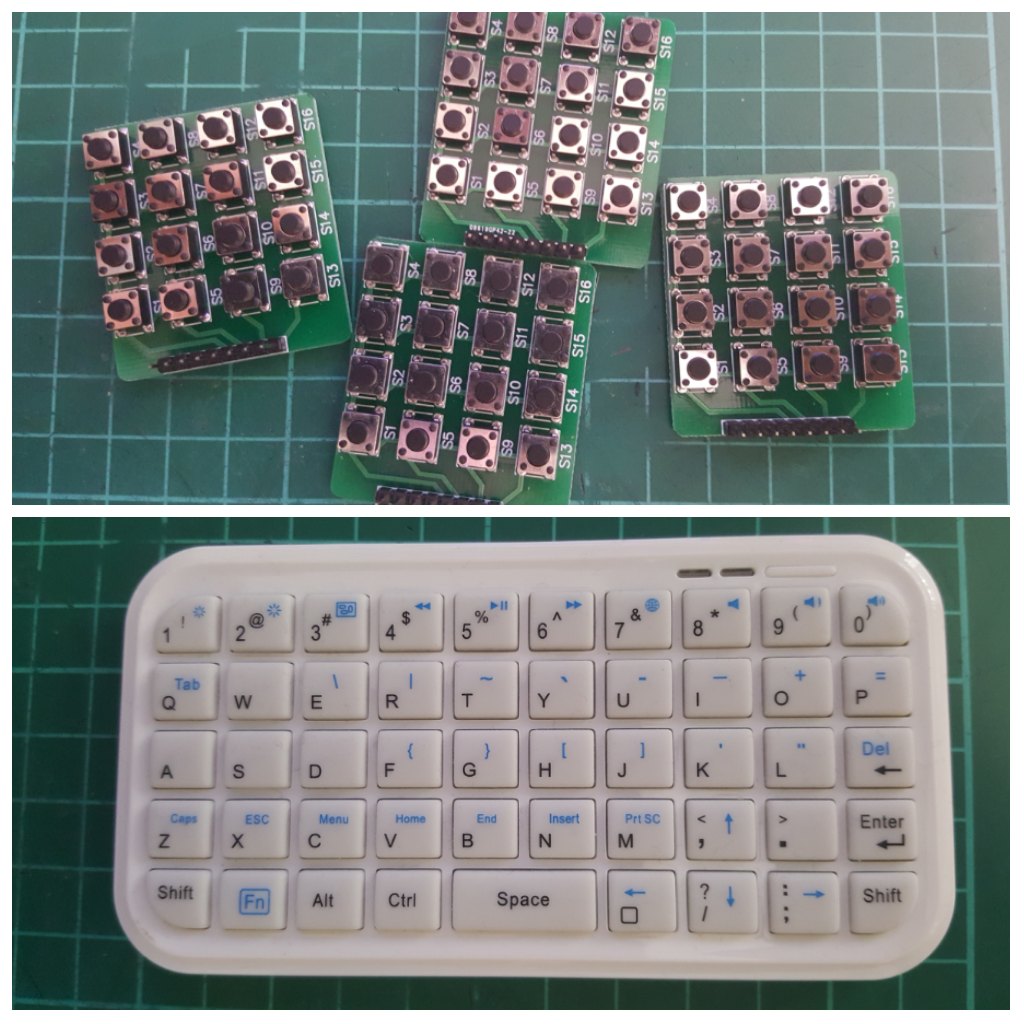 After a fatal waste of hours I gave up debugging a cheap Chinese xbox chatpad. It doesn't want to talk to me and it's not the PIC chip version one could reprogram, so my only option right now would be to remove the chip and throw on an atmega/arduino on there and scan it myself. Since they're cheap to get on eBay I still might do that at some point, but I came up with something else. Thanks to the very good google picture search result position that
hackaday.io
always gets, I felt compelled to add this massive text overlay. But I have to linkdrop this for all the guys who bought original quality M$ stuff -
http://cliffle.com/project/chatpad/
- it might work for you guys.
[UPDATE] mapped out TPs and Letters and stuff and wrote arduino sketch for pro micro
https://docs.google.com/spreadsheets/d/1aaoIAshYLMAF9ghrW0Vmfo8WK18rPOxnou2Njl7glPg/edit?usp=sharing
https://hackaday.io/page/2329-xbox-chatpad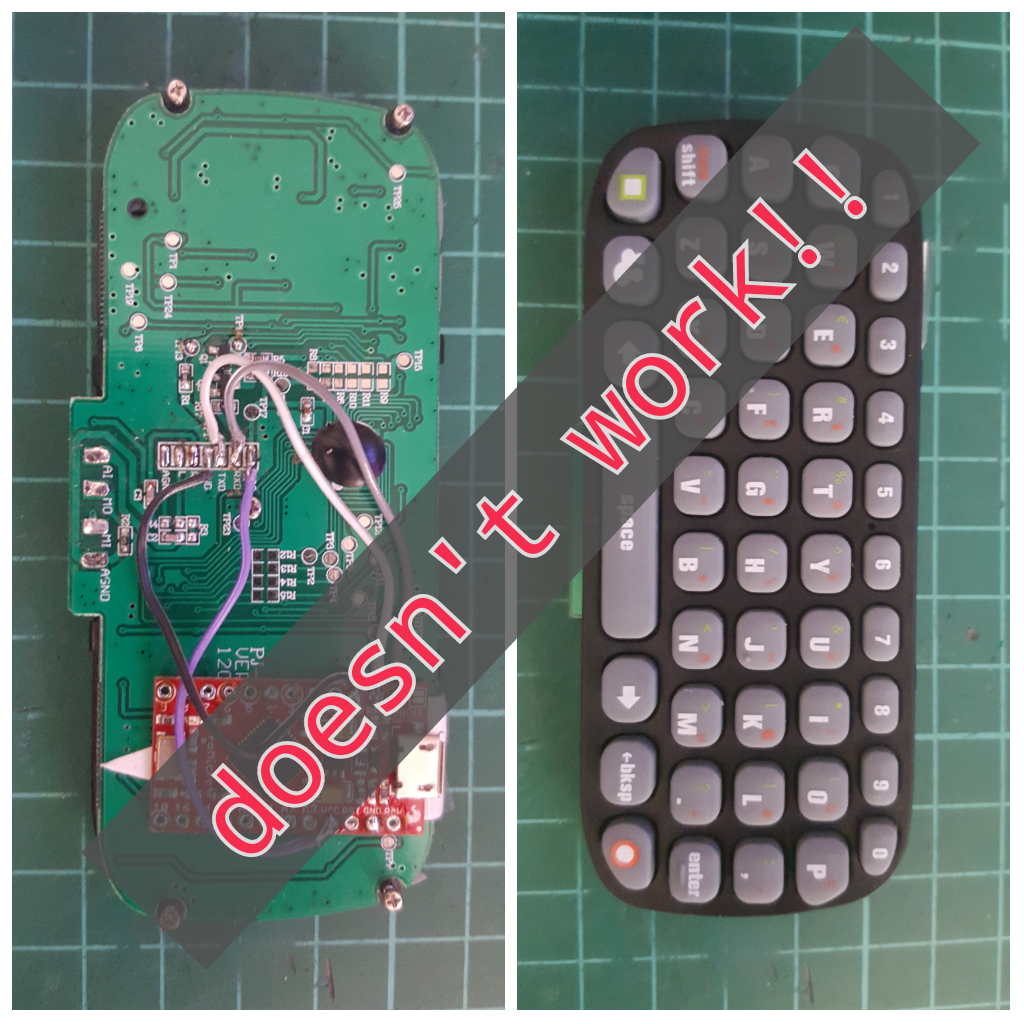 Instead I designed a little board that's inspired by the nokia 5510 - this cellphone has a "full" qwerty keyboard, 24 buttons on the left and 21 buttons on the right side of the display. So having two boards of this 4x5+3 keys equipped with the (way too heavy) buttons that I want to replace might be a good start. It also has diodes against ghosting - should have added a ghostbusters logo on there. Damn. Next rev.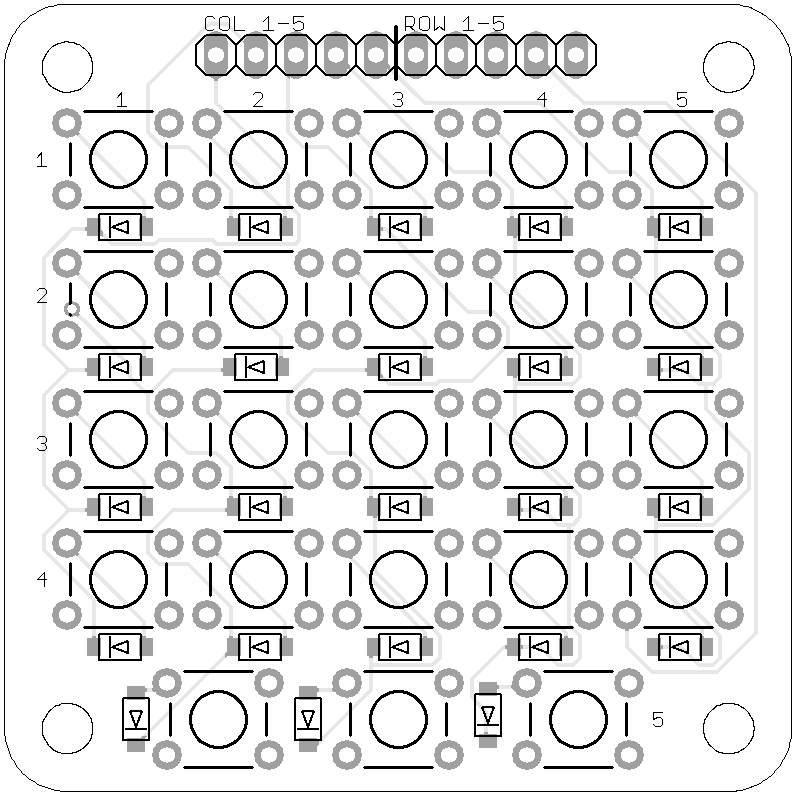 I don't like indents in my finger from pushing a button - so does anyone have any other options? I'm running out of Ben Heck portables episodes.