Yesterday I was chasing duo/bicolor LEDs on ebay.com because I read about blue/red ones on Reactron Integron for Automobile from Kenji Larsen. It never occurred to me that they weren't only red/green ones anymore. Inspired by this I made a 3x5 (15) LED matrix board with charlieplexed pinout in the hope I will be able to make a sometimes purple/red/blue display or colored temperature thingy. This will give me some coding experience since I have to come up with some array magic. I still haven't found out how I can tent the vias in eagle so OSHpark will add the solder stop mask over. The next iteration will probably have 1206 resistors on there and after that I'm going to order the 11*10 matrix I have already designed. This big matrix is perfect for a word clock project but I would need to check my software before. I'm also interested in a clock design as supposed to be seen here: http://hackaday.io/project/1480-Charlieplexed-LED-Clock this would need 9*8 (72) pins (60 for minutes and 12 for the hours) and a good positioning/addressing system.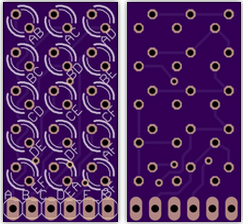 Awesome links
https://dl.dropboxusercontent.com/u/4345112/www/mrule/charlymuxing/charliemux.html
http://tomscircuits.blogspot.de/2010/10/charlie-cube.html
[UPDATE] Final results
I had to solder two jumper wires to make the connections to fix the somewhat buggy display, but now it's all worked out :) I bought red-blue and red-green BI/Duo LEDs.