Hi ! Are you curious to know what makes Lithium-Ion & LifeP04 batteries different from each other apart from their names? Here is the required information. But, first let me introduce you with both of the batteries to make you a little bit more familiar to them.
---
1. Intro. to LifePO4 Battery:
LifePO4 battery is Lithium Iron Phosphate Battery or LFP (Lithium Ferrophosphate). It is a type of Lithium Ion Battery using LiFePO4 as the cathode material, and a graphitic carbon electrode with a metallic backing as the anode.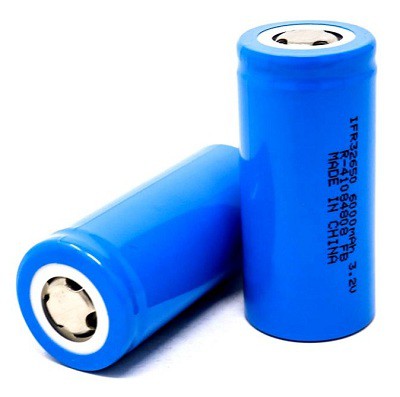 Above image shows Standard 32650 3.2V Rechargeable 6000mAh LifePO4 Battery Cell. It is a powerful battery cell with massive 6000 mAh capacity. This is a source of power for various portable devices including flashlights, hobby transmitters, and receivers etc. To know more about such lifePO4 batteries, you can visit this link. Because of low cost, low toxicity, well-defined performance, long-term stability, etc. LiFePO4 has a number of applications in vehicle use, utility scale stationary applications, and backup power.
---
2. Intro. to Li-ion Battery:
A lithium-ion battery or Li-ion battery (abbreviated as LIB) is a type of rechargeable battery. It is a lightweight, high-power battery used in computers and mobile phone. Li-ion batteries come in several shapes, although a flat rectangle is most common. To know more about li-ion battery, you can refer my blog: Introduction to Lithium Ion Battery.
Now, you're familiar with those 2 types of batteries. So, let's understand their differences.
---
3. LifePO4 Battery vs Li-ion Battery:
| Parameters | Li-ion Battery | LifePO4 Battery |
| --- | --- | --- |
| Energy Efficiency | Higher at 150/200 Wh/kg | Higher at 90/120 Wh/kg |
| Draining of Battery | At lower rate as compared to LifePO4 | At higher rate as compared to Li-ion |
| Discharge rate | Li-ion batteries discharge rates are inferior to LifePO4 | Superior than Li-ion  |
| Life Cycle | 500-1,000 cycles | 1,000-10,000 cyrongcles |
| Storing period of unused batteries | around 300 days shelf life | 350 days shelf life |
| Battery Safety  | Lesser safer (thermal runaway issue) as compared to LifePO4  | Excellent safety (excellent thermal and chemical stability) |
| Disposal safety | A lithium cobalt dioxide chemistry type of Li-ion is considered a hazardous material | Nontoxic and can be disposed easily |
| Chemical Constituents & weight | made from lithium and carbon, so lighter in weight  | Made from lithium ferrophosphate, so little heavier |
| Storing energy range | 2 Kw h – 20 Kwh | 1.4 Kw h – 16 Kw h |
| Energy Efficiency | Lithium Ion retains its optimal storage longer than other batteries. | Lesser optimal storage efficiency as compared to Li-ion |
Well, that's it! I'm sure that you got the difference very well.
Hope, this article is helpful to you.

---
References:
1. LITHIUM IRON PHOSPHATE VS. LITHIUM-ION: DIFFERENCES AND ADVANTAGES – by Anton Beck
2. LITHIUM ION VS. LITHIUM IRON PHOSPHATE (rescuemyenergybill.com)