RFID Writers
RFID Copier Duplicator 125KHz Key fob NFC Smart Card Reader Writer 13.56MHz Encrypted Programmer USB UID T5577 EM4305 Cards Tags
Only works on Windows.  On Linux dmesg shows a lot of errors.  It's not recognized as virtual com-port or anything.
When connected to the PC, it shows up as flash drive that contains the reader software.
The reader software consists of a left side for 13.56MHz, the right side is for 125kHz.
Bring a 125kHz tag within range.  A double beep will indicate that the tag is recognized.  Then press the "read EMID" or "write EMID" button.
For 13.56MHz tags, the functionality is unclear.
It can write empty 125kHz tags delivered with the 5YOA reader, but it can't overwrite them
Also reads my own created RFID tag.
Handheld 125KHz EM4100 RFID Copier Writer Duplicator Programmer Reader + EM4305 T5577 Rewritable ID Keyfobs Tags Card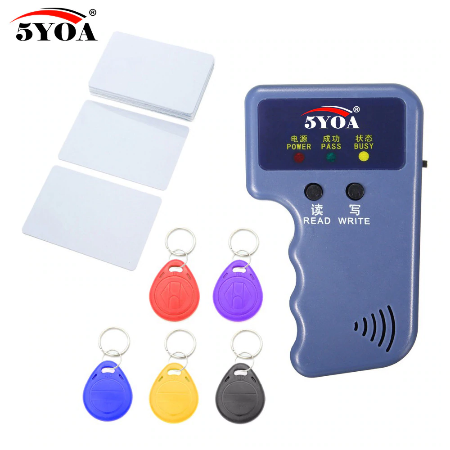 Based on a PSoC.  Nothing much left to hack.  No method to extract read tag data.
Doesn't read my own created tag.
Use: bring tag within read range and then press read or write button.
Can rewrite the tags delivered with it.
Own designs
RFID Reader modules