Since the beginning of the #DYPLED project, I've been wondering how to provide a better aspect with the least means. The display is nice as it is but it can still get better. Today I could finally test my hypothesis :-)
This is the display modules, shot with my crappy smartphone camera :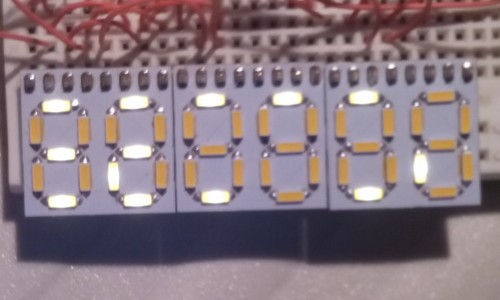 Adding a simple, dumb sheet of white paper in front makes it look like this :
This is obviously visually more pleasing, I think.
Now, there are many problems to solve:
Paper is not durable. What plastic foil/film/sheet is best suited ?
The dots don't all appear nicely because the sheet could not stick to the surface of all the LEDs. Conclusion : the surface diffusor must be adhesive...
Does the PCB's soldermask color matter anymore ? Could black further enhance the contrast ?
I'll test more ideas, meanwhile, I'd love to read yours in the comments :-)
---
20160909:
I tried various diffusion sheets from broken LCD screens. The results are not as expected. LCD diffusors do their best to not waste photons and spread light as much as possible.
Paper OTOH absorbs quite a lot of light, which increases the contrast. I'll have to find a very thin adhesive label...