Pisolaris is a 3d printed telescope platform designed specifically for the Celestron "First Scope" http://a.co/4xyHqx0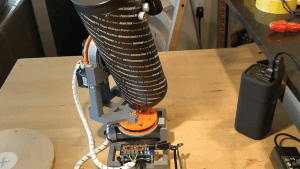 Although I have not released the STL files, I am planning on doing so in the near future  once my iterations become more stable. 
In addition to making a motorized telescope base, I also wanted to write my own star finding software... which I have done, in theory :) You can find the math library I made on this github page: https://github.com/pisolaris/astro-math
The general concept for star finding is to first develop firmware which can accept destination angles and translate those into motor steps. Then develop the software which can take the current time + gps coordinates + target celestial body and translate that information into angles for the firmware.
At this time, my firmware is not public because it uses AWS IoT and I do not have a good way to provision new telescopes with the current software stack. Making a version of the firmware easily accessible is on my to-do list though.
Stay tuned as I plan to release files soon! I'm nearing a stable iteration which should be good enough to begin sharing complete build instructions :)