The cat is out of the bag, so I can finally write about this.
Six months ago I had a presentation in Brussels at FOSDEM about developing your own game consoles. Of course PewPew was one of the prominent examples. After the talk (which I completely butchered due too bad timing), we talked with Marc-Andre, one of the people who make EuroPython possible year after year, about the possibility of running a workshop on PewPew programming at the EuroPython conference. I don't remember much from that conversation, because I was stressed after the talk, but he followed up on that after talking with the other organizers, and finally a decision has been made to give PewPews to all participants.
I contacted @Makerfabs about producing them, and we got an initial quote. Since we were going to be producing 1400 units, this was an opportunity to use a custom PCB soldermask color, and I couldn't miss that opportunity. I received samples of the branding materials, and I sat down to redesign the 10.3 version (the large one) to make it better suited for wearing at the conference, and to add branding to it. The conference colors are orange and blue, so I switched to blue display and buttons, and used orange soldermask. I moved the USB port around, replaced the switch with a smaller, SMD version, and made sure there is almost nothing on the back side, where the logos go.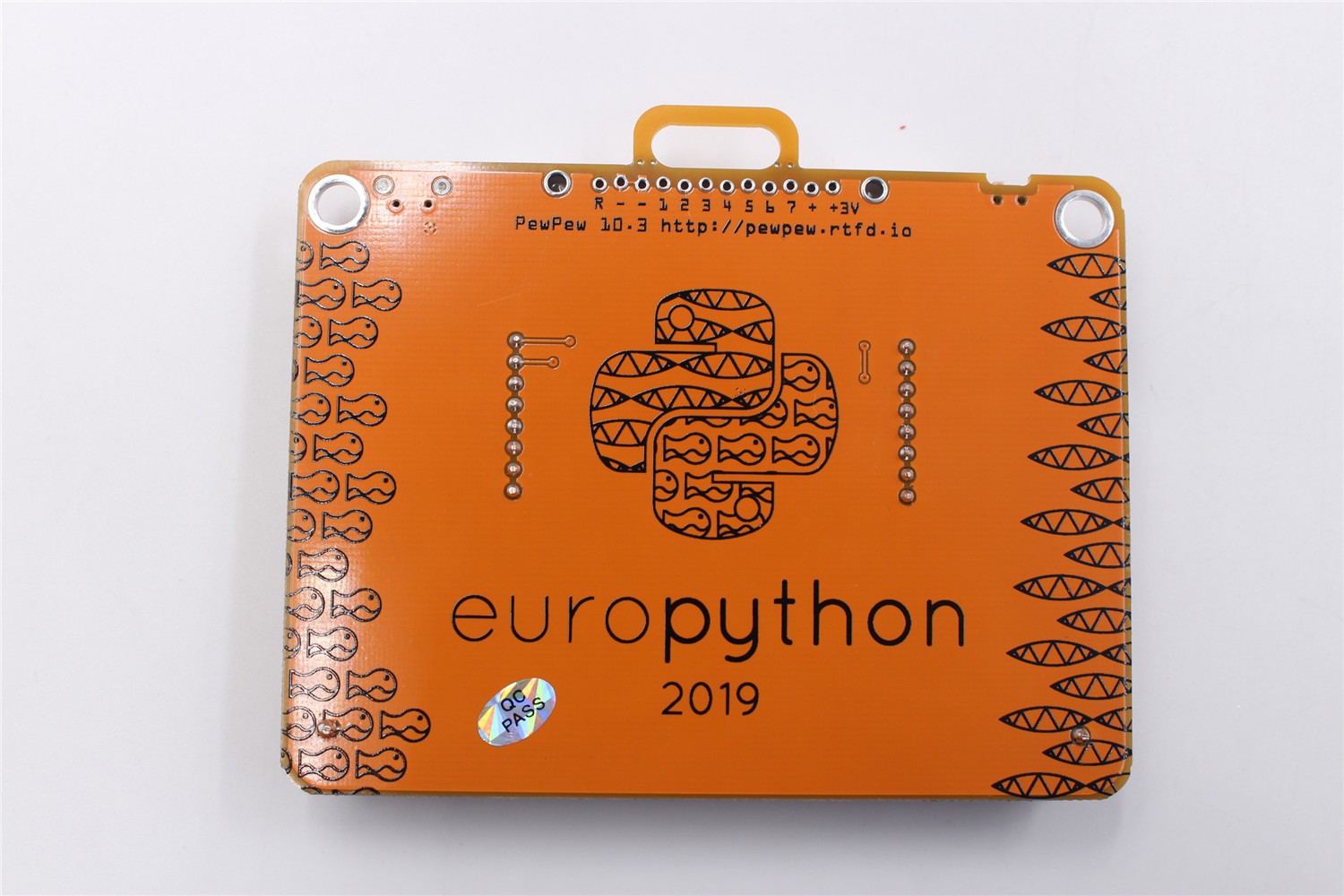 Later on we also added a hanger at the top of the PCB — breakable, so that you can have easier access to the pin connector. We had some back-and-forth negotiating the best payment method, shipping, packaging, etc., but in the end we came to an agreement, and placed the order. The boards are being produced and tested even as we speak, and the above photo is from a first unit they assembled and programmed. All in all, it's an interesting adventure.
The conference is in three weeks, and we will be running workshops on programming those devices — even though they come by default programmed with a couple of games. If you are coming to EuroPython, please consider staying and lending a hand running those workshops — it's a great opportunity to talk with other participants and show off your experience!