"Has it really been a year?" isn't a question - it's the name of the latest release. It's been more than a year since the last release, and there are certainly many reasons for that.
There were so many changes in the build infrastructure ("modular build"), supported by modularization and some generalizations, that there have been no less than four pre-releases.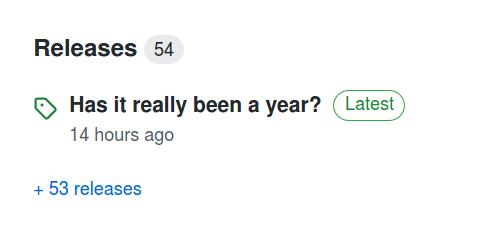 The motivation behind it was a number of STM8 eForth applications that each required some kind of "board support" in drivers, vocabulary selections, peripherals usage and whatnot while the STM8 eForth core itself hardly changed at all.

On the other hand, configuration options for the following things have improved by a lot:
Binaries through "modular build": it's now trivially easy to create a downstream GitHub repository with build automation
Peripherals abstraction for timers and serial interfaces used in the core: it's now possible to use any 16 bit timer for ticking the background task, both UARTs of STM8S High Density µCs can be used
STM8L devices received more love (e.g. simulated serial interface, peripherals abstraction)
Most of the code for anything "non-core" (e.g. board I/O) is now in include files and variants can be put in a board folder where it has precedence
And feature creep, of course. I'll have to spend some time to document all new features ;-)
Now there is finally some stability as the following POCs showed the desired results:
It's safe to say that STM8 eForth is now quite mature and that it will support a range of applications with little effort. Future developments are planned for exploring options in less frugal systems.