After the board was programmed into a translator, I wanted to fancy it up with some LED responses. Imagine reading Grace in the college hall while the gown lights up in Caius blue. 
I wanted to integrate the music visualizing response be connecting the board to an LED strip from MakeFashion Stitchkit. The strip has holes along the edges, which can be sewn onto clothing using a sewing machine with a zipper footer. Before doing this, I needed to test if I could light up the LEDs with the MXChip IoT Dev Kit.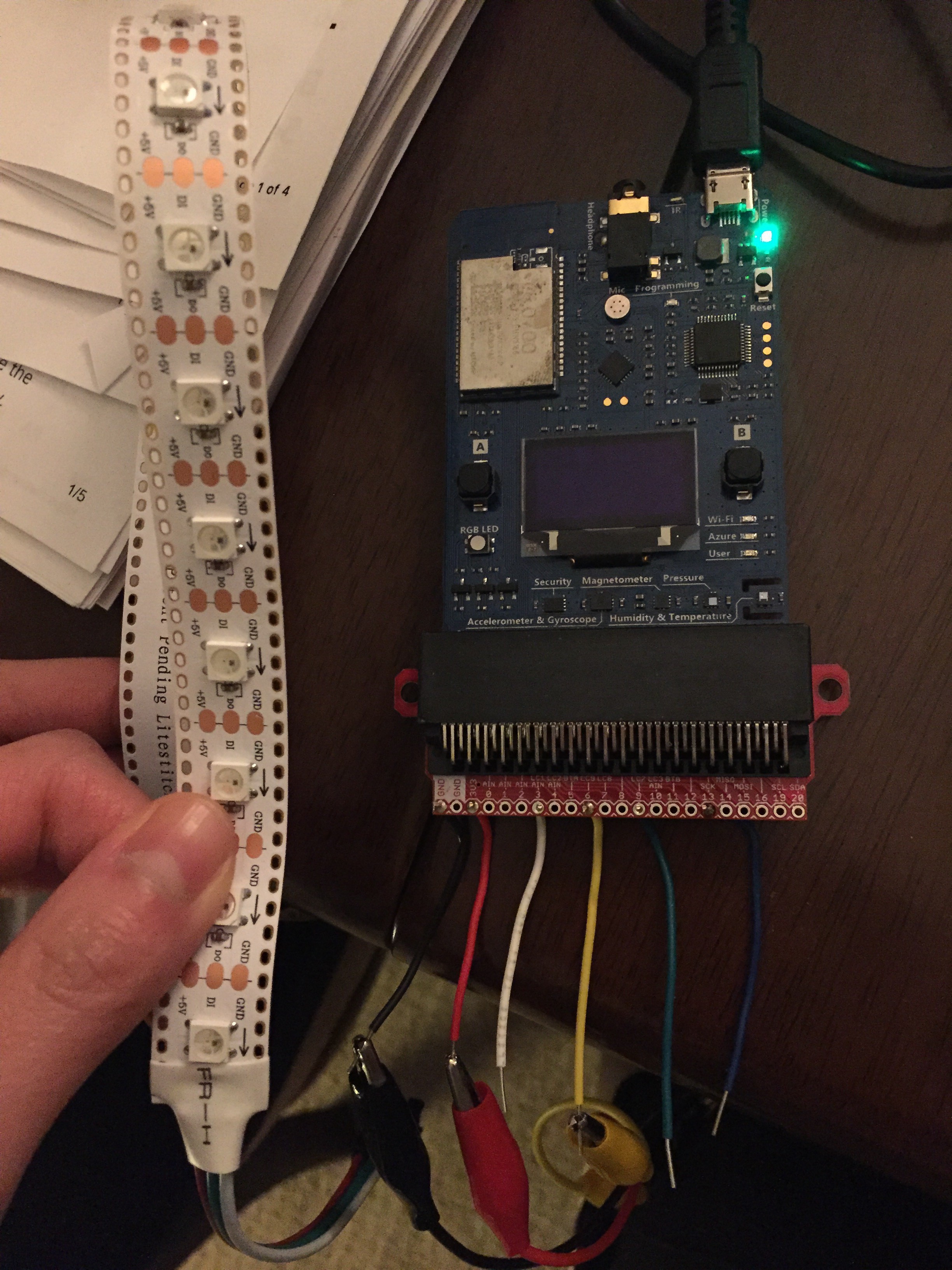 At first, it didn't work. (This photo also confused a lot of people. It looks as if the strip was pointing the wrong way. No, it's just the way I was holding it. The wires were twisted at the back. Sorry for the confusion. The arrows are pointing in the correct way.) The LEDs didn't light up because there was a driver missing. 
BTW, the breakout board is the one for Micro:bit. It is compatible for MXChip IoT Dev Kit. 
So I reached out to my colleague, Arthur Ma, who developed this board at Microsoft in Shanghai. He wrote a driver for NeoPixel LEDs. Please download the attached files attached for the script. Also a few changes need to be made on the Arduino settings:
Open file %LOCALAPPDATA%\Arduino15\packages\AZ3166\hardware\stm32f4\[your version]\platform.txt
Replace all "-O0" with "-O2".
Then please connect the 'S' pin of the NeoPixel stripe with the PA_5 pin in DevKit:
Then you can try the attached sample and light up the stripe, which worked for me. 
This is just to light up the LEDs. To make a music visualizer, I needed the microphone to detect volume, which controls how many LEDs should light up and their brightness. 
It turned out that the AudioClass currently does not have driver for volume detection. This made me pivot my idea.