Finally got the working mockup running. Currently the hardware includes:
ESP32 dev module
Arduino Micro Pro
SD card reader
BW LCD with a software LED control
Hardware keyboard (a working mockup so far; the Chinese PCB manufacturer entered wrong delivery address, so the parcel is back to China)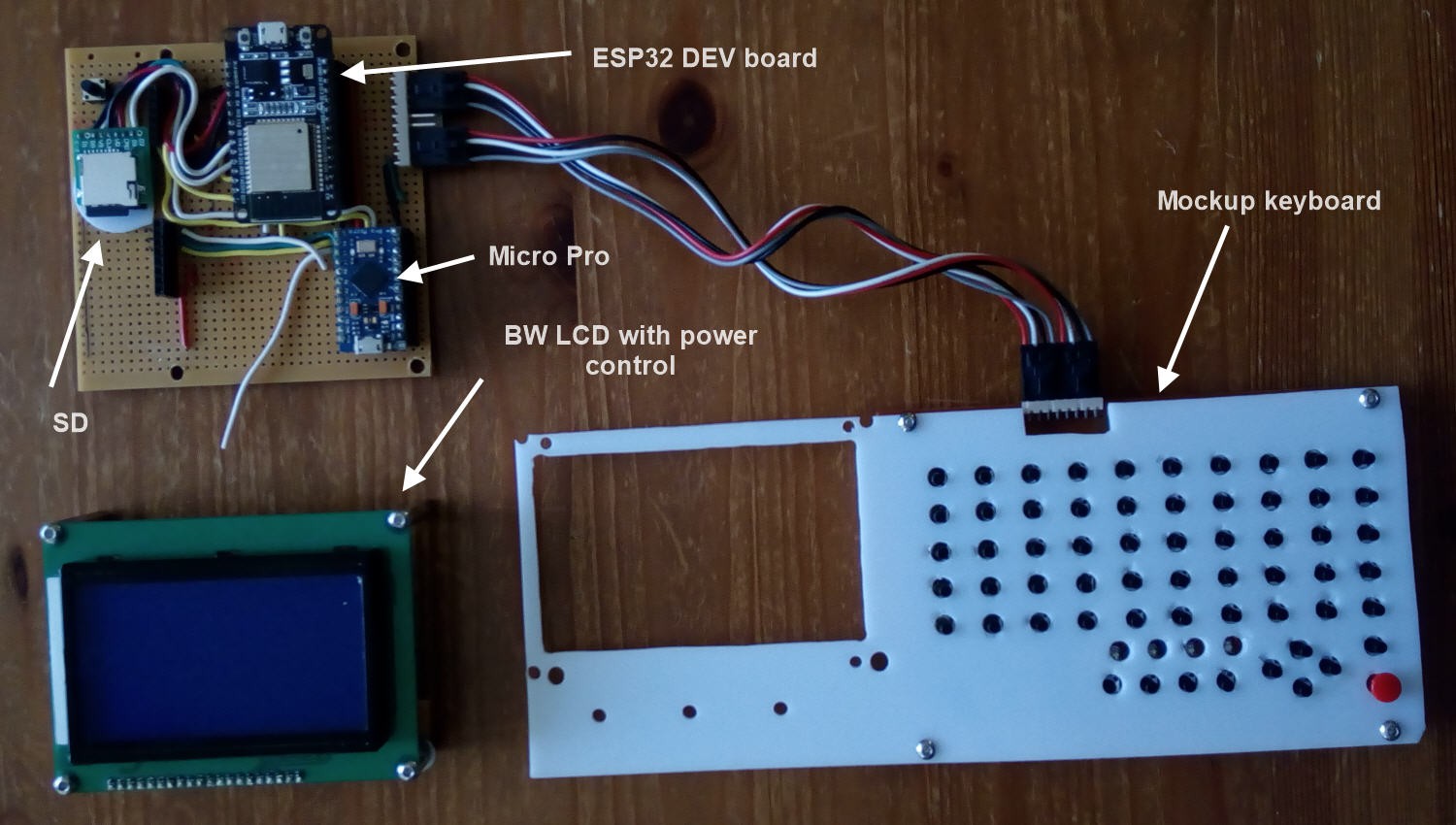 The LCD part can be easily removed from the primary board - it is held attached by a header.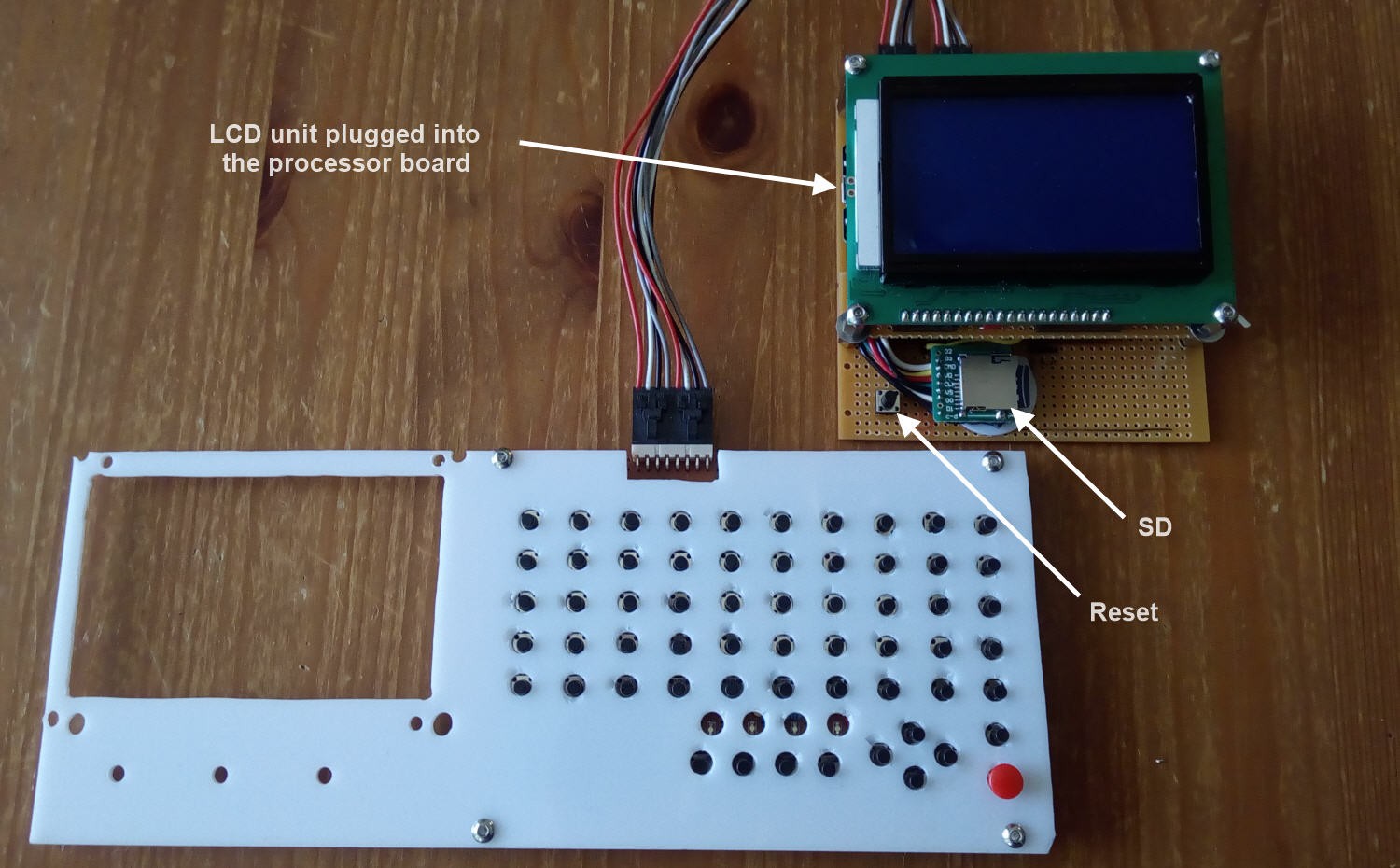 ---
Power consumption in this configuration:
Input at 4.96V (WiFi, BT off in all tests)
The LCD screen LED is fully on (75 Ohm resistor) 103 mA
The LCD screen LED is fully off (but the LCD is running) 98 mA
The LCD screen is off (ESP32 and Micro Pro running) 94 mA
The LCD screen is off, Micro Pro off (ESP32 running) 82 mA
The total power is wherefore 500 mW, and two 5000 mAh batteries will last 2*5*3.7/0.5 = over 3 days of continuous operation.
I have also compared this to the power consumption of Arduino Mega 2560 with a TFT 480x320 color screen and an SD card (see the video in the Project Log 01). Two different Mega we used: "Classic" and "OSEPP" (in brackets).
Input at 4.96 V (BASIC is running)
With TFT connected: 108 (118) mA, 550 mW - this is comparable to the BW LCD system, but no keyboard injection capability.
With TFT removed : 22(32) mA, 125 mW.
I could not find an elegant way of disconnecting/managing the TFT power and the TFT backlight as it is mounted on a shield.
Obviously, Mega with a BW LCD would make a decent calculator with about 30-50 mA consumption, which equates to one month of a continuous running! Unfortunately, this system has only 4-byte arithmetic, no real-time clock, no WiFi, etc.

---
The calculator connects to the PC in three ways:
Via ESP32 USB - for programming ESP32 and direct operation of Terminal BASIC via VT100
Via Arduino Micro USB - for programming Arduino and impersonating a wired keyboard (still writing code for this - should be an INJECT keyword in BASIC)
Via BT or WIFI of ESP32 - have not tested software yet, but the hardware is OK - BASIC now has a SET WIFI_NAME, SET WIFI_PASSWORD, NETTIME() keywords, and so you can set time from the network or make a table clock in BASIC.
The Terminal BASIC on ESP32 is working... kind of. I have replaced the capitalized keywords with a lower-case. 


The SD card code is not compiling properly as the ESP32 and the Arduino libraries are different - still working on it. The hardware is fully operational, and I am able to run independent tests: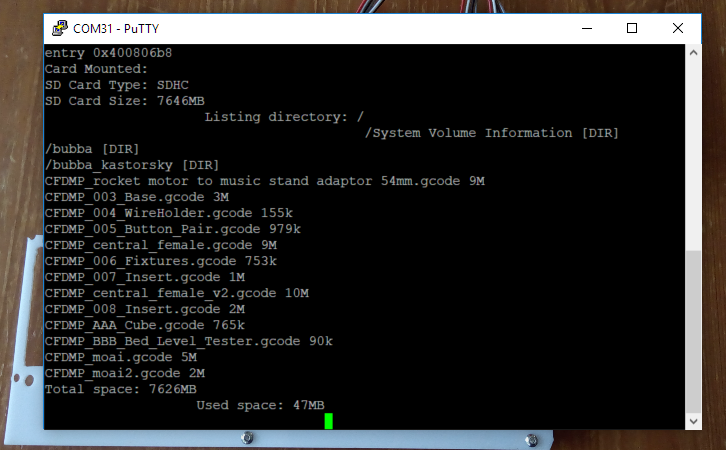 The Terminal BASIC is seemingly having a hard time working with double-precision numbers on ESP32. This program calculates a factorial in integers: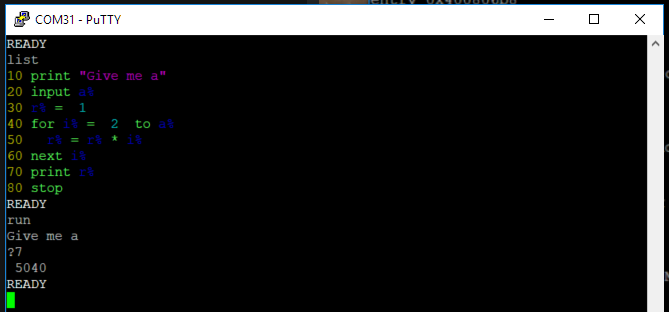 Now replacing r% with r - for 4-byte floats: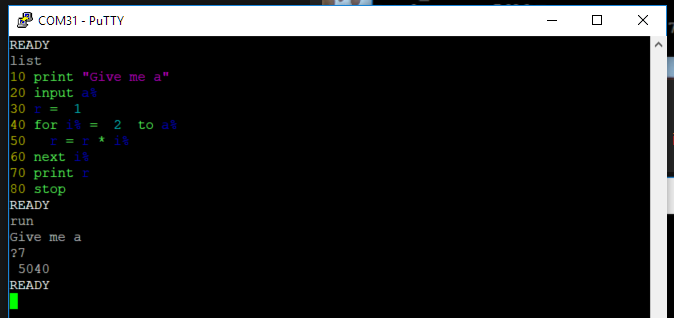 Finally, we replace "r" with "r!" ("!" stands for long reals) results in busted stack!
Next: debugging Terminal BASIC on ESP32!