As I'm nearly finished re-drawing the schematic by Bodo Wenzel and Isidro Nuñez Blanco De Arenas there are some issues as to where to draw the line between staying true to the original, and add modifications that will make it more useful. I love Grant Searles 100% replica of the PCB, but this will require all original parts which may be very hard to get. But I do want to stay close to the original, because otherwise you might as well just put  an Arduino board on it, and run an emulator.
Isidro's schematic already has some modifications, like using the 6116 RAM and a 27C64 EPROM which I decided to follow. Actually, after a suggestion from one of my followers I decided to go for a 27C512 and add some jumpers so it will be possible to select multiple images.
Next up is the decision to add a direct video output. The ASTEC RF modulator is not only rare, but it also serves no purpose so it makes sense to leave that out. After all, with every retro computer I get nowadays the first thing I do is add the video-out modification. I found a neat schematic for video out by '1024MAK' on the ZX forum: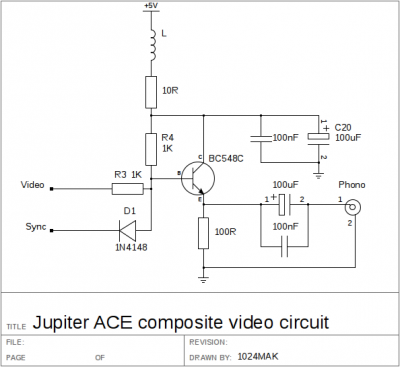 After looking at the annotated schematic by 'nocash' I also noted some small additions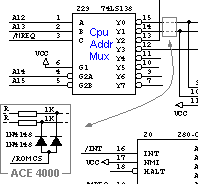 marked 'ACE4000'. /ROMCS is a contact on the edge-connector. Not sure what they are used for, but I decide to add them as well. After all, if not used, the resistors can just be replaced by jumpers, and the diodes left out.