Usually, most people who make some microwave stuff think that the best finish they can apply to their boards is gold. It looks good, doesn't change over time and since most HF (high frequency) energy flows through the surface due to the surface effect, it's best to have some protection on the copper traces. In this case, gold.
Some of these rules are right, some are OK and some are simply off.
Available finishes
First of all, let's list the usual finishes available from almost all manufacturers, even the Chinese ones:
HAL (or HASL) - solder is applied to the whole board and then blown off using a very fast stream of hot air
Leadless HAL - the same, just without lead
ENIG (also called immersion gold or soft gold) - two-layer electroplated protection which contains nickel layer directly on the copper traces and thin layer of gold on the nickel layer
And now the less usual ones, or at least less used ones:
Hard gold - almost the same as ENIG, but the layer of hard gold can be much thicker, its crystals can be about 50x smaller than when using soft gold and the gold usually contains nickel, cobalt or both to make it much harder
OSP - organic protection which sticks to the copper and forms organometallic compounds which prevent oxidation, disappears during soldering
Immersion tinning - electroplated tin
No protection, simply just bare copper
ENEPIG - ENIG with additional palladium layer which should prevent "black pads" which can form during electroplating and reduce solderability of the gold layer
EPIG - just like ENIG, however nickel is left out and substituted by palladium
Kapton solder mask - sometimes called generally Coverlay (trademark of DuPont)
Solderability
Now, let's mention the solderability of the more usual finishes, listed from best to worst:
HAL
Leadless HAL
ENIG
OSP
Bare copper
Coverlay
Immersion tinning
Hard gold
That may sound strange, doesn't it? You were probably expecting the gold finishes on the top places. And that's the first common myth. Gold isn't the best solderable finish. HAL is usually the best one.
Repeatability
This means repeatability of thickness, surface roughness, resistivity and how precisely it is controlled over the board:
Bare copper
Coverlay / OSP
ENIG/EPIG/ENEPIG
Immersion tinning
Hard gold
HAL / leadless HAL
Again, gold isn't the best one. Bare copper and its "covered" variants have the lowest tolerance, roughness and best repeatability. ENIG and its variants suffer from tolerances of the thick nickel layer which usually has rounded edges. For example, let's show an image. Its source is IEEE-Xplore. If you cannot open this because you do not have the magical paywall access, you can find this article on Z Library, just try to find its name. I won't be inserting link to Z Library, because I do not know how prudent HackaDay is when it comes to links to illegal sources of science...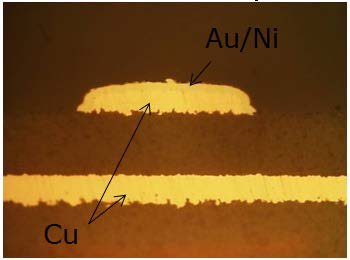 As you can see, the trace is nowhere near the ideal rectangular shape everyone wants to see. If you look closely on the Cu trace, you can see the effects of etching. And the Au/Ni part makes the Cu trace more rounded and thicker than it should be, which is worth noting.
HAL isn't very well controlled process in this point of view. The lead dissolves partially the copper beneath and when blown off using the hot air, it is not very flat. Look at these two pictures.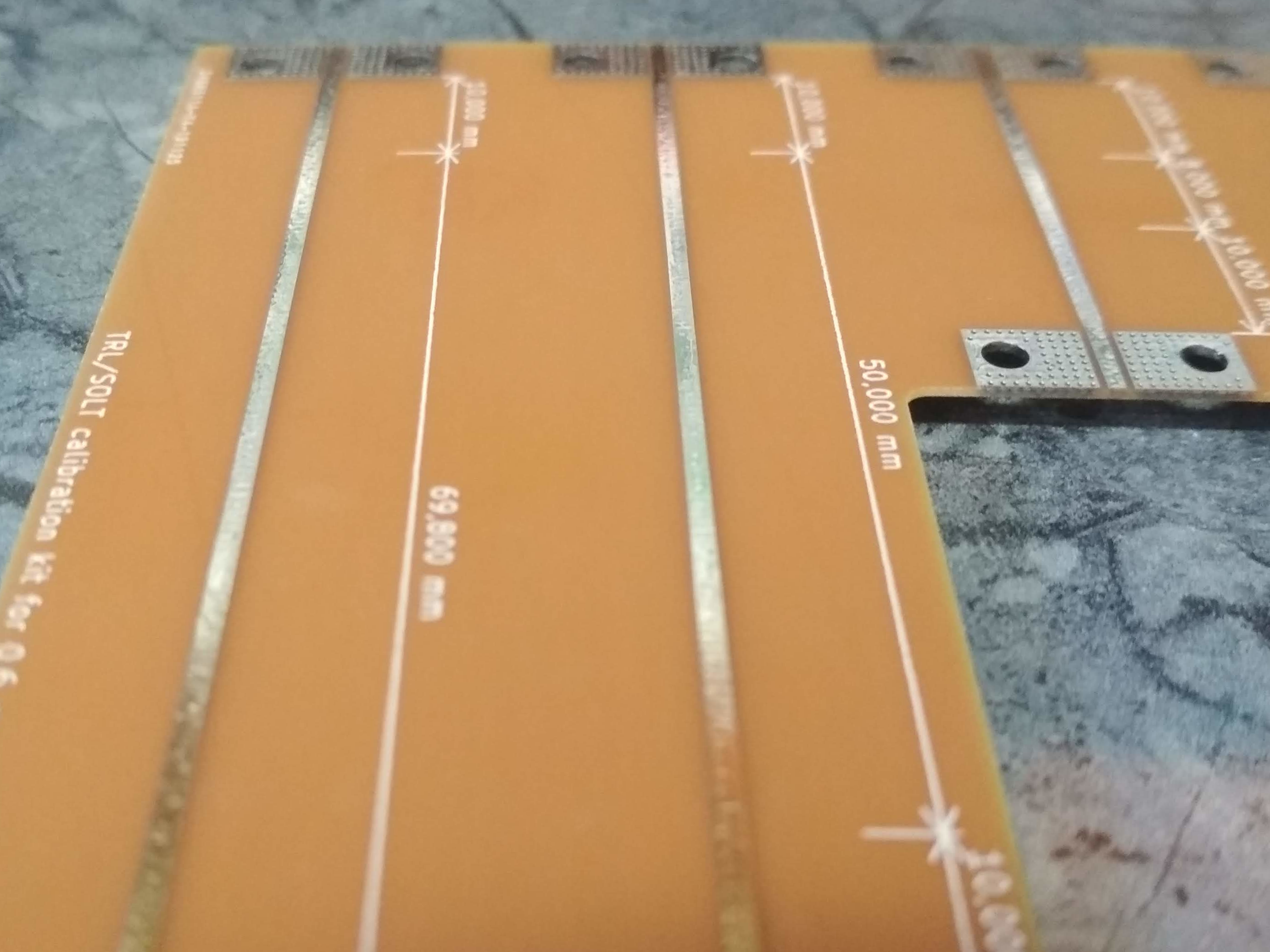 As you can see, it is not flat at all. That's the main problem with HAL - nonpredictability.
HF performance
Now, let's list those finishes in order of suitability for microwave stuff:
Bare copper
Coverlay / OSP
HAL / leadless HAL
EPIG
Immersion tinning
ENIG/ENEPIG
OK, this is starting to be confusing. Why is ENIG never on the top? Why not even in the top 3? The answer is nickel. Maybe that was too short answer. Let's just state that copper or its covered variants have very low losses on microwaves if the copper is smooth. The reason is that rough surface increases the length of the trace virtually and that increases the losses. HAL is useable, but its impedance may slightly vary due toits non-flat surface. However, it is more or less smooth. EPIG is a bit worse, because the surface is "grainy", but OK. ENIG and ENEPIG are not very good because of its nickel layer and surface roughness.

Why is nickel such a b*tch?
Nickel is ferromagnetic. That means it does strange and not very pleasant stuff with microwaves. And what is even worse, it is not even consistent at doing so. The main problem is that its permeability drops quite fast between 2 and 3 GHz from 5.7 to something about 1.4. And it even shows off resonance in this frequency range. There is nothing you can make about this, this is a material property. Of course, you could make each trace shaped like a filter which would make the losses flat, but that would be difficult, take a lot of space and would increase losses over the whole used band.
Let's look at the losses of ENIG trace, again taken from the same article as before.
There is the resonance. As you can see, the steepness of the loss rise lowers above 3 GHz. That's because above this frequency, the nickel layer stops behaving as a proper ferromagnetic material.
The same happens for group delay which is where the researchers smelt something stinky about ENIG.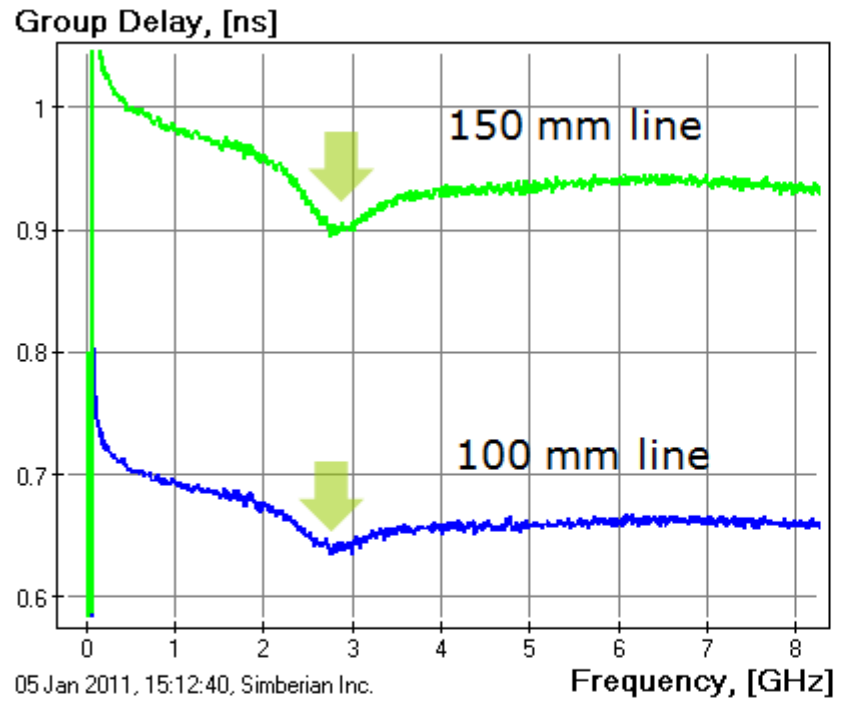 A resonance! And quite apparently visible. They tried to model the ENIG trace using Debye dispersion model which proved to be insufficient and so the used a mixed model constituting of the Debye dispersion model and Landau-Lifschitz's permability dispersion model. This way, they were able to model the resonance and both the losses and group delay. If they are speaking truth, they are the first ones to have ever done so. Let's look at the complex permeability of nickel in ENIG. Sorry for the utterly ugly Excel graph, it is taken from the article as-is.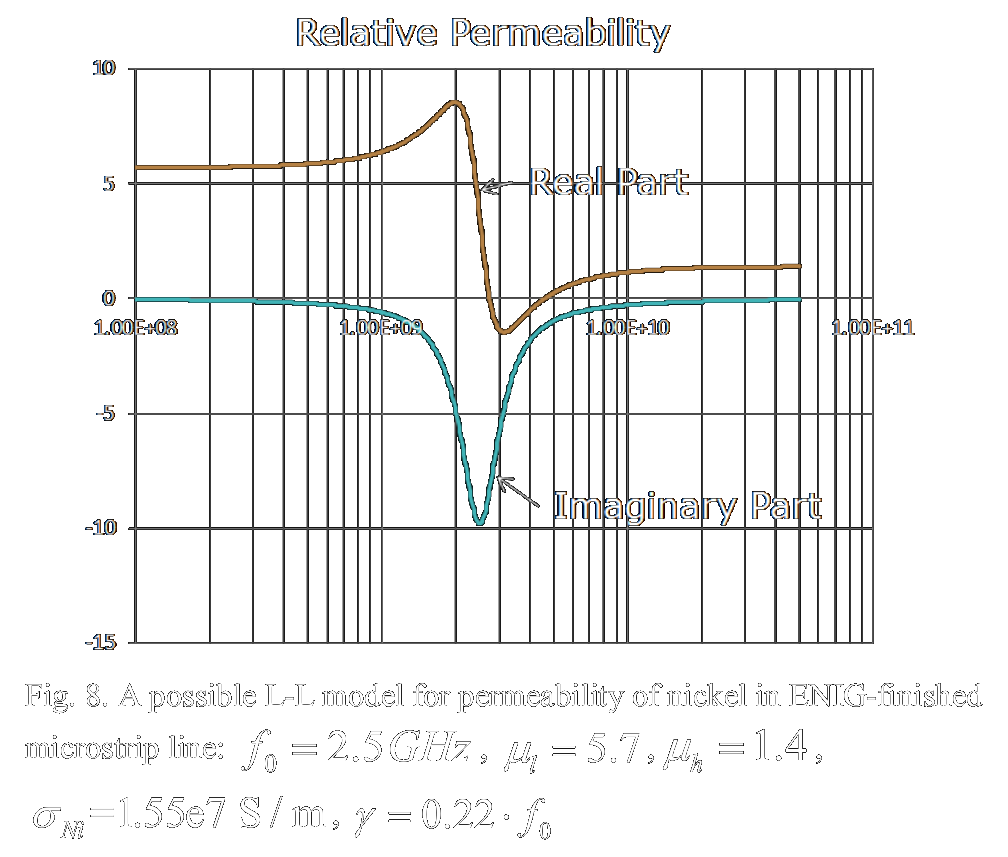 As you can see, for a while, the permeability even drops under zero for a quite large frequency range. And since the permeability is mostly imaginary in this range, you can expect quite a lot of strange things happening, like a lot of losses and resonance in the losses.

As you can see, ENIG finished traces can have losses near 0.5 dB/cm at 2.5 GHz (sorry, I am not going to give you values in dB/inch, because inches are not measurement unit, but a heresy which has to be stopped).
That means if you have about 2 cm distance between the u.fl connector on your WiFi modem in your notebook and the transceiver, you are losing 1 dB of power. That may not sound like much, but this means 20% of power. That means about 11% loss in useable distance of the WiFi. Now, it doesn't sound like such a little problem, eh?
Of course, a lot of the losses is caused by the substrate losses, finite conductivity of copper, gold and nickel. However, the nickel layer causes a lot of trouble. Let's compare it with another research article. This time it will be this article. Let's first have a look at the surface finish in cross cut. As you can see, the top of the trace can be quite flat, however the bottom surface is quite rough. And this causes a lot of losses, too.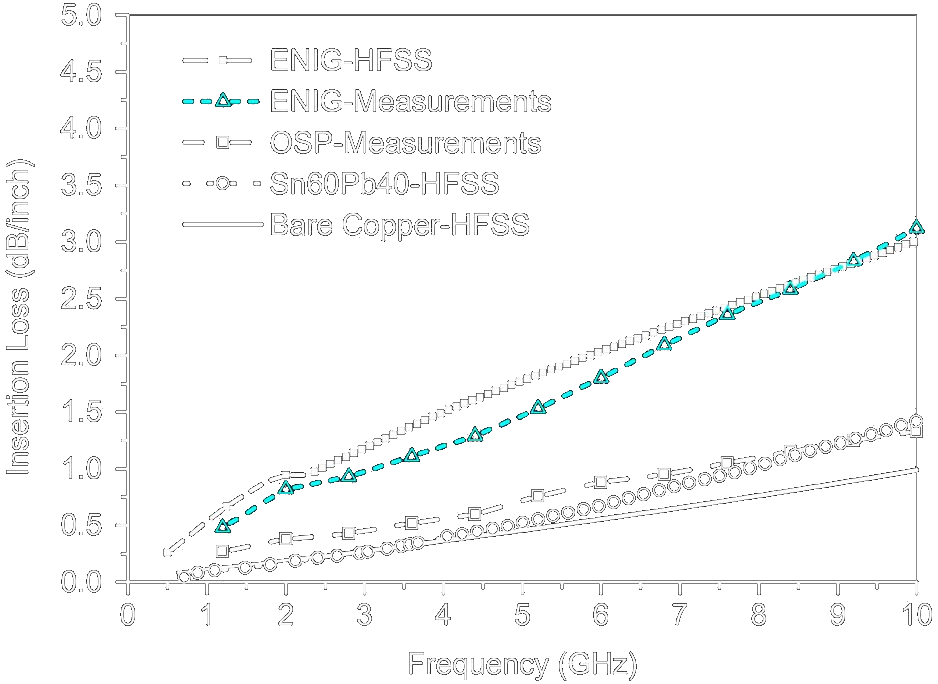 The ENIG losses are more than twice as large when compared to lead HAL, which means that if you make two reference traces made with both the HAL and ENIG and then another, longer one whoch would have twice as much loss with the HAL, the ENIG one would already have about five times larger losses. If you think about these numbers in these real-world scenarios, it looks quite scary. And even then, most microwave engineers use ENIG daily, because everyone does.
As you can see, it looks that OSP isn't that bad as you would probably expect.
There is another interesting article which has data up to 67 GHz. It even list one more not very usual finish, the ISIG or Immersion Silver Immersion Gold which looks to be really good. Does anyone know of any manufacturer which would make this finish?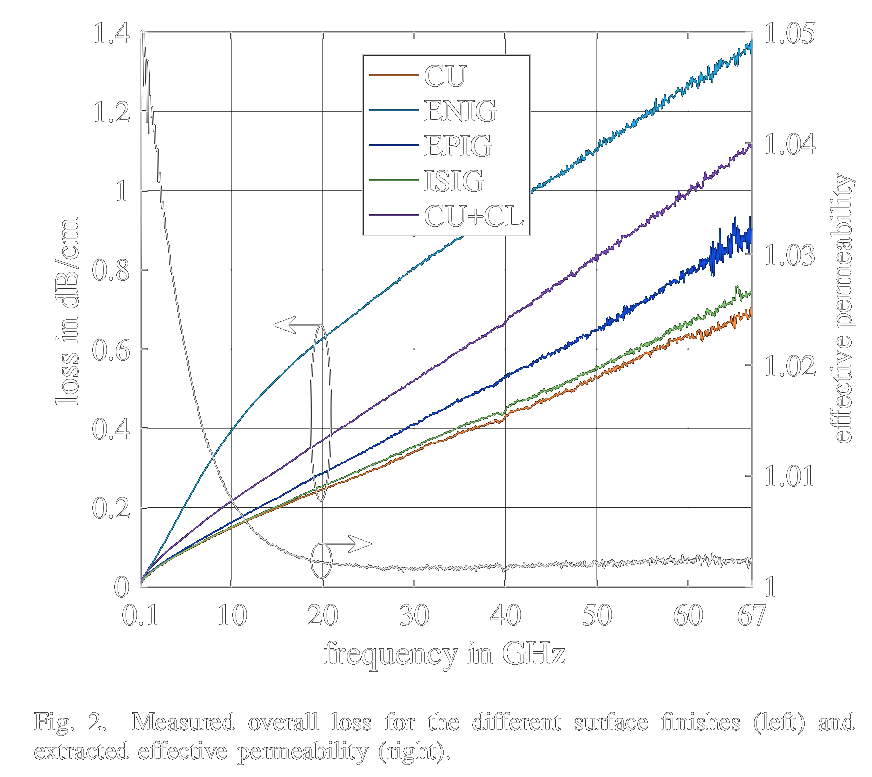 That ISIG looks real good. As you can see, the losses per length are more than twice as large for ENIG than for bare copper. Coverlay is somewhere between and EPIG is quite near ISIG and bare copper. The renonace bump on losses in ENIG is not visible, however that could be due to scale, different manufacturing process, different nickel alloy used or the traces could be smoothed. At least they look suspiciously smooth to me. The paper mentions the ENIG losses look somewhat like square root of frequency up to about 15 GHz. In 1935, Landau and Lifchitz proposed a theory that the corner frequency for nickel would be around 15 GHz. Maybe they were right. However, the researchers behind this article have very weak theory on why these losses happen in nickel, even though they reference the article about the permability modeling. As if they even did not bother to read an article they reference.
Should I avoid using ENIG?
You know the rule for questions in headlines. This time, the answer is "depends on your usecase" and not exactly "no". To make a few simple rules:
I am making something that operates on units or tens of GHz. Analyze the losses for several different finishes and then choose the one which is the most suitable for you. It may be the best one or the cheapest one depending on your needs.
I need to make some microwave measuring device that has an over-the-top performance and cannot withstand any losses which are not necessary. ENIG and ENEPIG are out of choice. Don't use them. If you need to have each device consistent with each other and very precisely controlled impedance on traces, avoid HAL.

I want to make some microwave stuff, but want it to be super cheap while still useable. HAL is probably your choice. OSP or bare copper can be fine too, but cost usually more. Avoid ENIG as it drives the price up significantly.
I am making general microwave stuff which has no special needs. Choose whatever you like, anything is good enough for you.

I am making a sub-GHz circuit which won't have insanely long signal traces all over the board anever will make anything over the GHz mark. You didn't have to read this article. Sorry for your time.