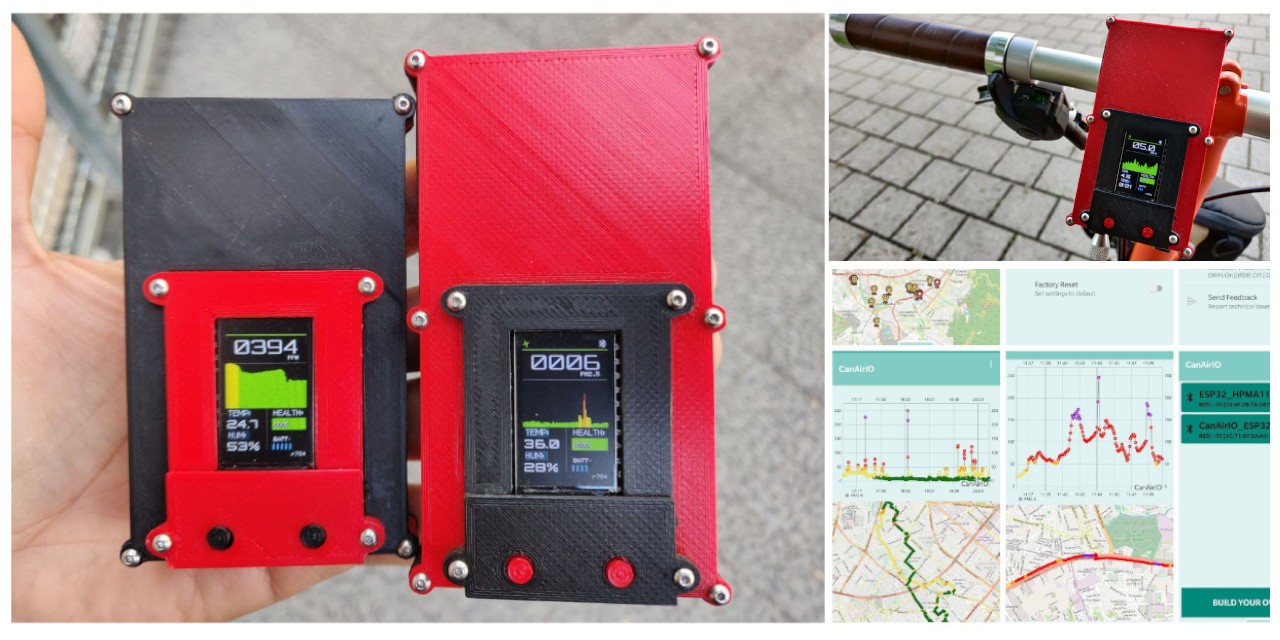 Features
These devices able to work in standalone mode without clouds, apps, Bluetooth, WiFi, etc. but also you could have the next features:
Citizen Science community
CanAirIO is Open-Source / Open-Design / Open-Access
Two modes: mobile (Bluetooth) or fixed station (WiFi)
AQI graph with colors for PM and CO2 values
Standard Bluetooth low energy device (GATT)
Automatic remote firmware updates
Two action buttons with some shortcuts
Good quiescent current ~173uA
USB Type C interface (support charging on power off)
Mobile station features
GPS data tagging via CanAirIO app using Bluetooth Low Energy
Two device faces: Air quality or Bike mode screens for now.
Some built-in functions: Brightness, AQI graph, sample time, Wifi On/Off, calibration, etc.
Fixed station features
CanAirIO cloud alternative : Basic remote dashboard and database
Custom InfluxDb alternative: Store all data in your own instance
MQTT clouds (coming soon)
Sensor Community and other open clouds (coming soon)
NOTE: Supporting our Citizen Science Initiative many people be able to fight for air quality rights in many countries with air quality problems. More info in CanAir.IO
Specifications

| Specs | CanAirIO Bike | CanAirIO CO2 |
| --- | --- | --- |
| Main board | TTGO T-Display | TTGO T-Display |
| Air quality sensor | Sensirion SPS30 (PM) | Sensirion SCD30 (CO2) |
| Environment sensor | AM2320 T&H | SCD30 T&H |
| Auto calibration | Factory | Manual |
| Sensors Units | PM (1.0,2.5,10 mg/u³),°C,%RH | CO2 (PPM),°C, %RH |
| Track Units | Kms, HH:MM:SS | Kms, HH:MM:SS |
| Firmware updates | OTA / remote | OTA / remote |
| CanAirIO Cloud | Included | Included |
| Recommended on | Outdoor**/ Indoor | Indoor |
| Dimensions | 57x24x101 (mm) | 57x20x87 (mm) |
| Weight | 95g | 52g |
| CPU | ESP32 Espressif | ESP32 Espressif |
| | 240MHz Xtensa® Dual core | 240MHz Xtensa® Dual core |
| Flash | 16Mb | 16Mb |
| WiFi | Yes | Yes |
| | 802.11 b/g/n | 802.11 b/g/n |
| Bluetooth | Yes | Yes |
| | v4.2 BLE standard | v4.2 BLE standard |
| Battery | 650mAh ~ >=4h | 650mAh >= 10h |
Making of CanAirIO Bike
CanAirIO Bike  (Sensirion SPS30 version)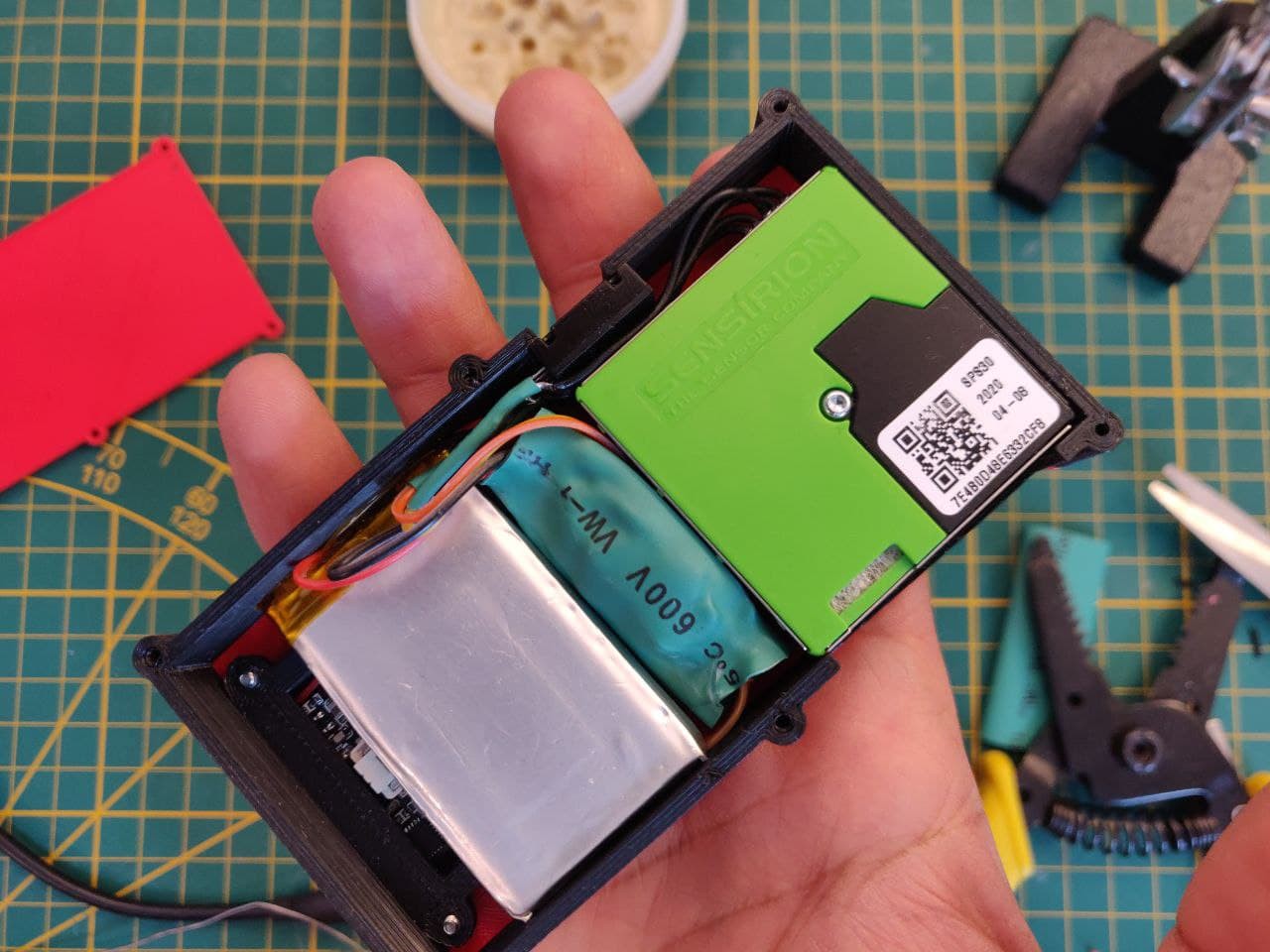 CanAirIO CO2 preview (SCD30 version)

Supporting the project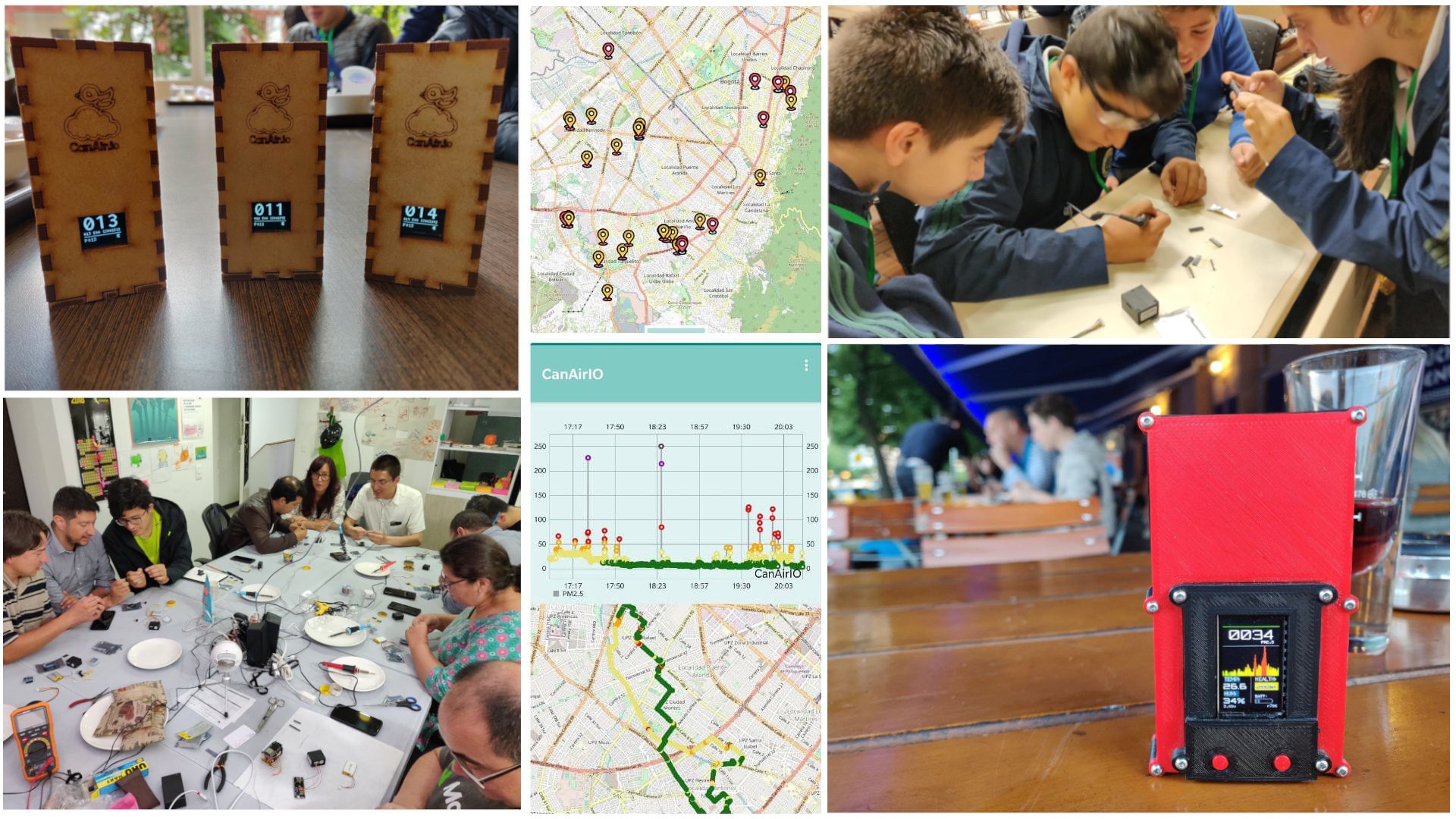 Consider make a donation, be a patron or buy a device:
NOTE: Supporting our Citizen Science Initiative many people be able to fight for air quality rights in many countries with this kind of problems. More info in CanAir.IO
For our supporters, patrons or donors, we will send the files for our coming version: