The PSoC™ 62S2 Wi-Fi BT Pioneer Kit(CY8CKIT-062S2-43012) is a low-cost hardware platform that enables design and debug of the PSoC™ 62 MCU and the Murata 1LV Module (CYW43012 Wi-Fi + Bluetooth Combo Chip).
Features:
CY8CMOD-062S2-43012 carrier module that contains: a) PSoC 6 MCU (CY8C624ABZI-S2D44), and b) Murata 1LV ultra-small 2.4/5.0-GHz WLAN and Bluetooth functionality module based on CYW43012
512-Mbit external Quad SPI NOR Flash that provides a fast, expandable memory for data and code
4-Mbit Quad SPI ferroelectric random-access memory (F-RAM)
KitProg3 onboard SWD programmer/debugger with USB-UART and USB-I2C bridge functionality
CapSense touch-sensing slider (5 elements), two buttons, based on self-capacitance (CSD) and mutual-capacitance (CSX) sensing
A micro-B connector for USB device interface for PSoC 6 MCU
1.8 V and 3.3 V operation of PSoC 6 MCU is supported
Two user LEDs, an RGB LED, two user buttons, and a reset button for PSoC 6 MCU
A potentiometer
One Mode selection button and one Status LED for KitProg3
A microSD Card holder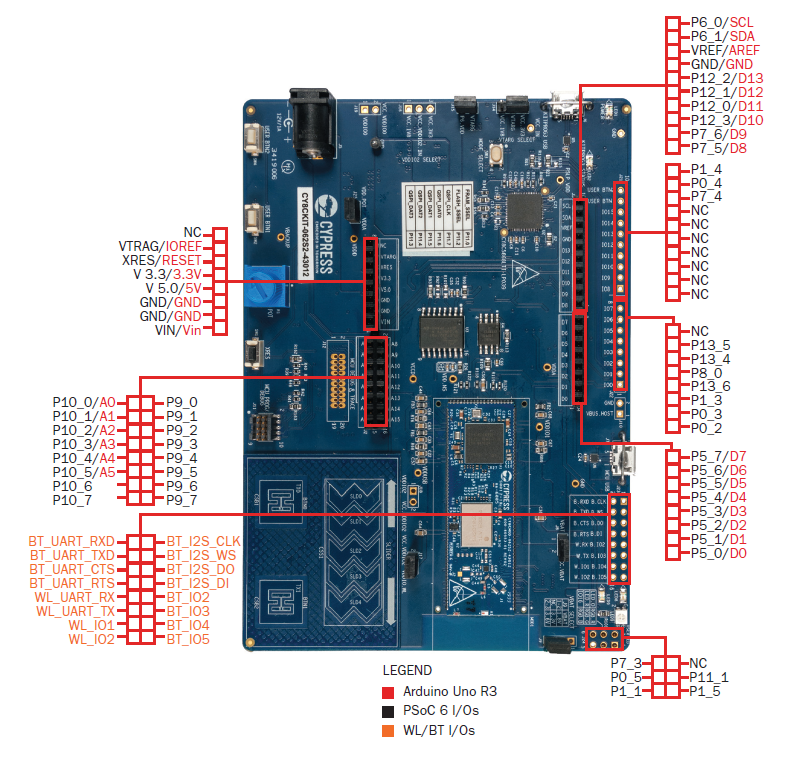 The IoT sense expansion kit is a low-cost Arduino™ UNO compatible shield board that can be used to easily interface a variety of sensors with the PSoC™ 6 MCU platform, specifically targeted for audio and machine learning applications.
Features:
Digital XENSIV™ MEMS Microphone(s)
Digital XENSIV Barometric Air Pressure Sensor
Bosch 9-axis Absolute Orientation Sensor
Piezo MEMS Analog Microphone
Audio Codec and headset jack
OLED Display Module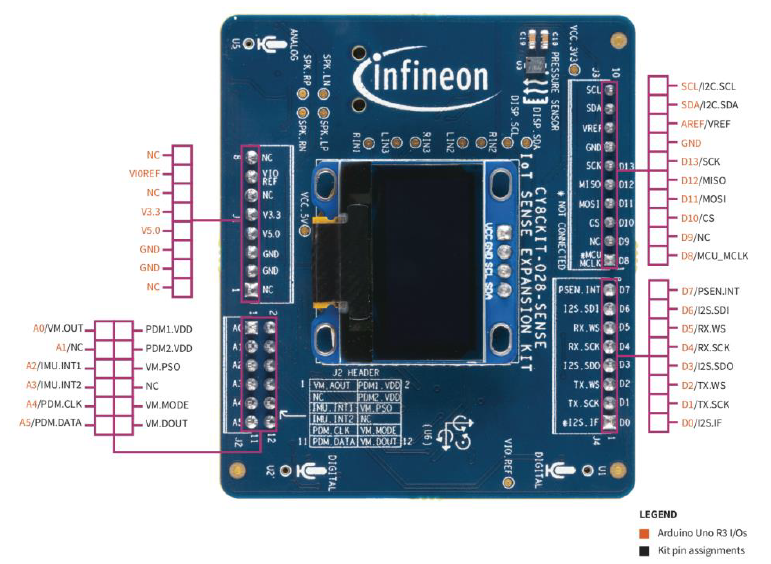 Now I show you the electrical diagram of the circuit that we assembled below.